North Cyprus Holidays – a comprehensive guide
Truly the hidden gem in the Mediterranean.
Your must-read guide before you go on holiday...
North Cyprus Holidays – a comprehensive guide
Truly the hidden gem in the Mediterranean.
Your must-read guide before you go on holiday...
Your must-read guide before you go on holiday...

North Cyprus Holidays
a comprehensive guide
What is a North Cyprus Holiday Like?
North Cyprus is truly the hidden gem in the Mediterranean; lush unspoilt landscapes, coupled with friendly locals, lots to do and great places to stay, ensure you'll have a holiday you will never forget.
Why North Cyprus? – North or South?
North Cyprus is not part of the EU, and is primarily Turkish, using the Turkish Lira currency. Unlike South Cyprus, there are no big international business chains in the north, just local businesses and friendly people. North Cyprus is also quieter and more unspoilt than the south, yet still Livy enough for those who want to go out on the town in the evenings.

Where is North Cyprus?
North Cyprus is just below Turkey on a map, adjoined with South Cyprus, in the Mediterranean Sea. North Cyprus covers around 1,295 square miles which is just over a third of the island of Cyprus. Tasucu port is  just 74 miles north of Cyprus, which can be reached via ferry boat from Kyrenia Harbour.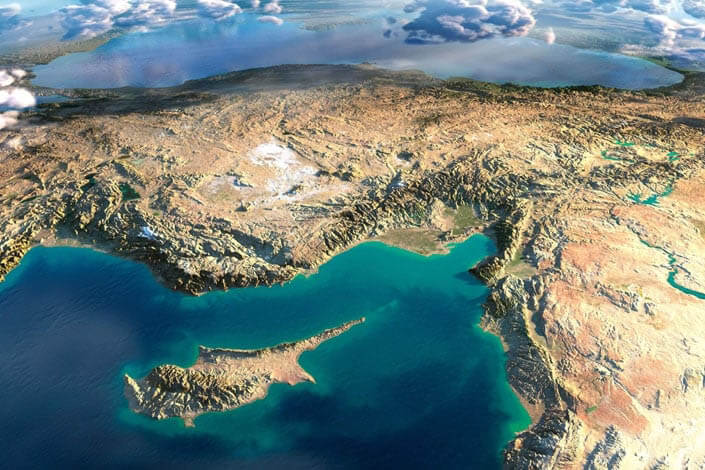 Is North Cyprus in Europe?
Although North Cyprus is geographically part of Europe, the TRNC (Cyprus, Turkey side) is not yet part of the European Union (EU). South Cyprus (Cyprus, Greek side) is part of the EU.
Is North Cyprus Part of Turkey?
North Cyprus is situated below Turkey on the map, and is also known as the Turkish Republic of Northern Cyprus (TRNC) or KKTC in the Turkish language. The main language spoken in North Cyprus is Turkish, however most people also speak English.
Travelling to North Cyprus
How Do I Get To North Cyprus?
You can fly from over 18 different airports in the UK to either Larnaca airport in South Cyprus and get a transfer to North Cyprus, or fly to Ercan airport in North Cyprus and either hire a car or we will transfer you to your hotel or villa. If you choose to fly to North Cyprus Ercan airport, there is a short stop in Turkey on the way, whereas Larnaca flights are direct, but have a slightly longer transfer time to your North Cyprus hotel. Either way, the total journey times work out very similarly for hotels in Kyrenia whether you go via Larnaca or to Ercan airport. 
Can You Get Direct Flights To North Cyprus?
You can fly from these airports in the UK to Ercan Airport in North Cyprus*:
Stansted
Heathrow
Gatwick
Birmingham
Manchester
Edinburgh
Dublin
*Flights to North Cyprus are via a short touchdown in Turkey, usually Istanbul.
North Cyprus Holidays Via Larnaca
If you would like to fly direct to Larnaca for your North Cyprus holidays, then these UK airports below operate direct flights to Larnaca Airport in South Cyprus and we then transfer you to your hotel in North Cyprus*:
Stansted
Heathrow
Gatwick
Luton
Birmingham
Manchester
Edinburgh
Glasgow
Doncaster
East Midlands
Leeds Bradford
Liverpool
Newcastle
Bournemouth
Bristol
Cardiff
Exeter
Belfast
*subject to summer/winter schedules.
Do I Need A Visa For North Cyprus?
If you have a British passport, you do not need a visa to travel to North Cyprus, however you should ensure you have at least 6 months remaining on your passport before it expires.

You must ensure that you are in possession of a full and valid passport/visa for travel, as this is your responsibility. If you are travelling into Larnaca (LCA) this is in Southern Cyprus, if you are travelling into Ercan (ECN) this is in Northern Cyprus, which could have different immigration requirements for non-UK passport holders. Check with us before you travel.
Can You Visit North Cyprus With A Turkish Visa?
You do not need a visa to visit North Cyprus if you hold a British passport, as a 90 day tourist visa will be granted on arrival. If you fly to North Cyprus via a touchdown in Turkey, you do not need a Turkish Visa, as you will pass through the transit lounge and are not officially entering the country.
Can You Visit Turkey with a North Cyprus Visa?
If you are planning a multi-stop holiday including Turkey, then you will need a Turkish visa to visit Turkey as a North Cyprus visa is not valid in Turkey due to it being a different country. 
North Cyprus Money & Currency
What Currency Is Used In North Cyprus?
The currency used in North Cyprus is the Turkish Lira (TL). To get the best exchange rate, we recommend that you do not get your currency in the UK, but wait until you get to North Cyprus and exchange your money at one of the Exchange Bureau when you get here. There are plenty of money exchange shops around in Kyrenia, Famagusta and Nicosia, as well as banks. You can also exchange money at your hotel if required. 
What Is The Best Currency To Take to North Cyprus?
We recommend taking Pounds Sterling (£) with you when you travel to North Cyprus, and exchange them for Turkish Lira or Euros when you get here for the best exchange rates. 
Are Euros Accepted In Northern Cyprus?
Euros, Pounds Sterling and US Dollars are also generally accepted as well as the Turkish Lira in North Cyprus. There are many currency exchange shops in case you need to change your money from £ to TL, which generally give better rates than banks and hotels.
What Credit Cards are Accepted in North Cyprus?
Most major credit and debit cards are accepted in North Cyprus, with the exception of American Express (Amex), which is not widely accepted. Before you travel, check with your bank that they do not charge a fee for using your credit or debit card abroad. Please note that the exchange rate you will get from your bank will also be less than the local rate of exchange. 
Can I Withdraw Cash in North Cyprus from my UK Bank Account?
You can use cash machines in North Cyprus to withdraw local currency (Turkish Lira) from your bank account in the UK (Pounds Sterling), however, the exchange rate of Sterling to Lira is typically a lot lower than you would get for exchanging locally at a bank or money exchange shop. Also, check with your bank before your travel to ensure they do not charge additional fees for cash withdrawals abroad, or alternatively get yourself a UK debit or credit card which does not charge for withdrawals from a foreign ATM. You can also get pre-paid cards which you load with cash before you travel if you do not want to take your debit or credit card on holiday with you. 
North Cyprus Useful Information
What Is The Time In North Cyprus?
The time difference between North Cyprus and the UK is 2 hours. North Cyprus is two hours ahead of the UK, so if it is 2 pm in the UK, it will be 4 pm in North Cyprus.
What Language Do They Speak In North Cyprus?
The official language of North Cyprus is Turkish, although many people speak English and some speak Russian and German as well. The Turkish Cypriot language has some slight regional differences from the language spoken in Turkey. 
What Type Of Electrical Plug Is Used In Northern Cyprus?
North Cyprus uses the same type of plug as in the UK, the 3-pin plug. Generally, you won't need a travel adaptor to travel to North Cyprus, as your mobile phone charger, hairdryer etc will be the same plug type. Check with your holiday advisor before you travel if you are unsure.
Driving in North Cyprus
In North Cyprus, they drive on the left, the same as in the UK. There are no motorways in North Cyprus, however there are dual carriageways. The speed limits are in kilometers per hour, with the normal speed limit of 50kph (31mph) in most villages, towns and cities. 
Hiring A Car in North Cyprus
You can hire a car in North Cyprus with us for competitive rates, free cancellation and no hidden costs. We offer unlimited mileage, local taxes, a road map of North Cyprus and delivery / collection for no extra charge. There's a collision damage waiver to be paid locally (as with all North Cyprus car hire companies) when you collect the car. You can find out more information about hiring a car in North Cyprus or book your car hire with us.
What Age Do I Need To Be To Hire A Car?
You need to be 21 years old or older, and hold a full UK driving licence (remember to bring it with you!).
Can You Drive From North Cyprus to South?
Due to insurance restrictions, you cannot currently take a hire car from North Cyprus to the South. If you want to cross the border, you can cross at Ledra Palace and Ledra Street in central Nicosia on foot. 
Can You Drive From South Cyprus to North Cyprus?
Most car hire companies in South Cyprus do not allow you to take a hire car from the South into the North of Cyprus due to insurance restrictions. If you want to cross the border, you can cross at Ledra Palace and Ledra Street in central Nicosia on foot. 
Can I Drive in North Cyprus With A UK Licence?
If you have a full driving licence then you can drive in North Cyprus. If you are staying in North Cyprus on a long stay holiday, then you can drive in the TRNC for up to three months before you need to apply for a Turkish Cypriot driving licence.
What Resorts are in North Cyprus?
Kyrenia vs Famagusta
As we offer a wide range of hotels, our Kyrenia holidays and holidays in Famagusta offer so much choice, from 3* family run hotels to 5* luxury resorts. Kyrenia holidays are the best of both worlds, quiet enough for some relaxation, yet lively enough to go out and enjoy yourself when you want to. Kyrenia also has plenty to do for families and couples, with lots of interesting places to go and things to do. Famagusta on the other hand, is ideal if you want a relaxing beach holiday, or are interested in a lot of historical sightseeing. It is a lot quieter than Kyrenia, however venture into the city and you will still find plenty of small restaurants and bars to keep you entertained in the evenings. Bafra is a new resort near Famagusta, offering a great place to relax and enjoy the sweeping sandy bays, whilst being close to the Karpaz Peninsula and Famagusta. 
A hand-picked selection of some of our popular Kyrenia hotels include;
Some of our most relaxing Famagusta hotels are;
5 Star Luxury Hotels in Bafra include:
All Inclusive North Cyprus Holidays
Another question we get asked a lot is "what all inclusive holidays are there in North Cyprus?". Ideal for families, our all-inclusive North Cyprus holidays include these hotels;
5* Limak Cyprus Deluxe Hotel
5* Merit Crystal Cove Hotel
5* Salamis Bay Conti Resort
4* Merit Cyprus Gardens Holiday Village
5* Concorde Luxury Resort
5* Merit Park Hotel
5* Noah's Ark Deluxe Hotel & Spa
For the best all inclusive special offers in North Cyprus, you can check out our Deals page, which has all the latest North Cyprus deals and special offers from Cyprus Paradise.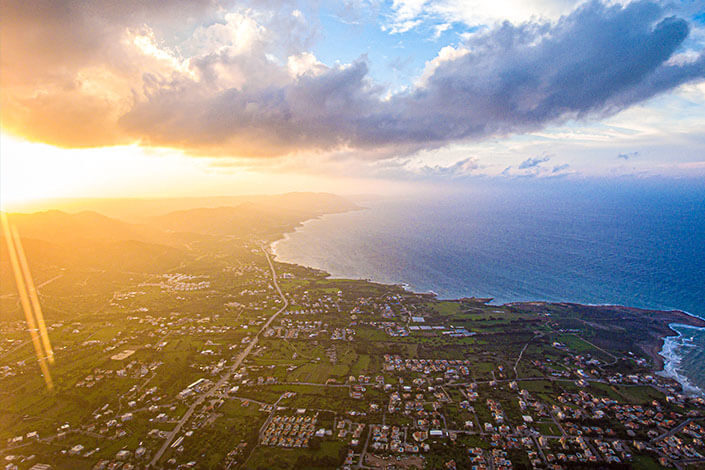 What is the Weather Like in North Cyprus?
When to Visit North Cyprus
Rather than give you a general run down of the weather in North Cyprus, we've broken it up into months, so that you can see the ideal months to book your holiday with Cyprus Paradise. Check out our holiday weather guide.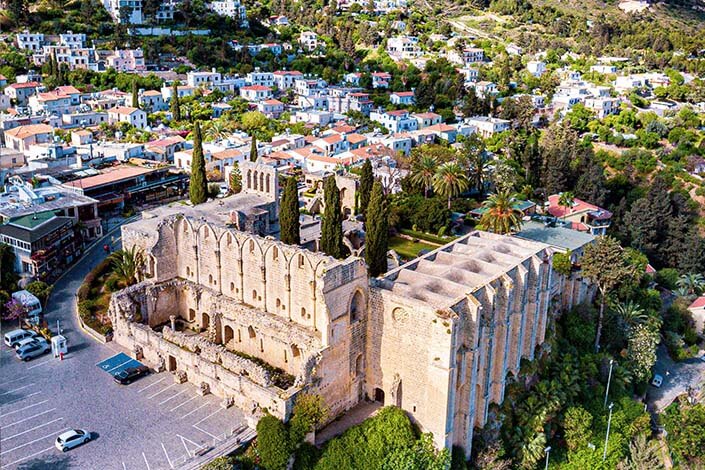 Places to Go in North Cyprus
Our articles offer some more insight into the excellent historical sites and things to do in North Cyprus, but some of the must-visit places include;
Even if you just visit for a stroll around, Kyrenia Harbour is a great place to relax, enjoy some traditional cuisine or a cold beverage and watch the world go by.
Steeped in history, Famagusta City is full of interesting streets, places of historical interest and small shops and restaurants to visit.
One of the best tourist attractions in the North of Cyprus, Salamis Ruins, is an ancient Roman city just north of Famagusta.
This old 13th Century abbey still hosts concerts and events and is truly an amazing sight. Bellapais Village also offers lovely taverns and restaurants and spectacular views of Kyrenia.
Also known as the panhandle, the Karpaz Peninsula is well worth a visit while you are in North Cyprus. See wild donkeys and amazing flowers and landscapes.
Our video below shows the magnificent Bellapais Abbey in all its glory, with the Bellapais Festival concert live with Cyprus Paradise: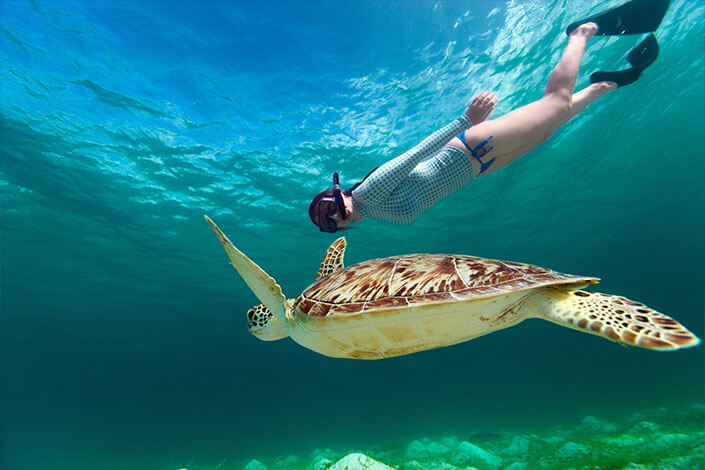 Things to Do in North Cyprus
There is so much to do in North Cyprus for all age ranges, abilities and interests! There's plenty of fun activities for families, relaxing places to go for couples and places to explore for adventure-seekers.
Boat trips from Kyrenia Harbour - relax and soak up the sun on a boat trip from Kyrenia Harbour. Evening and sunset trips are also available.
Watersports (various places) - banana boats, jet skiing, water-skiing, paddleboarding and parasailing.
Paragliding - tandem paragliding with stunning aerial views over Kyrenia from the Besparmak Mountain Range. 
Scuba diving – North Cyprus has an abundance of underwater wildlife and great places to dive
Vineyard & Wine Tasting Tour - An exclusive and very popular tour around the vineyards with wine tasting experience
Guided Tours - including full day Nicosia tour, full day Famagusta tour, full day Kyrenia tour, Cyprus night, Bellapais & St. Hilarion tour and more.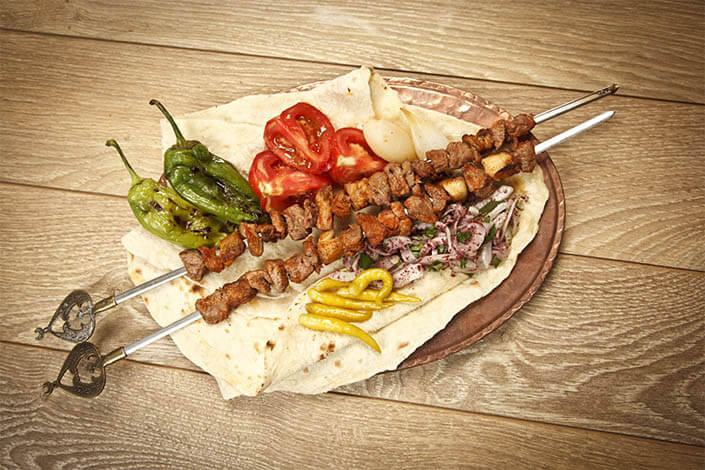 North Cyprus Food
North Cyprus cuisine is varied and delicious, ranging from tasty fish dishes to succulent meats. Some of the food to try on your North Cyprus holiday includes;
Lahmacun – a type of thin Cypriot pizza
Shish Kebap – a delicious skewer of marinated lamb
Mousaka – layers of mince, potatoes and aubergine baked in the oven
Turkish Meze – a variety of small appetisers including salads, meats and vegetable dishes
Eating out in North Cyprus couldn't be easier, with a plethora of restaurants and taverns to choose from. Experience traditional Cypriot cuisine, or indulge in your favourite international dishes, ranging from Asian to British to Indian, there is something for every palate. 
We've also put together a list of the top drinks to try when you visit North Cyprus, including the famous brandy sour, limonata and of course, Turkish coffee.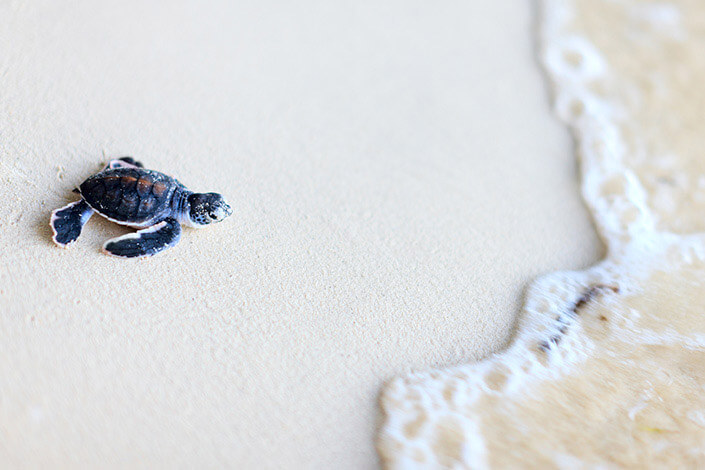 Experiences and Culture
North Cyprus has a rich history, with many interesting historical places to explore. There's also plenty to experience, from the amazing sight of watching a mother turtle laying her eggs, to tasting olive oil pressed at Zeytinlik olive festival.
History and culture - learn more about North Cyprus' interesting history here
Turtle watching – watch the mother turtle come to lay her eggs at night or the baby turtles hatch – an amazing experience!
Cyprus night – experience true Cypriot hospitality, cuisine and entertainment at a Cyprus night
Walking tours - various walking tours are available, as well as bird watching and butterfly spotting
Sandy beaches – experience the tranquillity of walking along an unspoilt, uncrowded beach at Golden Sands in the Karpaz
Festivals in North Cyprus - there are many festivals throughout the year in North Cyprus including the olive festival, orchid festival and Bellapais festival.
Book Now!
Booking your North Cyprus holiday with Cyprus Paradise couldn't be easier, just search the hotel you would like to book on our search engine on the home page, give us a call on the number at the top of the page, or contact us via the Live Chat link at the bottom right-hand side of each page. Remember, we are fully ATOL protected and have been taking holidaymakers to North Cyprus for over 30 years. Have a look at our latest special offers to North Cyprus.
Want to see more of North Cyprus? Take a look at our video below:
You can also visit us on Facebook and Instagram for more North Cyprus holiday inspiration, tips, latest special offers and information. We also have lots of videos on YouTube, with hotels, things to do and North Cyprus videos.