7 Nights

Mon, 28 Jun 21

Mon, 05 Jul 21
Concorde Luxury Resort (Bafra)
Hotel Details
Customise Your Holiday
Summary
Final Step
Concorde Luxury Resort
Bafra
TripAdvisor Traveller Rating
Based on {{model.Accommodation.TripAdvisorTotalReviews}} Reviews
Bafra
TripAdvisor Traveller Rating
Based on {{model.Accommodation.TripAdvisorTotalReviews}} Reviews
Experience the essence of paradise in this brand new luxury resort surrounded with pure, natural beauty!
Family Luxury Beach Holiday Ultra All Inclusive
Highly recommended by Cyprus Paradise!
The Concorde Resort is a brand new adventure just waiting to lavishly spoil its guests from the moment they arrive.  Standing proudly on its own magnificent sandy beach, boasting a variety of prestigious pools and exciting innovative amenities, this incredible resort ensures endless amusement and bliss for all.
FREE WiFi in all rooms & public areas
Why Holiday Makers Love it
Brand New Luxurious Resort
Amazing Activities
Choice of Stunning Pools
Moppet Kids Club
Innovative Rooms & Suites
Beautiful Private Beach

Included Special Offers:

Included Special Offers:
Duration:
Stay:
This offer can be combined with other offers.
With sweeping sea views against the backdrop of the stunning Karpaz Peninsula landscape, the Concorde Resort offers ultimate beauty, relaxation and indulgence in the North Cyprus sunshine.
Wake up to spacious, modern surroundings of calming contemporary décor, offering panoramic views from private balconies and luxury pool water terraces. Relish a gourmet breakfast followed by some beach therapy and aqua fun. Enjoy the taste of an exquisite cocktail to accompany a novelty massage, whilst looking forward to an exciting evening of top-notch entertainment.  The Concorde Resort is the long awaited outstanding addition to the up and coming area of Bafra, bursting with pure elegance and style.
Boasting a beautiful beachfront location amidst the rural unspoilt scenery of North Cyprus, this extravagant resort offers an abundance of brand new opulent facilities and accommodation in an exotic and peaceful atmosphere.  Impressive throughout with classy modern décor and endless tropical gardens surrounding glamorous pools, thrilling activities from water gymnastics to amphitheatre shows and a fantastic Kids Club… it's discerning guests of all ages can expect to be spoilt for choice!
Cyprus Paradise Experts Recommend:
This luxurious resort is set on the southern coast of the Karpas Peninsula, famous for its rugged beauty, ancient ruins, picturesque villages and traditional wild donkeys! It's also known for having one of the longest golden sandy beaches on the island, where natural wildlife is in abundance and sea turtles still come to nest and lay their eggs in peace.
The resort also has the benefit of being close to some incredible historical sites - a must see is the ancient walls of the Old City, dating back to the mediaeval times.  Whilst at this spectacular site, you can also visit Othello's tower, the Namik Kemal Dungeon and Lala Mustafa Pasha Mosque (St Nicholas Cathedral), the largest medieval building in Famagusta.  Aside from of Famagusta being a historical attraction, it's also a vibrant place to shop, dine and enjoy a drink and with the town centre being only 2 miles away, it's a fantastic idea to venture out for the day to enjoy an authentic taste of Cyprus.
Please note that some services and amenities may not be available during low season.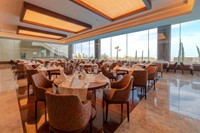 Board Basis Options
Ultra All Inclusive • Buffet breakfast, lunch, dinner and midnight buffet are served in the main restaurant. • Drinks are also offered in the main restaurant for this concept, diet buffet, themed buffet, kids buffet, and vegetarian buffets are also available. • The Buffet Tea Time - Cakes, savoury and sweet cookies, mini sandwiches 16:30 – 17:30. • Bellini Lobby Bar - Local and selected drinks, tea, coffee, beverages, coffee with alcohol is available (24 Hours). Extra Supplements are required for all food and refreshments from the A La Carte Restaurants. Room Service is chargeable.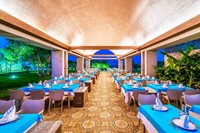 Sumptuous Dining for All
A variety of chargeable gourmet a la carte cuisine including Mexican, Turkish, Italian, Asian and sea food are also available for guests to experience in their exciting premium restaurants. With 11 exotic bars to enjoy light snacks and holiday lounging, there will never be a dull moment where guests are short of new and interesting choices to tickle their taste buds!
A Magnificent Mediterranean Dip
The Concorde's prestigious outdoor pools are exquisitely designed, surrounded by modern features and lush landscape. There are also 2 children's pools, an aqua park as well as a semi-opened heated pool in the spa area.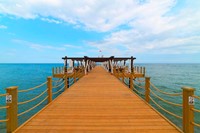 Sunbathe in Style!
There is a luscious, private sandy beach for relaxing and immersing in the beauty of the Mediterranean waters. Beach volleyball and water sports are also enjoyed to add to the variety of 5* fun. Attractive, modern sun beds, umbrellas, mattresses, and beach towels are complimentary to all guests.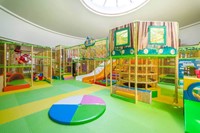 A Dream Come True!
The kids will be thrilled with the fun, active and creative activities in store for them! The resort has fantastic facilities for those between 4 and 12 years old, including a children's swimming pool, cinema, aqua park, playground, restaurant, night disco and mini club with a professional animation team!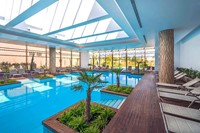 Revive, Restore & Indulge!
The Sentire Spa Centre will take its visitors out of this world. With custom designed treatment rooms filled with modern, prestigious equipment, indulging treatments, a tranquil atmosphere and a holistic philosophy, the mind, body and soul will be uniquely restored to a harmonious level. From pampering massage therapies, spa treatments, traditional peeling and foam massages at the Turkish Bath to facial and body treatments using world renowned skin products, guests will be left wanting more. The Spa Vitamin Bar and private Spa garden are but a few of the extras thrown in to make the experience even more luxuriating.
Reviews
Where is the Concorde Luxury Resort?
The Concorde Luxury Resort is situated on the stunning beachfront of Bafra, on the north-east of Northern Cyprus. It is also on route to the famous Karpaz Peninsula from Famagusta.
On the seafront with private sandy beach
30 minutes drive from Famagusta town centre
45 minutes transfer from Ercan Airport
Concorde Luxury Resort
Bafra