7 Nights

Tue, 29 Jun 21

Tue, 06 Jul 21
Noah's Ark Deluxe Hotel & Spa (Bafra)
Hotel Details
Customise Your Holiday
Summary
Final Step
Noah's Ark Deluxe Hotel & Spa
Bafra
Bafra
A State of the Art Adventure amidst the rural beauty of North Cyprus
Ultra All Inclusive Family Luxury Beach Holiday
Boasts a diverse range of facilities!
Enjoy the unique concept of The Noah's Ark and embark on a mystical journey based on the legend of the extravagant ship, whilst having the holiday of your dreams surrounded by luxury, impeccable taste and a quality service. Guests are truly in for an authentic experience in the midst of untouched nature and wildlife, close to the stunning Karpaz Peninsula.
FREE WiFi in Rooms & Public Areas
Why Holiday Makers Love it
Something for the Whole Family
Stylish, Chic Décor
Wonderful Cuisine
Diverse Animation Team
Luxurious & Comfortable Rooms
Flamboyant Facilities
Duration:
Stay:
This offer can be combined with other offers.
This huge holiday complex boasts a magnificent beach, casino and spa. Suitable for all ages, its guests are graced with impressive facilities and fantastic unlimited entertainment - perfect for those seeking a luxury beach holiday in Famagusta.
Prestigiously designed as a magnificent ship on one of the most stunning beaches, Noah's Ark Deluxe Hotel & Spa boasts a long stretch of soft golden sand and the turquoise waters of the sea. Guests can luxuriate in the sun, enjoying crystal Mediterranean waters, an impressive outdoor pool and stunning natural surroundings combined with a tranquil atmosphere. The five-star hotel's luxury spa, entertainment, activities and facilities add to the high-end finishing touches. 
Noah's Ark resort takes pride in ensuring that precious time for their guests is well spent.  Children are perfectly taken care of whilst couples can relish the peace and quiet as well as enjoy the lively fun and games! Wake up to spacious accommodation of calming contemporary décor, offering stunning panoramic views from private balconies and terraces. Indulge in a ravishing breakfast followed by some aqua fun in the water park, a spot of water sports and then enjoy the flavour of an exotic drink at the pool bar before relaxing with a speciality massage awaiting the experience of an open-air cinema by night….
Cyprus Paradise Experts Recommend
All you could need to enjoy a fantastic holiday is provided in and around the Noah's Ark!   Its fortunate location has the great benefit of being close to some popular spectacular sites.  
First and foremost is the stunning Karpas Peninsula, the most unspoilt, beautiful and traditional area of the island, home to the longest sandy beach on the island with natural wildlife.   Its an amazing experience to feed the wild donkeys and watch the baby sea turtles hatch from their nests on the beach! Venturing to the tip of the island, you really feel that you have reached the edge of the world!  Explore a traditional village, enjoy tasting cultural delights and seeing historical churches with a chance to taste the legendry holy water from a natural spring… it really is the ideal place to take those precious holiday snaps!
If you're looking for a more vibrant place to chill out, shop, dine and drink amongst locals and international tourists, Famagusta town is the place to go.  Also famous for its sites, there's also plenty to see for example the ancient walls of the Old City, dating back to the mediaeval times. Upon visiting this bewildering site, you will also come across Othello's tower, Namik Kemal Dungeon and a huge medieval building - Lala Mustafa Pasha Mosque (St Nicholas Cathedral).  
Please note that some services and amenities may not be available during low season.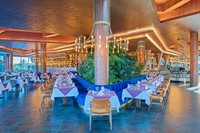 Board Basis Options
Ultra All inclusive • Breakfast, lunch and dinner are served as an open buffet in the Flora Main Restaurant, including alcoholic and non-alcoholic drinks to accompany meals. • An exciting night snack buffet, fancy cocktails in cosy bars and summer beach snack treats are just a few of the tempting options that add to the unique holiday experience. • In summer the Aqua Bar, Holiday Village Pool Bar & Mini Bar offer selected all inclusive beverages. • Complimentary Turkish coffee can also be enjoyed. Extra Supplements are required for all food and refreshments from the A La Carte Restaurants.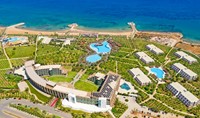 Leave your footprints in paradise
Guests are truly blessed with one of the most stunning beaches on the island. A beautiful stretch of natural golden sand complimented by the crystal turquoise waters of the Mediterranean, an array of comfortable sun beds with parasols and a fantastic beach bar ensures guests of the Noah's Ark the perfect beach holiday.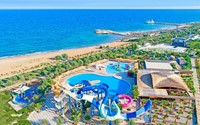 A swim surrounded by nature
A stunningly designed pristine pool looks onto the sea inviting guests to dive in and enjoy a heavenly swim, an exotic pool bar and gorgeous views.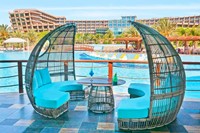 An unforgettable dining experience
Beautifully prepared breakfasts, lunches and dinner buffets are served in the Flora Restaurant. Guests can enjoy fresh cuisine with Turkish and International flavours, combined with entertaining live shows to add to their unforgettable dining experience. The Alabora A la Carte Restaurant enjoys panoramic sea views as well as Turkish cuisine and world specialities. The Fora Fish Restaurant serves rich seafood with Cyprus and Mediterranean specialties. Guests can enjoy fresh fish within a cosy atmosphere embracing the Mediterranean. The trendy Bistro 7/24 with its comfortable and warm ambience and a beautiful terrace surrounded by nature ensures a lovely time with friends and family. The Patisserie boasts irresistible cakes, pastries, coffee and tea specialities to be enjoyed in their attractive garden.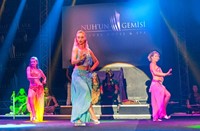 Have a whale of a time!
At Noah's Ark guests are truly spoilt for choice with the vast selection of entertainment provided. From enjoyable sports such as tennis, basketball, ping pong, football on a FIFA standard pitch and amusing activities for children to varied seasonal evening entertainment, including live music, and shows…guests of all ages are definitely in for an exciting time!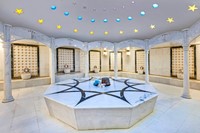 The Karina experience awaits you…
The exclusive adult only (16 years +) Noah's Ark Karina Spa & Wellness Centre promotes a breathtaking atmosphere with its calming design and contemporary architecture. A gorgeous indoor pool, sauna, Turkish bath and steam room woo their visitors into unforgettable soulful moments…with state of the art facilities including a fitness centre, spa vitamin bar and highly professional treatments, it's a fantastic place to relax and rejuvenate and definitely a difficult one to resist!
Reviews
Noah's Ark Deluxe Hotel & Spa
Where is the Noah's Ark Deluxe Hotel & Spa?
The Noah's Ark Deluxe Hotel is located in the popular area of Bafra Area in north east Cyprus, close to Famagusta Bay.
On the seafront with private sandy beach
55 minutes transfer to Ercan airport
1 hour 45 minutes to Larnaca airport
Noah's Ark Deluxe Hotel & Spa
Bafra