7 Nights

Mon, 28 Jun 21

Mon, 05 Jul 21
Arkin Palm Beach Hotel (Famagusta)
Hotel Details
Customise Your Holiday
Summary
Final Step
Arkin Palm Beach Hotel
Famagusta
TripAdvisor Traveller Rating
Based on {{model.Accommodation.TripAdvisorTotalReviews}} Reviews
Famagusta
TripAdvisor Traveller Rating
Based on {{model.Accommodation.TripAdvisorTotalReviews}} Reviews
The Palm Beach Hotel is an outstanding beachfront haven. A prime choice for a beach holiday, offering ultimate luxury.
Luxury Beach Holiday
One of our Famagusta favourites!
The golden sand of this private cove is known as 'Heaven on Earth'. Arkin Palm Beach has built a reputation for quality of service and with added wealth of facilities supported by luxury accommodation, delightful food, a sensational spa and with crystal clear waters of the Mediterranean it is the perfect place for a relaxed beach holiday.
FREE WiFi in all rooms & public areas
Why Holiday Makers Love it
Panoramic Sea Views
Stunning Sandy Beach
Fantastic Seafront Location
Luxurious Atmosphere & Décor
Breakfast & Evening Meal Spread
Perfect Location to explore Famagusta

Included Special Offers:

Included Special Offers:
Duration:
Stay:
This offer can be combined with other offers.
The Arkin Palm Beach Hotel is a sparking jewel of the Mediterranean set on the continuous golden sands of Famagusta Bay, boasting a first-class service and stunning accommodation.
The Arkin Palm Beach Hotel is a spectacular coastal retreat, where the splendour of its long golden beach, exotic landscape, and stunning sea views combine to deliver a devine setting. The Hotel has not so much been renovated as completely reinvented as the finest 5 *boutique hotel in North Cyprus. Its reincarnation blends charming touches taken from local Cypriot architecture, with the latest in modern bespoke design; the turquoise hues of the Mediterranean providing a delightful counterpoint.
The hotel offers a captivating experience with its variety of exclusive and enticing facilities.  In addition to relaxing on their silky sands, guests can swim in a pristine pool surrounded by exotic trees, rejuvenate in their premium spa and sip beach inspired cocktails, whilst gazing upon the magnificent sunset. Every hotel rooms is stylish and opulent, with a choice of suites available that offer panoramic views, designed to take your breath away.
Cyprus Paradise Experts Recommend
Although spending your entire holiday relaxing in the heavenly surroundings of Palm Beach is very tempting once you're there, the hotel is also fortunate enough to be only a 10 min walk from some of the fascinating sights that Famagusta is famous for.  The historical walls of the Old City, dating back to the mediaeval times, is a highly recommended experience – approx. 60 feet high and 30 feet thick, they still stand intact to this day.  Once you are within the old city, you will see Othello's tower, the Namik Kemal Dungeon and Lala Mustafa Pasha Mosque (St Nicholas Cathedral), the largest medieval building in Famagusta.  The Gothic style of architecture closely resembles the great cathedral of Rheims in Paris, France.
Don't forget to sample some of the local tasty delights in the local patisserie, Petek and the local restaurant Aspava, which are both approx. a 15 min stroll from the hotel.
If that's not enough to keep you on your toes, the hotel is also in short proximity (about a five min. drive) to the main road, which is the predominant centre for shopping, as well as home to vibrant cafes, bars and restaurants.
Please note that some services and amenities may not be available during low season.
Pure bliss!
The golden sand of their private cove is known as 'Heaven on Earth'.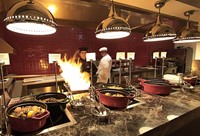 Gourmet for all!
Breakfast is served in the Cascata Restaurant as an open buffet. For lunch and dinner, Turkish and International cuisine is served in the Cascata, either A' La carte or open buffet. During the summer season, lunch is often served in the poolside Beach Club and The Pier Restaurant is also open, offering Turkish and local Cypriot cuisine. There are also three bars, the lobby bar (open throughout the year), pool bar and beach bar (open in summer only), that offer delicious cocktails and other assorted alcoholic beverages as well as soft drinks and light , tasty snacks.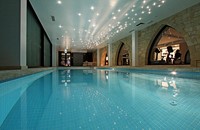 Because you deserve it!
The sensational spa & wellness centre of The Arkin Palm Beach, is a prime sanctuary to relax, revitilise and rejuvenate. Their luxurious sauna, steam room and diverse range of irresistible, pampering treatments, will leave you wanting more. Work out in their modern fitness centre and lap pool, then chill out in their inviting relaxation lounge and terrace, allowing the bespoke pleasures of Palm Beach to perfectly unwind you.
It's time to have fun!
Depending on the season, the hotel provides regular organised entertainment around the hotel. These include Karaoke night, Cyprus nights and Simena nights.
Reviews
Where is the Arkin Palm Beach Hotel?
Set on the southern golden sands of Famagusta Bay, The Arkin Palm Beach Hotel is just a short stroll from the fascinating city of Famagusta and its popular historical sites.
On the seafront with private sandy beach
2 miles from Famagusta town
45 minutes transfer from Ercan airport
1 hour transfer from Larnaca airport
Arkin Palm Beach Hotel
Famagusta