North Cyprus Local Crafts
Discover North Cyprus' handicrafts and locally made goods still being produced to this day after the ancient traditions have been handed down over many generations.
"These crafts carry forward many years of cultural knowledge and expertise..."
North Cyprus Local Crafts
Discover North Cyprus' handicrafts and locally made goods still being produced to this day after the ancient traditions have been handed down over many generations.
"These crafts carry forward many years of cultural knowledge and expertise..."
"These crafts carry forward many years of cultural knowledge and expertise..."

North Cyprus Hand Crafts
North Cyprus has many local handicrafts and traditions, including Lefkara lace, evil eye bead crafts, wicker baskets and headscarf making. Many of these locally produced goods can be bought in traditional markets, souvenir shops and in small local boutiques in remote villages. All of the handicrafts below are still practised today, carrying forward many years of cultural knowledge and expertise.
Lefkara Lace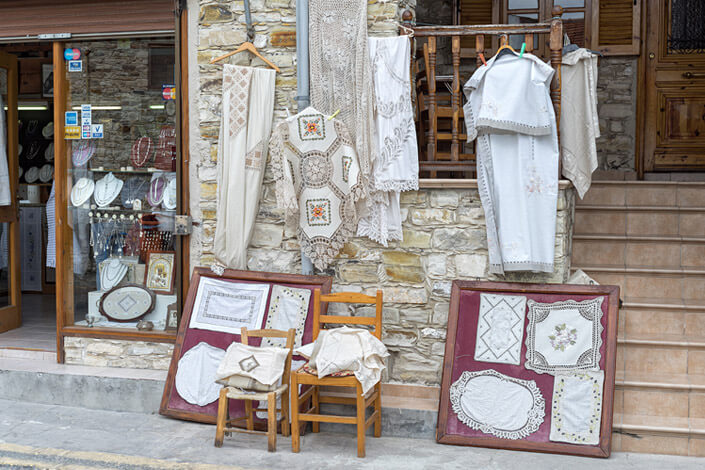 Probably the most famous of all the local handicrafts, Lefkara lace has been produced in North Cyprus since the Venetian times in 1489. The tradition started because the rich and affluent Venetians would visit the village of Lefkara on holiday, where the local women would copy the designs of the fine embroidery on their clothing and transform these into their own unique designs. This tradition was passed down through the generations as it became customary for a bride to wear the distinctive white embroidery on white cloth as part of her wedding attire or as the centrepiece of her dowry.
To make the lace work, the linen to be used is first tied and stretched onto a pillow. There are various cutting techniques for the shapes, as well as the sewing techniques; however, one thing that makes the Lefkara lace authentic is that the lace work should look exactly the same on the front as on the back.  Once the embroidery is finished, an arch is sewn all the way around the lace to complete the design. This skilled craft is recognised on the UNESCO Intangible World Heritage List and the government actively encourages its continuation through a collective. Today, you can still see this ancient craft being made on doorsteps in remote villages across the island and it can be purchased in many places, but the best lacework can be found in the Buyuk Han in Lefkosa.
​
Yemeni Headscarves ​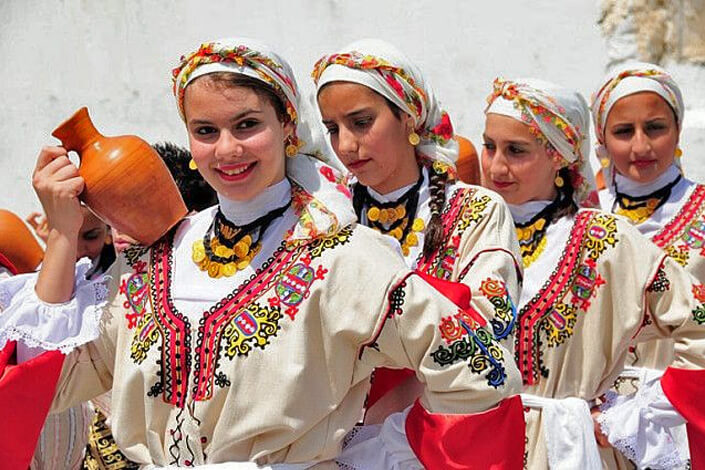 Yemeni, a type of traditional head scarf were widely worn by Turkish Cypriot women as a statement of wealth. The homemade material was created using thin cotton threads and then finely decorated with various motifs of leaves, flowers and tree branches. Today, you might see some of the older generations still wearing these in remote villages.
Silk Cocoon Works ​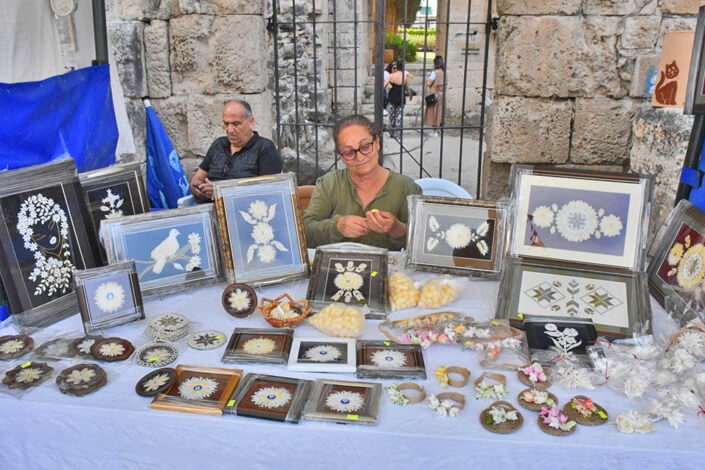 Years ago, the terrain around Lapta and Hisarkoy was home to many mulberry trees, providing plenty of food for the hungry silkworms, and it was traditional for a household to take the cocoons, spin out the thread and weave them into fine silk cloths. These clothes were then cut into shapes and used for adorning clothing or for pictures. Unfortunately, this craft slowly diminished over the years, however, Cypriots still collect silkworm cocoons for decoration, a tradition which originates from the Karpaz Peninsula.
After the silkworm is carefully removed, the firm cocoon is folded flat and is used to make pictures on white, black or red linen. The cocoons are also used to decorate clothes along with tiny beads to hold them in place. There are now classes where you can go to learn this traditional craft, which is still very popular amongst locals.
Straw Wicker Baskets ​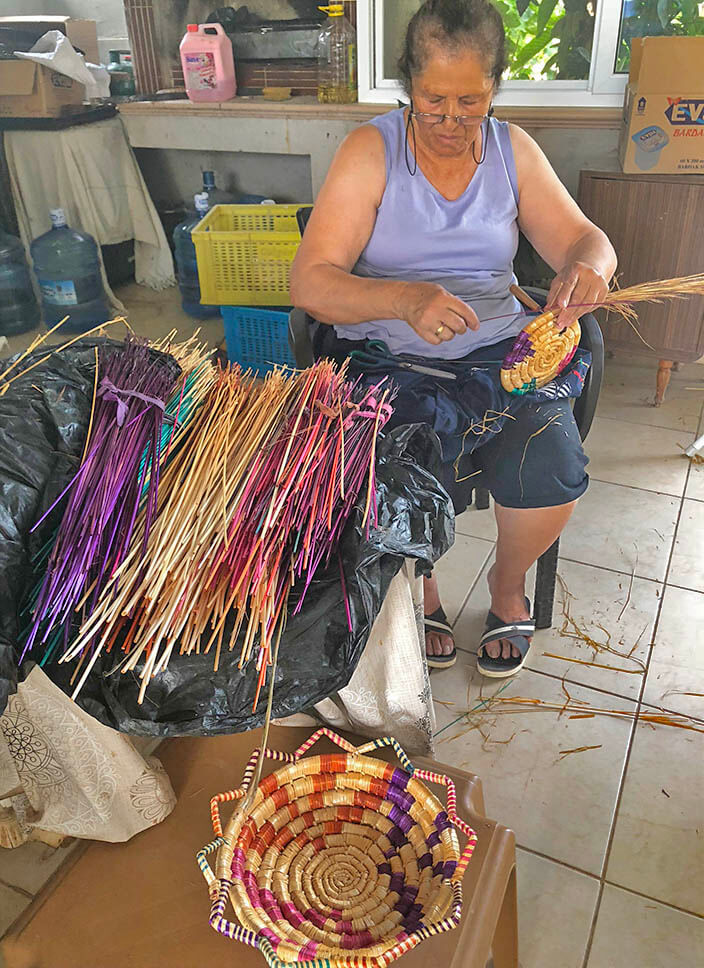 You will find lots of souvenir shops and local boutique stores selling these flat wicker baskets, which are weaved in North Cyprus by expert hands. Each weaver has their own way of working, weaving intricate designs differently from other people. The baskets are made from a special kind of straw, which can also be used to make bread baskets and caskets with lids. The weaver colours the straw with different vegetable colourings to make the various coloured strands to weave from.
The weaver can make very interesting and complex designs and patterns, which takes a lot of practice and patience to learn. The village of Serdarli is particularly famous for its weavers and the talent of the artists there. Various different materials can also be used, including corn, reeds and wheat.
Hesap Embroidery ​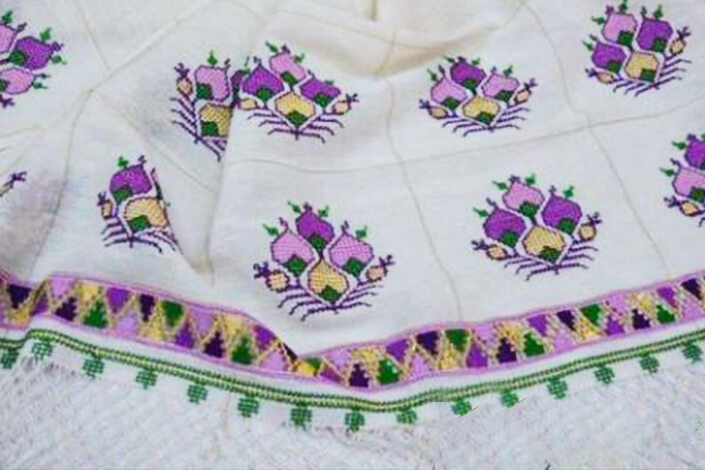 This traditional embroidery originates from the Lapithos region of North Cyprus and is so called because you can count the individual strands one by one on the designs. The works are often very colourful and are created using a kind of cross stitch technique, using a circular wooden frame called a "kasnak" and a tight linen cloth. Interestingly, the outline of the design is made with brown or black silk thread rather than a pencil as is commonly used in Europe. The coloured designs and motifs are then cross-stitched into the linen in traditional Turkish Cypriot designs.
Kilim Rugs ​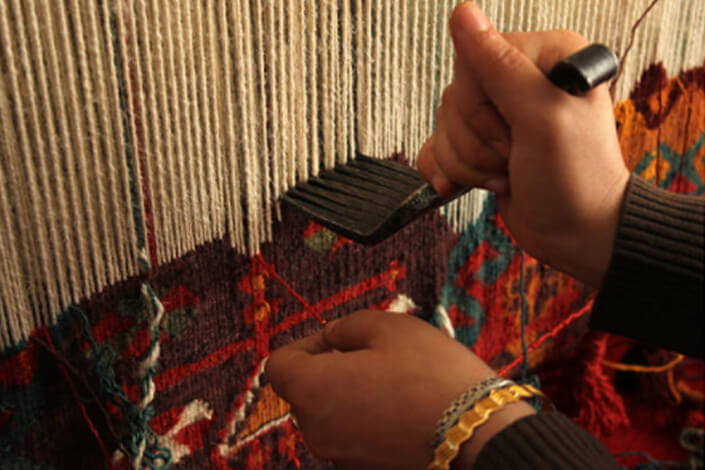 No North Cyprus holidays would be complete without seeing some kilim rugs! These bold and beautiful hand-woven rugs can be found mostly in the Karpaz Peninsula, where they are still produced to this day in small villages. The rugs are highly collectable and are designed to be strong and hard-wearing. You can also find "cicim" rugs, which are ornately embroidered, sheepskin rugs and Angora goat hair rugs in the Karpaz and surrounding villages.
Cyprus Chairs​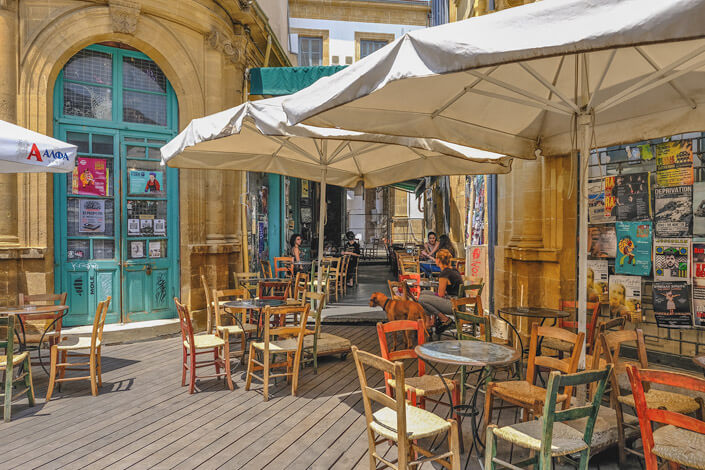 You may also find miniature and full-sized reed-woven chairs sold across the island and in homes, as they are very light but strong, making them a popular choice. Sometimes damaged or broken normal wooden chairs are repaired by replacing the seat with woven reeds.
Plant Knitting​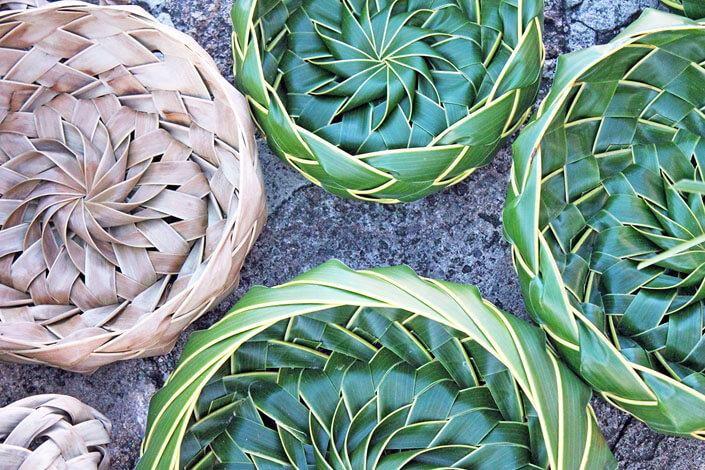 Similar in a way to weaving, plant knitting is so called because weavers use stems, leaves and twigs to create trays, baskets, jewellery boxes and even brooms. The materials are either used as they are found or cut into thin ribbon-like strips before being woven into the chosen shape and design. The Karpaz region as well as the Mesaoria (Mesarya) region of North Cyprus are the main places where plant knitting is still produced.
Cheese Baskets​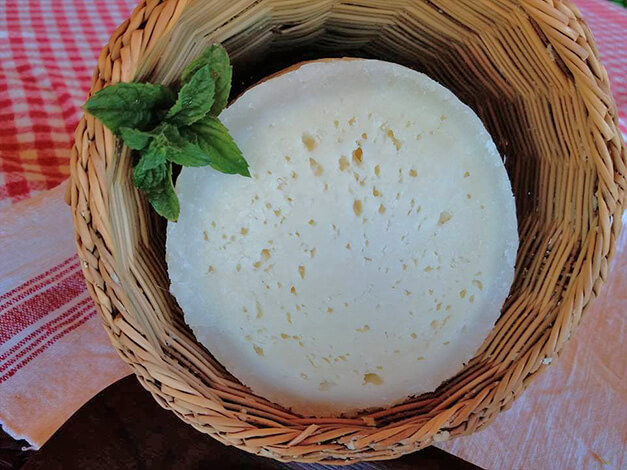 North Cyprus traditional cheese baskets, also known as "sepeti", are made from a special type of reed found in Güzelyurt and Girne. They are used when making traditional cheeses such as hellim (halloumi) or talar peyniri. The cheese curds are pressed into the basket in order for them to solidify for a few days, before being served from the same hand-made basket with some homemade olive bread or karpuz (melon).
Date Palm Weavings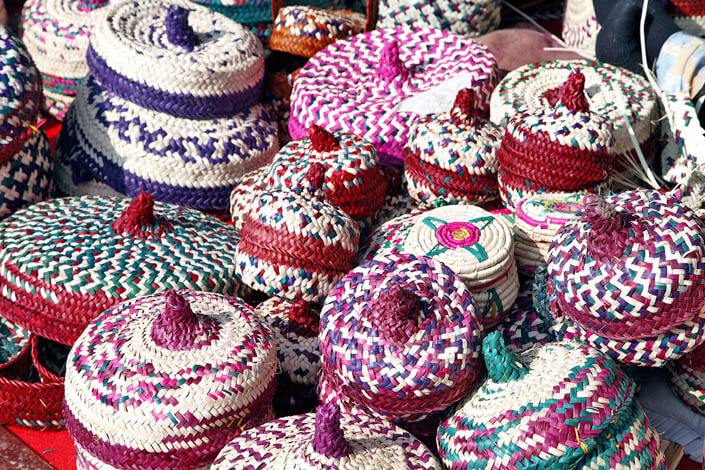 Date leaf weavings are unfortunately now quite hard to find in North Cyprus, so if you do come across any, be sure to buy them! In the past, date leaves have been used to weave baskets, fans and sacks. To weave the products, whole date branches are picked from the trees, dried for at least two weeks and then the leaves are removed. The date palm leaves are then soaked in water to make them easier to work with, before being split into two pieces. The leaves are then placed inside each other and woven into a kind of rope. The rope is then sewn into shapes, baskets or other products with thread created from more strips of date leaf and a very large needle.
Pottery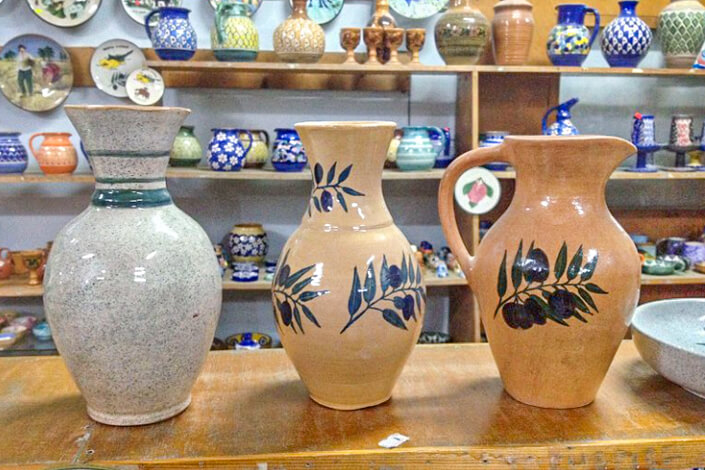 The abundance of clay soil found in North Cyprus has allowed its inhabitants to create amazing pottery for hundreds of years. The clay is locally known as "the ashes of volcanic eruptions" and is perfect for use in various products. The only commercial potter in North Cyprus, Dizayn 74 Pottery, was founded in 1974 and creates handmade and hand-painted pottery near Kyrenia.
Where To Buy North Cyprus Crafts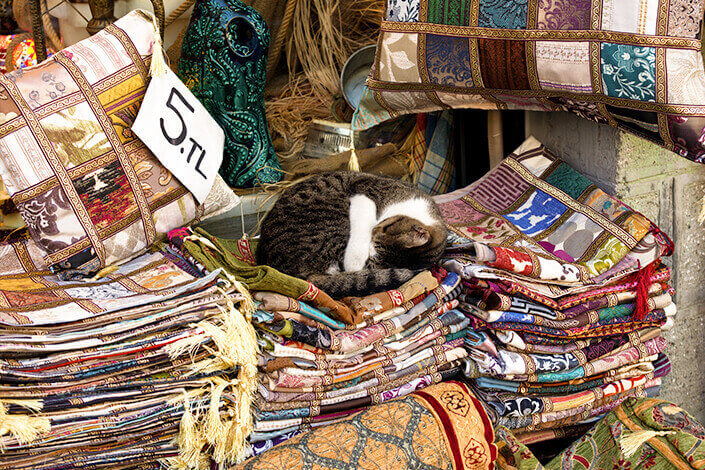 As previously mentioned, local markets and small boutique shops are ideal places to find locally produced handicrafts, particularly in the more remote villages in the Karpaz Peninsula and those which are further out of the main towns of Kyrenia, Famagusta or Lefkosa. The Folk Art Museum in Kyrenia Harbour is well worth a visit, as are the souvenir shops in the Buyuk Han or Handicraft Centre in Nicosia. There is a yearly festival of North Cyprus crafts in Nicosia, and you can also find locally-made crafts and craft workshops at various village festivals including Buyukkonuk North Cyprus Eco-Day Festival, Zeytinlik Olive Festival and the Bellapais Silk Cocoon Festival.