Discover Karpaz
This breath-taking peninsula is all about unspoilt nature & remarkably uncrowded golden sandy beaches
The unspoilt part of the Island…
The Karpas Peninsula can be easily explored from the Kyrenia region, but it is a reasonably long journey. For serious exploration, consider some time at one of the hotels on the east coast of Northern Cyprus.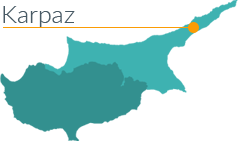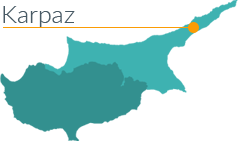 Discover the Karpaz Peninsula
To the north east of North Cyprus lies the 'Panhandle', or Karpas Peninsula. Alternatively spelled Karpaz, the region stretches from near Famagusta to the northern-most tip of Cyprus. The Karpas covers a substantial part of the island and extends to 80 kilometres in length and up to 20 in width.

One of the most unspoiled places anywhere in the whole of the Mediterranean region, the Karpas is home to an outstanding number of birds and its northern and eastern shores have some of the most beautiful and deserted beaches in North Cyprus - in fact in the whole of the island. 

The Karpas region is rich in subterranean water reservoirs, so crops including fruit, olives and tobacco are grown in abundance, although in many of the small villages dotted around the region a tractor is still a novelty and many jobs still rely on traditional horse-drawn tools. The other main source of income for the region now is fishing, with the villages of Bogaz and Kumyali being the main centres for fishing in the Karpas. During the 20th century, some mining was carried out along parts of the Karpas, which are rich in various minerals, but these mines closed long ago and little evidence of this industry remains today apart from a few deserted buildings.
Things to see in Karpaz…
Northern Cyprus' Karpas region is almost totally free from any concentration of industry and people, and is one of the least polluted regions in the Mediterranean. With pine, cypress and maquis trees covered hills that reach an altitude of about 1,000 metres, the Karpaz is also North Cyprus' nature reserve. Escaping the last ice age, the island of Cyprus has managed to retain a substantial amount of biological diversity and the Karpas is home to much of this. Northern Cyprus has many endemic species - North Cyprus flora number about 1,600 (22 endemic) and there are 26 reptile and amphibian species, for most of whom the Karpas is the natural home. Not to mention innumerable insects, including many species of butterflies. Being also on one of the main migration routes of birds between Eastern Europe and Africa, each year approximately 300 species, amounting to millions of birds, use this route in early spring.
Experience the tranquillity of pristine, immaculate, white sanded beaches in the Karpaz Peninsula
Sign up for exclusive offers on Cyprus holidays by email!
No Hidden Charges
All our Cyprus package holidays include:

Return Flights

Hotel Accommodation

Return Local Transfers

Representative Available

All Taxes and Charges

Full ATOL Protection