7 Nights

Mon, 28 Jun 21

Mon, 05 Jul 21
Queen Aphrodite Hotel (Kyrenia)
Hotel Details
Customise Your Holiday
Summary
Final Step
Queen Aphrodite Hotel
Kyrenia
TripAdvisor Traveller Rating
Based on {{model.Accommodation.TripAdvisorTotalReviews}} Reviews
Kyrenia
TripAdvisor Traveller Rating
Based on {{model.Accommodation.TripAdvisorTotalReviews}} Reviews
A peaceful, pure and simple escape
Small & Friendly
Surrounded by local restaurants and bars!
Graced with the unique touch of the Aphrodite Greek Goddess and only 5 minutes from soft golden sands, the blue and cream hues of the newly built Merit Aphrodite Hotel offers a fresh and attractive Mediterranean abode to unwind and relax.
FREE WiFi in public areas
Why Holiday Makers Love it
Located Near a Local Nature Park
5 Minutes from a Sandy Beach
Near Shops, Bars & Restaurants
Stunning Mountain Views
Spacious & Modern Rooms

Included Special Offers:

Included Special Offers:
Duration:
Stay:
This offer can be combined with other offers.
The Merit Aphrodite Hotel offers light and airy accommodation and accommodates its guests within a peaceful and friendly atmosphere.
From modern, exotic gardens displaying beautiful stone statues and ornaments to charming paintings dotted around its spacious interior, this tranquil hotel boasts subtle décor inspired by Aphrodite, the famous Greek Goddess.  Its attractive Mediterranean views are complimented by cream and blue décor, which beautifully captures the outdoors and instills a sense of tranquility throughout. Attractive, contemporary furniture, well equipped rooms with a choice of views and a freshwater swimming pool also add to the feel of comfort and well-being. With local amenities and a golden sandy beach within very easy reach, the Merit Aphrodite Hotel offers its guests the chance to truly relax and enjoy their immediate surroundings, leaving all of their worries behind!
Cyprus Paradise Experts Recommend
The Merit Aphrodite Hotel is located in Alsancak which is a popular area of Kyrenia with a good range of local amenities and beaches with water sports.  It also in a good position for exploring - discover the Martyrs Monument and The Peace and Freedom museum. The fascinating Bronze Age cemetery in the beautiful mountain village of Karaman is also intriguing.
In the neighboring town of Lapta, the popular Lapta strip offers a great choice of restaurants and bars as well as a water park for children and a stunning coastal walk – all this only about a 6 minute ride away! We highly recommend Ambiance Restaurant , The Calamari (a fantastic seafood restaurant overlooking the coast) and The Fly Inn, which also offer some tasty dishes as well as host regular live evening events for all to enjoy.
You can easily catch the dolmus bus down to Kyrenia Harbour from the main road just outside the hotel - by the simple wave of your hand the bus will stop and pick you up and in less than 20 minutes you will find yourself arriving at the historical port of Kyrenia Harbour, home to the ancient Kyrenia castle and its Shipwreck museum, surrounded by even more vibrant restaurants, shops and bars to enjoy.
Please note that some services and amenities may not be available during low season.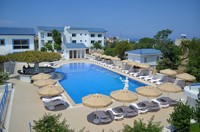 Poolside prinks!
A pristine outdoor freshwater swimming pool is surrounded by attractive gardens with a statue of the Aphrodite Goddess as its centerpiece. A separate children's pool is adjacent and conveniently secured with a safety gate. Striking views of the mountains can also be enjoyed whilst having a relaxing swim and a choice of cooling refreshments await you at Eros Pool Bar, just a step away from the pool!
A la Carte Delights!
The Aphrodite Restaurant enjoys both comfortable indoor and al fresco dining. Breakfast and dinner are served as an open buffet, which includes traditional and international cuisine. There is also the option of dining a la carte with delicious alternatives.
Reviews
Where is the Queen Aphrodite Hotel?
Surrounded by shops, amenities and a local beach, The Queen Aphrodite Hotel is conveniently placed on the main road in the popular area of Alsancak, between the beautiful mountains and the Mediterranean Sea.
5 minutes walk to the nearest beach (Golden Beach)
15 minutes drive from Kyrenia town
45 minutes transfer from Ercan airport
1 hour 25 minutes from Larnaca airport
Queen Aphrodite Hotel
Kyrenia