7 Nights

Mon, 28 Jun 21

Mon, 05 Jul 21
Grand Pasha Hotel (Kyrenia)
Hotel Details
Customise Your Holiday
Summary
Final Step
Grand Pasha Hotel
Kyrenia
TripAdvisor Traveller Rating
Based on {{model.Accommodation.TripAdvisorTotalReviews}} Reviews
Kyrenia
TripAdvisor Traveller Rating
Based on {{model.Accommodation.TripAdvisorTotalReviews}} Reviews
Stylish Boutique Hotel, situated in the heart of Kyrenia
Luxury
Located in Kyrenia Harbour!
The Grand Pasha Hotel, is an extravagant 5 star boutique Hotel, Casino & Spa, that compliments phenomenal surroundings of the glistening Mediterranean Sea, Five Finger Mountains and the vibrant town of Kyrenia.
FREE WiFi in all rooms & public areas
Why Holiday Makers Love it
Opulent Decor
Luxury Spa & Gym
Warm & Friendly Staff
Outstanding Customer Service

Included Special Offers:

Included Special Offers:
Duration:
Stay:
This offer can be combined with other offers.
The Grand Pasha Hotel grants it's guests with extravagance and ultimate luxury, from its lavish décor to its sensational facilities, including their Grand Deluxe SPA with heavenly treatments, specialist chefs providing gourmet cuisine and elaborate suites ensuring ultimate comfort.
Conveniently located in the centre of Kyrenia and only 150 meters away from sea, this boutique hotel is in a prime spot, surrounded by vibrant cafes, restaurants, shops and bars.  It is highly suitable for both summer and winter guests, providing a variety of facilities all year round. Grand Pasha Hotel boasts one of the most luxurious spa's on the island, a stylish roof top bar with breathtaking views, regular concerts and a stylish ball room capable of hosting majestic feasts for up to 700 people. Enjoy unique style, opulence and a sensational service in every aspect.  
Cyprus Paradise Experts Recommend
Only a five minute drive away from the Grand Pasha Hotel is Kyrenia Harbour, home to the historical port and bursting with boat rides waiting to take you across the stunning blue waters of the Mediterranean.  Kyrenia Castle is a magnificent and famous attraction, really worth visiting in the harbour and so is the Icon Museum. Located in the former Greek Orthodox Arkhangelos Church, this museum the perfect choice for exploring both art and history. You will come across icons collected from various local churches, dating back to the 17th century and you can wander around three levels containing fascinating exhibits and icons. Opposite the Museum are the remains of Byzantine catacombs, currently with a restaurant on top! Around 70 of these tombs still exist in Kyrenia, although most are now built over with houses and shops.
The nearest public beach is Diana Beach, which is east of Kyrenia about a 5 minute drive away.  It's a small sandy beach, where rocks line the shore. There is a small seasonal entrance fee and sun loungers as well as jet skis can also be rented. A small restaurant providing snacks and drinks is also available. Catalkoy beach and Alagadi beach are slightly further, but more popular alternatives.  The private beach of Vuni Palace Hotel is a 2 minute drive away from The Grand Pasha Hotel and makes a perfect day out for those who don't mind paying a high entrance fee to also benefit from its premium facilities.
Please note that some services and amenities may not be available during low season.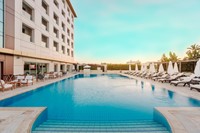 Splash out!
The pristine outdoor pool of the Grand Pasha is complete with a separate children's section and comfortable sun loungers. It's pool bar is open 24 hours. There is also an attractive indoor pool in the prestigious spa area, where comfortable day beds are waiting for you to lie back and forget the world!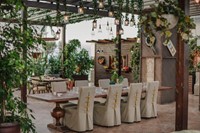 Taste the difference
The Grand Pasha houses two wonderful gourmet A La Carte restaurants: Harissa and Vrisi, offering Mediterranean and international cuisine, delicately prepared by specialist chefs. The Bar and Cielo Lounge Bar also provide a fantastic choice of refreshments and boast an impressive wine list.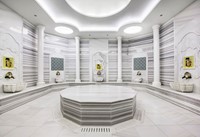 Switch off and bliss out!
The Grand Deluxe Spa is one of the best in Kyrenia, adopting antic Oriental traditions within their tantilising treatments and atmosphere. Guests can enjoy seven luxury treatment rooms, Turkish bath, steam room, sauna, ice fall, swimming pool, relaxation area and fitness centre, with experts ready to advise guests with tailor made programmes. Customized massages and other beautifying therapies are available on request.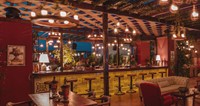 Dance with the stars!
Grand Pasha Hotel regularly hosts enjoyable concerts in the hotel, and its guests also have privilege access to its renowned bars – The Cielo Bar, roof top (in summer) and Tango To Buddha (in winter). Due to its central town location, The Grand Pasha Hotel has the advantage of popular, vibrant bars and restaurants within its vicinity.
Reviews
Where is the Grand Pasha Hotel?
Grand Pasha is located in the centre of Kyrenia, only 150m from the sea.
8 minutes walk from Vuni Palace beach (Free Shuttle Service May-Oct)
10 minutes drive from the Kyrenia town
40 minutes transfer from Ercan airport
1 hour 40 minutes transfer from Larnaca airport
Grand Pasha Hotel
Kyrenia