TripAdvisor Traveller Rating
Kyrenia
TripAdvisor Traveller Rating
Chic Escape with stunning sea views and a luxury Beach Club
Luxury
One of our top picks in Kyrenia!
Luxury five star Malpas Hotel and Casino is rightly acknowledged as one of the leading hotels in Kyrenia, North Cyprus. With prestigious views over the Mediterranean coast, this swanky hotel with stylish features has its own private beach club with sunbathing terraces, an exquisite Spa and large indoor and outdoor swimming pools.
FREE WiFi in all rooms & public areas
Why Holiday Makers Love it
Luxurious Modern Rooms
Amazing Breakfast Spread
Panoramic Mountain & Sea Views
FREE Shuttle to the City & the Beach

Included Special Offers:

Included Special Offers:
A stylish and pampering choice for both couples and families alike, offering an exceptional standard of accommodation, service and facilities in an impressive location.
This modern, ritzy hotel is set amidst fragrant gardens with beautiful views down over the coast and to the mountains behind. The large pool is surrounded by modern loungers and shades with refreshing drinks served from the pool bar. The sophisticated spa is perfect for pampering and the Jazz Bar is great for chilling out in style.  Choose from beautifully appointed, modern hotel rooms in the main building or Diamond Court, their newer addition or even the spacious Pearl and Sapphire mini villas, ideal for families.
For those who want to explore, there is a regular courtesty shuttle service to Kyrenia. There is also a shuttle service which runs to their fantastic Beach Club at Cornaro Beach, where Malpas guests benefit from complimentary entry and use of loungers and shades on the stunning seafront sunbathing terraces and jetty.  If you are after a revitilizing holiday in a fashionable five star with vistas, class and comfort, then Malpas is the one for you.
Cyprus Paradise Experts Recommend
You will be fascinated by the Buffavento Castle, which is a famous and distinctive landmark in the area. The steep pathway leading up to the castle enjoys a range of wonderful views. Don't forget your comfy shoes, camera and to go armed with a bottle of water!  As the highest of the three castles in Kyrenia, Buffavento Castle offers the most spectacular views of Kyrenia, Famagusta, Nicosia and on a good day, the Troodos Mountains. It enjoys a rich and varied history dating back centuries - you will find plenty to explore here.
There is a popular riding club situated in Çatalköy that presents the fantastic opportunity of riding in the Kyrenia mountain range and reaching some historical sites!  Fully guided riding, led by a professional team, shows visitors how to ride and walk with a horse. Ask the receptionist at the hotel for assistance with detailed directions and to assist you with any related enquiries.
The nearby Bellapais Abbey, where British writer Lawrence Durrell (1912-1990) resided, set on the flanks of the Five-finger (Kyrenia) Mountains is a Northern Cyprus historical delight not to be missed!    The traditional village of Bellapais offers a world of architectural history and is just about a 15-20 minute walk up the hill from the Abbey, popular is due to its charming mix of traditional restaurants, cafes and shops, with quaint streets winding into the mountains, as well as its regular cultural festivals held in the area.  With access to pretty mountain trails dotted with wild flowers, walkers can grab the blissful opportunity to relish the fresh scent of herbs and immerse in the untouched, natural beauty of Northern Cyprus.
Please note that some services and amenities may not be available during low season.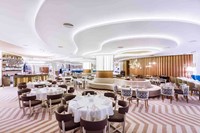 Board Basis Options
Half Board Breakfast and dinner are served as an open buffet in their brand new exquisitely designed Fontana Restaurant, which boasts a luxury interior as well as a peaceful garden setting. It serves both popular Mediterranean cuisine and traditional North Cyprus dishes. Enjoy dining al fresco upon attractive terraces amidst picturesque views in class, style and luxury!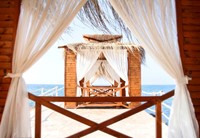 Stylish Beach Fun!
The Malpas Hotel boasts its own recently refurbished Beach Club, reached by a free shuttle service at regular intervals from the hotel (May-Oct). Its two private decks stretch out onto the azure waters of the Mediterranean and are complimented by modern sun loungers and newly upgraded VIP Kabanas with stylish cushions and elegant curtains. Guests can also enjoy dining at their sea front Cornaro restaurant, specialising in the freshest fish, as well as a myriad of other gourmet options. Whether you want to chill out in style or take advantage of the choice of watersports, The Cornaro Beach Club is sure to offer you fantastic fun and memories!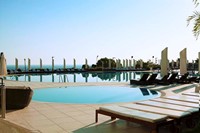 Endure a spacious sun terrace
The Malpas hotel has a spacious, stunning and elevated pool terrace area with relaxing fountains and extensive views over the sea. A large, stylish swimming pool divided by a pretty bridge sits perfectly in the centre. Refurbished for 2017, the modern and attractive area also provides an abundance of sun loungers and stylish VIP Kabanas as well as an exotic poolside bar for when you want to tantalise your taste buds under the sun.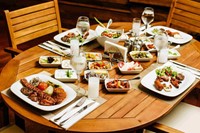 Lovely Cuisine!
Breakfast and dinner are served as an open buffet at the Fontana Restaurant, which boasts luxurious interiors as well as a peaceful garden setting. It serves both popular Mediterranean cuisine and traditional North Cyprus dishes. In summer there is the benefit of dining al fresco on relaxing terrace with gorgeous views. There is also the Cornaro Fish restaurant which is situated at the beach club, which is open all year round. The Pool bar serves snacks, light lunches and refreshments throughout the day in summer. The Jazz Bar, with a smooth atmosphere and a great selection of premium cigars, cocktails and fine malt whisky is open all year for drinks and snacks. The Cornaro Patisserie serves tempting pastries, cakes and confectionery, perfect afternoon tea!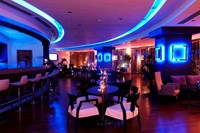 Party till the sun goes down!
The Malpas enjoys a varied entertainment programme throughout the year for the enjoyment of its guests. Various bands perform at The Cotton Jazz Bar throughout the year, which boasts an ideal setting with amazing views over the town, sea and mountains. Guests can take in the scenery whilst enjoying a drink and being entertained by live jazz performances. The Cornaro Beach Club and Club Mansion are fantastic for a night of partying by the sea. The Beach Club promotes top DJs and Special International appearances. If you are visiting due to a special occasion and would like to celebrate in style and luxury, they can also organise this for you! The Beluga Casino, a top casino in Cyprus, is also part of the Malpas and guests are invited for a flutter if they are feeling lucky! The Cotton Jazz Bar, open till midnight, is perfect for a chilled drink with friends, enjoying live jazz performances and views over the Mediterranean.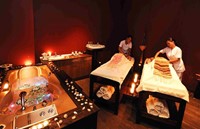 Pamper in style!
The Malpas Hotel Spa, Wellness & Beauty Centre has everything you could possibly need to immerse yourself in relaxation; their tranquil surroundings are the perfect space in which to be pampered. All guests have complimentary use of the indoor pool, sauna, jacuzzi, Turkish bath and steam room; and for only a little extra there are a number of exciting treatments available to add a special touch to your stay. Spa Treatments & Facilities • Far East Massages • Turkish Bath, Sauna & Steam Rooms • Jacuzzi • Indoor Pool • Well-equipped gymnasium • Skin & Body Care • Manicure & Pedicure • Nail extensions • Foot detox • Skin treatments and orthopaedic sports • Deep tissue massage
Reviews
Where is the Malpas Hotel?
The Malpas Hotel is situated in the hills to the east of Kyrenia, just on the outskirts of the pretty village of Çatalkoy.
2 miles from its own Cornaro beach club (Free Shuttle Service May-Oct)
5 miles from central Kyrenia
50 minutes transfer from Ercan airport
1 hour 30 minutes transfer from Larnaca airport