7 Nights

Tue, 29 Jun 21

Tue, 06 Jul 21
Arkin Colony Hotel (Kyrenia)
Hotel Details
Customise Your Holiday
Summary
Final Step
Arkin Colony Hotel
Kyrenia
Kyrenia
The perfect choice for those seeking comfort and refinement in a convenient setting
Luxury
One of our top picks in Kyrenia!
The Arkin Colony Hotel is an elegant 5 star hotel in the heart of Kyrenia, that has successfully achieved international standards and boasts intriguing architecture and a grand colonial design. It offers attractive surroundings, impeccable service, stunning rooftop views and all the premium facilities you could wish for to relax and enjoy a first class holiday.
FREE WiFi in all rooms & public areas
Why Holiday Makers Love it
Real 5 Star Feel
Town Centre Location
Near Kyrenia Harbour
Roof Top Pool with Stunning Views
15 minutes' drive to Nearest Beach
Gourmet Roof top Sea Food Restaurant
Duration:
Stay:
This offer can be combined with other offers.
Just a short stroll from the centre of Kyrenia, this elegant hotel, is an excellent choice for those seeking comfort and refinement in a convenient setting.
From the impressive facade to the stunning roof-top pool and bar, this is a hotel that oozes sophistication. Guests can avail themselves of the fabulous spa and gym facilities, plus a choice of three restaurants. Rooms are spacious, well-appointed and tastefully decorated in neutral tones. The popular attractions of central Kyrenia are within easy walking distance and the hotel has a free shuttle service to a local beach club. All floors are reached by a lift.
Cyprus Paradise Experts Recommend
If you can tempt yourself away from the fantastic rooftop pool and restaurant of The Arkin Colony Hotel, Kyrenia is a perfect place to be any time of the day. Aside from the pretty boats in the harbour that are awaiting your company to sail across the crystal waters of the Mediterranean, within its picturesque cobbled narrow alleys, there are many local shops, restaurants, cafés and bars to enjoy.
Overlooking the entrance to the harbour is Kyrenia Castle. Dating from the time of the Byzantines and subsequently enlarged and strengthened by the Lusignans and then the Venetians, the castle is now home to many historical artefacts including one of the world's oldest shipwrecks – whether or not you are a fan of sightseeing, this prestigious castle with breathtaking views is well worth a visit!
If you feel like venturing out to see the rest of Kyrenia, but haven't a car, The Colony is fortunately only a two minute walk from the main bus terminal that provides busses for just a few Turkish Lira. Kombos busses can be caught from literally next door to the hotel, that go all the way to Nicosia.
Please note that some services and amenities may not be available during low season.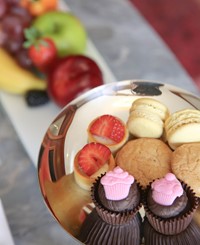 Awaken your taste buds!
Breakfast is served as an open buffet in the Rooftop Vista Terrace restaurant in summer and the Premier restaurant in winter, which also has a full a'la carte menu covering Turkish and International cuisines. Thanks to their sunset views and remarkable atmosphere, the rooftop restaurant and bar provide guests with a truly unique dining experience. The a'la carte restaurants are open all year round, as are the Heritage Bar and Misty Bar which serve drinks and gourmet snacks. Their Heritage Lounge is the place to enjoy afternoon tea or to get together for pre-dinner drinks. In the winter it is the perfect choice to enjoy live piano music with an irresistible cocktail in hand, whilst relaxing by a cosy log fire. The Ottoman style Courtyard Piazza is more suited to a relaxed meal.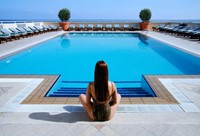 Roof top luxury!
The Colony is one of the very few hotels that offer the unique experience of swimming in a roof-top freshwater swimming pool. With plenty of terrace space and comfortable sunloungers, guests can fully relax in the warm sun and relish the fascinating views of the picturesque town and Mediterranean Sea.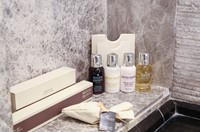 It's time to indulge!
The Colony Spa and Wellness Centre provides premium exercise, calming and rejuvenation facilities, including an exciting choice of beauty treatments. Their fantastic range of quality massages such as sports, deep tissue, orthopaedic and Swedish massages are irresistibly good. Treatment facilities boast a reflexology lounge, solarium, steam room, Jacuzzi and sauna. State of the art equipment and personal trainers are also at your service in their exercise room.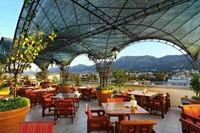 A terrific time on the terrace!
The Colony provides live music and cinema nights on its stunning terrace during high season and live piano music in The Heritage Lounge.
Reviews
Where is the Arkin Colony Hotel?
The Colony is located within the city centre, just a short stroll from the historical Kyrenia Harbour. It is conveniently surrounded by an abundance of popular shops, bars and restaurants.
5 minutes drive to the nearest sandy beach (FREE shuttle service)
7 minutes walk from the Kyrenia Harbour
40 minutes transfer from Ercan airport
1 hour 15 minutes transfer from Larnaca airport
Arkin Colony Hotel
Kyrenia