Cratos Premium Hotel
Kyrenia
TripAdvisor Traveller Rating
Kyrenia
TripAdvisor Traveller Rating
Glitzy Celebrity 5 Star Hotel in North Cyprus
Luxury
Boasts a diverse range of facilities!
The Cratos Hotel in Kyrenia is all about the wow factor. For those seeking glitz and glamour, look no further than this swanky seafront resort that dazzles its guests with VIP treatment, shining décor and a wealth of indulgent facilities from the moment they arrive.
FREE WiFi in all rooms & public areas
Why Holiday Makers Love it
Sea Views
Luxurious Hotel
Wonderful Staff
Amazing Facilities
Prestigious Atmosphere
International Gourmet Cuisine

Included Special Offers:

Included Special Offers:
This newly-built, top-of-the-range hotel, takes pride in offering its guests a golden experience. The Cratos Hotel is majestically set on the seafront, within extensive prestigious grounds, boasting its own Cypriot marina. A flamboyant design with fancy frills makes this hotel an outstandingly fabulous treat!
Providing outstanding peace and tranquillity within immaculate grounds with magnificent views, this exemplary hotel offers a vast range of facilities and a unique service that makes its privileged guests feel amazing. Luxuriously furnished hotel rooms in an array of styles and sizes, from standard rooms to King Suites with Jacuzzis, ensures there is something for everyone and every budget.
The huge pool, of some 1350 square metres, stretches towards the seafront, where the port area with its choice of vibrant and popular restaurants and bars, is located. There are seafront sunbathing terraces and a jetty, from which guests can swim in the sea, with exciting water sports available in high season. To experience their real creature comforts visit the stylishly designed spa, that promotes a wide range of latest health and beauty treatments. This glamorous retreat provides an excellent balance of quality, style, relaxation and pleasure.
Cyprus Paradise Experts Recommend
With everything you could possibly desire on your doorstep at Cratos itself, it will be pretty tempting to just hibernate where you are, indulging in their wonderful amenities! However, some sensational sites are also not far and you will be glad you paid them a short visit…..The Buffavento Castle is a distinctive landmark in the area with breath taking views. There is a steep pathway leading up to the castle, so make sure you are in comfortable shoes and take a bottle of water along with you. As the highest of the three castles in Kyrenia, it's a magnificent place for photos, as well as for exploring a rich and varied history that dates back centuries. Set on the flanks of the Five-finger (Kyrenia) Mountains, The Bellapais Abbey is another site that is close by (about a 10 minute drive) and highly popular. It's also where British writer Lawrence Durrell (1912-1990) once lived! The traditional village of Bellapais itself reeps in architectural history and is only about a 15-20 minute walk up the hill from the Abbey, you will enjoy taking in its charming mix of traditional restaurants, cafes and shops, with quaint streets winding into the mountains.
If you're lucky you may be able to experience one of its cultural festivals that are often held in the area. With access to pretty mountain trails decorated with wild flowers, walkers can enjoy the true Northern Cyprus experience of walking amongst the fresh scent of herbs and enjoying the untouched, natural beauty of the island. There is also the most popular Kyrenia Harbour approx. a 15 minute drive away, home to historical museums and Kyrenia Castle as well as a large variety of shops, small cafes and bars. A great place for present shopping, collecting souveniers and postcards and then relaxing with a rooftop view before you and a Turkish coffee in hand. Kyrenia town centre is only a few minutes away from the harbour boasting some larger shops and fashionable coffee shops and bars.
For nature lovers, ask the receptionist at the hotel for assistance and detailed directions to the riding club situated in Çatalköy,that presents the fantastic opportunity of riding in the Kyrenia mountain range and reaching some historical sites! Fully guided riding, led by a professional team, shows visitors how to ride and walk with a horse. The Alagadi beach, east of Kyrenia, also presents the fascinating opportunity of witnessing baby tea turtles hatching on the sand, your Tour Rep will be able to fill you in on the appropriate season and hours of this popular experience.
Please note that some services and amenities may not be available during low season.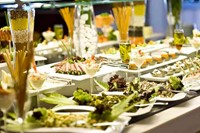 Board Basis Options
Full Board Plus: November - April Buffet breakfast, lunch and dinner, with unlimited soft and alcoholic local drinks to accompany meals served in the Eden Main Restaurant. Soft All Inclusive: May - October Buffet breakfast, lunch and dinner, with unlimited soft and alcoholic local drinks to accompany meals served in the Eden Main Restaurant. • Drinks are served at selected times between meals from Segafredo (open all year) and the beach bar (open in summer). • April - October: Afternoon tea is served in the Susa Patisserie which is located in the lobby at selected times (17:00 – 18:00 ). Extra Supplements are required for all food and refreshments from the A La Carte Restaurant, the Susa Patisserie, the Terrace Bar, Pool Bar and the North Shield Pubs. Room Service and Mini Bar is chargeable.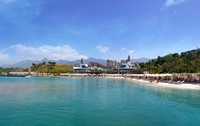 Popular Port Cratos
Port Cratos boasts an exclusive beach with stunning white sands, a lagoon and plush kabanas to provide the maximum pleasure and comfort for their guests.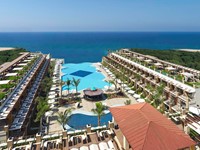 Splash out in style!
The spacious outdoor swimming pool is exquisitely designed and beautifully alluring, surrounded by swanky facilities and extensive sea views. Stunning terraces ensure a luxurious sunbathing experience. The separate children's swimming pool allows families to relax in peace and couples their privacy to endure a tranquil swim on an elevated Mediterranean stage. A heated indoor pool benefits guests during winter breaks, gracing them with its own warmth within a sensational atmosphere.
Enjoy a worldly choice
Wonderfully tasty buffet meals are served at the Eden Restaurant. Sunday Brunches are particularly delicious! The Terrace Bar and Pool Bar, are amazing places to chill out in style and indulge in beautiful cocktails. For hot drinks, cakes and pastries, guests have at their service the Segafredo Café and the Susa Patisserie, which can also create customised cakes upon request! Guests can also use the Exotica Bar, located in the hotel Spa to escape the world or relax in the friendly North Shield pub, located in the hotel lobby, whilst watching a football match! The Bowling Bar is also another alternative to enjoy. For special occasions, guests can hire the Coco Bongo with their own private island bar and chic loungers overlooking the beach area! Then there's Port Cratos, home to some lavish gourmet restaurants by the sea. The Mey Blue fish restaurant is an island favourite, while the popular Ocakbasi Restaurant on the jetty serves authentic traditional kebabs and fresh charcoal-grilled meats. La Matta overlooks the beach and serves amazing Italian cuisine. Golden Cage is a trendy Lebanese and Cypriot restaurant and China Rouge is elegant and fashionable, famous for the talents of its sushi chefs. For light and tasty snacks, Döner-ci serves the best Turkish kebabs.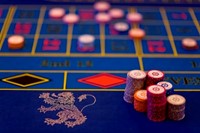 Its time to Party!
The vibrant atmosphere of Port Cratos guarantees entertainment on your doorstep! Cage, their popular outdoor Ibiza-styled club is definitely one of the favourite places to be partying during the summer. Throughout the year it also hosts famous international acts and concerts, performing on the outdoor Cratos stage, lighting up the entire area with fantastic live music. The Cratos Casino is popular, sophisticated and smart and visited by discerning locals as well as hotel guests.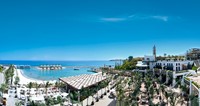 A parent's dream!
• Cratos Children's Club includes supervised care and a range of age-appropriate activities. • The Huckleberry games room offers bowling, billiards, darts, Play Station tournaments and pool tables (some activities incur extra charges). • For ages 0-12 there are babysitting services with professionally qualified staff. • Cratos hotel organises excellent supervised children's activities, including sports for parents that wish to spend their time at their Casino or entertainment nights.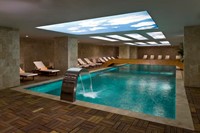 Renew your soul
The Bali-inspired spa offers sensational specialist massages including Indian, Thai, Shiatsu, anti-cellulite and hot stone massages. Their traditional Turkish Hammam, sauna, jacuzzi, steam room and beauty treatments are amongst the finest on the island. A private spa area equipped with sauna, Turkish bath, steam bath, massage room with telephone and TV can also be hired for special occasions! There is also a state-of-the-art fitness centre with personal trainers available, as well as exciting classes, including yoga, pilates and aerobics.
Reviews
Where is the Cratos Premium Hotel?
Cratos Hotel sits on the coast of the beautiful and popular village of Catalkoy, approximately 4 miles east of Kyrenia.
On the seafront with private sandy beach
4 miles east of Kyrenia town
50 minutes transfer from Ercan airport
1 hour 20 minutes transfer from Larnaca airport
Cratos Premium Hotel
Kyrenia