Bellapais Monastery Village
Kyrenia
TripAdvisor Traveller Rating
Kyrenia
TripAdvisor Traveller Rating
Historical Holiday on the foothills of the Five Finger Mountains w/spectacular views & idyllic surroundings
Adult Only
Perfect for exploring the ancient & historical sites in North Cyprus!
Bellapais Monastery Village is classical and elegant in style and warm and traditional by nature. Its timeless views and service keeps fascinated guests returning year after year. Take a stroll into history, then dive into a glistening pool of sunshine, before dining under the stars by night with a carpet of Kyrenia lights laid out before you…a glittering dream!
FREE WiFi in public areas
Why Holiday Makers Love it
Friendly & Helpful Staff
Incredible Views
Peaceful & Relaxing Surroundings
Amazing Food with a Varied Menu
Several Excellent Restaurants Nearby
Near Bellapais Abbey & Town Centre

Included Special Offers:

Included Special Offers:
Elevated in the tranquil foothills of the Five Finger Mountains, with spectacular panoramic views of the Mediterranean coastline, this adult only (12 yrs+) landmark hotel offers an unforgettable, traditional and cultural experience
This imaginative hotel, architecturally inspired by and named after the nearby 12th Century Bellapais Abbey, one of many ancient historical buildings found in North Cyprus, is a small, exclusive property, set in a charming and picturesque location.  Traditionally decorated private villas and hotel rooms with comfortable furnishings matched by the quality of its cuisine and unforgettable views, makes this hotel exceptional.
Equipped with the choice of three pools, a gym, spa and a variety of massages to stimulate your senses, The Bellapais Monastery Village guarantees a stimulating and revitilizing holiday.  Guests can expect a relaxed, warm and hospitable ambiance and enjoy the added distinction of an adult only environment.  Ideally, this hotel is best suited to discerning couples seeking a quiet hotel in idyllic surroundings - a delightful place to stay!
Cyprus Paradise Experts Recommend
The Bellapais Monastery Village is located in Bellapais which is most definitely a perfect location to explore a fascinating world of architectural history. The Bellapais Abbey itself, a former home of British writer Lawrence Durrell (1912-1990), is also set on the flanks of the Five-finger (Kyrenia) Mountains in the beautiful hillside village - a Northern Cyprus historical value not to be missed! The delightful village of Bellapais is just around a 15-20 minute walk up the hill. Its popularity is due to the charming mix of traditional restaurants, cafes and shops, with quaint streets winding into the mountains, as well as the regular cultural festivals held in the area. With easy access to mountain trails, dotted with the colours of wild flowers and the fresh scent of herbs, walkers can grab the opportunity to examine the unspoilt, natural beauty of Northern Cyprus.
You can also enjoy spending time exploring the ancient delights of Kyrenia, which is conveniently situated only 2 miles away! In addition to its vibrant restaurants, shops cafes and bars, its picturesque harbour is a place of history and natural beauty. Once lined with warehouses, stored with fruits of the countryside awaiting export, these buildings are now mostly restaurants, all of which have tables and chairs lining the sparkling sea waters. It is also home to the famous Kyrenia Castle and its Shipwreck Museum, The Carob and Cyprus Life museum and The Icon Museum (located in the former Greek Orthodox Arkhangelos Church) - opposite this one you can also glimpse the remains of Byzantine catacombs, currently with a restaurant on top!
The nearest public beach is east of Kyrenia about a 15 minute drive away – Karakum Beach or Diana Beach, is small but attractive and sandy, although in areas it can be rocky when entering the water. There is a small entrance fee and sun loungers and jet skis can also be rented. A restaurant is open during the summer for drinks and snacks. Catalkoy beach, Escape Beach and Alagadi beach are slightly further, more popular alternatives.
Please note that some services and amenities may not be available during low season.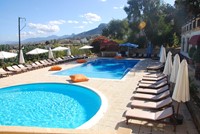 Three distinct pools
Their main outdoor pool offers a spacious swim, whilst a circular and shallow additional pool presents the comfortable opportunity for a refreshing catch-up with fellow guests. Attractive wooden sun loungers and stylish cream parasols add to the traditional décor of the peaceful pool area and a convenient pool bar serves a variety of refreshments during the summer months. Guests are also welcome to use the facilities at their sister hotel, Oscar Resort in Kyrenia, which is open to all age groups and offers a livelier atmosphere. The hotel also offers a lovely indoor pool, perfect for the cooler days during the winter.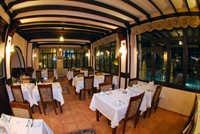 Twinkle your Taste Buds!
The hotel offers a fantastic open buffet or the choice of rich a'la carte dishes, offering International and local specialities. The restaurant is beautifully and traditionally decorated where guests have the choice of dining al fresco! At night the hotel is a spectacular landmark in itself, lit up by the warm glow of the surrounding lamps and enchanted by the twinkling stars and glistening lights of the city beneath. With 3 bars serving snacks & drinks, one in the lobby, one in the pool area and one on the stunning roof, guests will truly be spoilt for choice!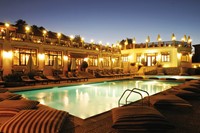 A Monastery of Music!
The Bellapais Monastery Village provides live music for their guests to enjoy on specific nights. During the summer months, a weekly mini banquet is prepared for the luxury of their guests, where the traditional dish of Kleftiko (slow roast lamb) is served, followed by music and dancing for all!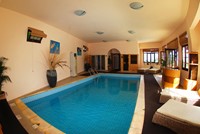 A Pamper in the Mountains!
Indoor Swimming Pool and Spa Area The Bellapais Monastery Village boasts an indoor swimming pool and spa area consisting of a sauna, steam room, exercise bikes and massages can also be organised upon request. Stylish and comfortable day beds compliment the area - a great aspect for guests enjoying a winter break, offering a cosy and relaxing area to revitalise.
Reviews
Bellapais Monastery Village
Where is the Bellapais Monastery Village?
The Bellapais Monastery Village is located on a tranquil hillside setting on the outskirts of the Kyrenia mountain range, about 2 miles southeast of Kyrenia town centre. It is within walking distance of world famous Bellapais Abbey and the restaurants in the village.
13 minutes drive to the sandy nearest beach (FREE Shuttle Service)
5 minutes drive from the Bellapais Abbey
2 miles from Kyrenia town centre
FREE Shuttle Service to Kyrenia Town
45 minutes transfer from Ercan airport
1 hour 20 minutes transfer from Larnaca airport
Bellapais Monastery Village
Kyrenia