7 Nights

Wed, 14 Apr 21

Wed, 21 Apr 21
Almond Holiday Village (Kyrenia)
Hotel Details
Customise Your Holiday
Summary
Final Step
Almond Holiday Village
Kyrenia
Kyrenia
A hidden, authentic charm with genuine character and warmth
Small & Friendly
Traditionally decorated with a Cypriot atmosphere!
Surrounded by olive and citrus groves in the serene foothills of the Kyrenia mountain range framed with captivating views, The Almond Holiday Village is a unique privilege. Boasting authentic, traditional decoration with elegance and style, superior facilities and warm hospitality, it ensures a boutique style experience of genuine Cypriot character.
FREE WiFi in all rooms & public areas
Why Holiday Makers Love it
High standard A la carte Menu
Choice of Hotel Room & Bungalow
Extremely Warm & Hospitable Staff
Cultural design with Antique Furniture
Duration:
Stay:
This offer can be combined with other offers.
The Almond Holiday Village is a stunning traditional boutique hotel of the Mediterranean set against a beautiful mountain backdrop in the popular coastal village of Alsancak.
This tranquil, family run holiday village boasts artistic and traditionally inspired décor throughout.  From the moment you enter its Ottoman doors, you are stricken with passionate attention to detail complimented by significant warmth and culture.  Lush, Mediterranean gardens are dotted with restored Cypriot antiques, whilst bespoke wooden furniture, traditional paintings and hand embroidered cushions dress its interiors.  
The Almond Holiday Village is one of the few traditional Cypriot hotels where you can still experience legendary local hospitality with a 100% Cypriot heritage, a distinguished choice of beautifully served traditional & world cuisine and well furnished, boutique style accommodation. Their traditional mezzanine villas, spacious cottages, hotel rooms and a disabled friendly villaare all graced with modern comforts and picturesque views to provide their large number of loyal and repetitive guests with the perfect "home away from home".
Cyprus Paradise Experts Recommend
The Almond Holiday Village itself is bursting with fantastic home-made traditional artefacts.  If you fancy any of these as souvenirs, the hotel can actually make and personalise these for you during your holiday, providing you give them enough notice. 
Alsancak has some of the most popular beaches on the Cypriot north shore with crystal waters and stunning sandy coves. The nearest is the popular, family friendly Camelot beach, just under a mile away, which enjoys an exciting variety of water sports (scuba diving, banana rides, jet skiing, water skiing).  This sandy beach is well maintained, with great facilities, including sun shades and loungers, a restaurant and bar and live music can also be enjoyed in their club until the early hours!
Within walking distance is the ancient city of Lambousa – "The Kingdom of Heritage", a famous archaeological attraction and fine example of secular art from early Byzantium - The historical foundations of a lighthouse, sea-water fishponds and a section of the city's wall still exist in the 6th century Byzantine town.
A recommended walking track that can be experienced from The Almond Holiday Village's doorstep, is the spectacular walk to the picturesque Malatya Waterfall, situated in a small village in the mountains just above Alsancak, which also makes an ideal place for a picnic. Other paths slightly further away, but definitely worth venturing are Karaman Bronze Age Tombs, Kozan Monastery & Valley, Karşiyaka Monastery, Geçitköy Reservoir and the Lapta Coastal Walk, where you will discover a newly  built seafront promenade enjoying 1.5km of stunning sea views. 
Please note that some services and amenities may not be available during low season.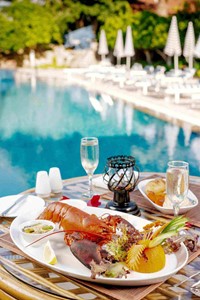 Home cooked traditional grub!
The Almond Holiday Village provides an amazingly delicious a la carte menu with home made, freshly cooked local and continental cuisine. Meals are immaculately served in the warm and traditional atmosphere of their exquisitely designed Almond A la Carte Restaurant, which offers indoor as well as al fresco eating areas with authentic, Ottoman décor and seating. They also have a Sky Sports Bar for their guests to get together and enjoy a laid back drink as well as an attractive Pool Bar to luxuriate with a cool refreshment, whilst enjoying a serene swim.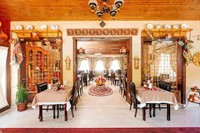 Join in the fun!
The Holiday Village often enjoys Cypriot BBQ Nights and live music and singers during high season and on special occasions.
Swim in Tranquility
Surrounded by immaculately designed, gorgeous Mediterranean gardens, their pristine swimming pool is well appointed and consists of a separate small pool for young children. Comfortable sunbeds, inviting Ottoman areas and their new luxury pergola amongst the Mediterranean palm trees provides plenty of tranquil places to relax around the pool.
Reviews
Where is the Almond Holiday Village?
The Almond Holiday Village nests on the gentle slopes of the Kyrenia mountain range, 8 miles west of Kyrenia town in the popular village of Alsancak.
3 minutes drive to the nearest beach (Escape Beach)
8 miles west of Kyrenia town
55 minutes transfer from Ercan airport
1 hour 20 minutes transfer from Larnaca airport
Almond Holiday Village
Kyrenia