Top 10 North Cyprus Desserts
Sweeten up your day and get those taste buds tingling with our selection of the top 10 desserts you must try on your next holiday in North Cyprus.
Our top 10 desserts to try when you are on holiday in North Cyprus
Top 10 North Cyprus Desserts
Sweeten up your day and get those taste buds tingling with our selection of the top 10 desserts you must try on your next holiday in North Cyprus.
Our top 10 desserts to try when you are on holiday in North Cyprus
Our top 10 desserts to try when you are on holiday in North Cyprus

Top 10 Desserts to Try in North Cyprus
Here in North Cyprus we just love desserts!! We have restaurants dedicated to the world of everything sweet and tasty, from ice cream parlours to street stalls, bakeries and sweet shops. No Cypriot meal is complete without at least one dessert! 
We explore the top 10 most-loved desserts in North Cyprus below. Let us know on social media your favourite desserts and if we've missed any from our list! 
1. Helva (Tahini and Nuts)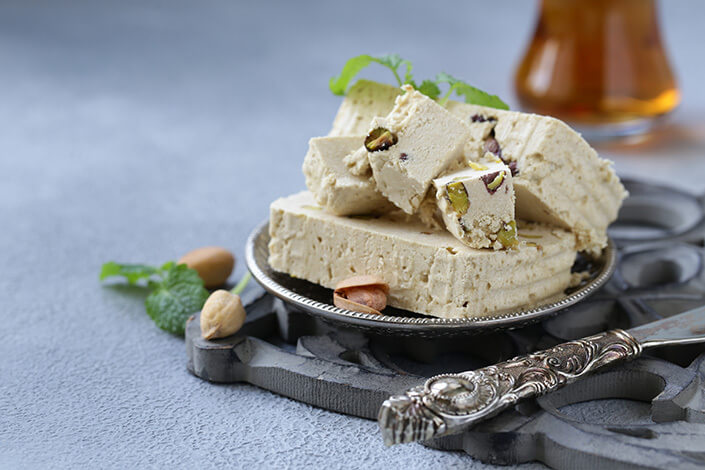 In North Cyprus, helva comes in various forms depending on the ingredients, from pistachio to cocoa, coffee and vanilla, there's sure to be one that suits your tastes. Helva (aka halva) is made from slices of ground sesame seeds (tahini) and sugar, but it can also be made using semolina. It's fluffy, crumbly and nutty all in one, which is why it is a very popular light dessert after a large meal.
2. Macun (Soaked Walnuts)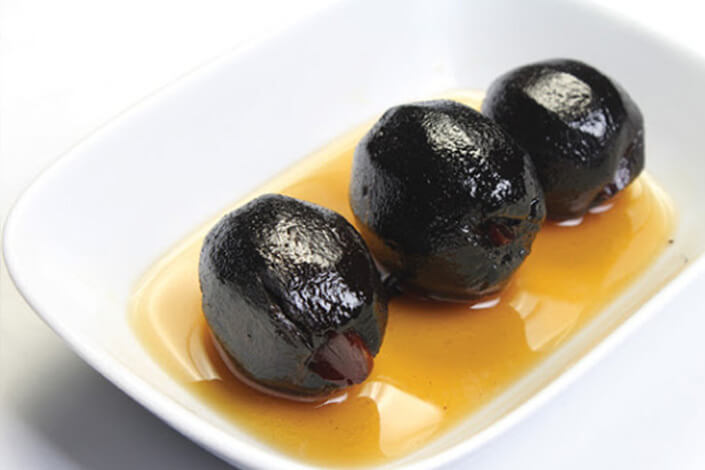 Macun or ceviz macun are walnuts marinated in sweet syrup. They are very soft as the nuts are soaked for around a week and then stuffed with almonds before being dipped in a delicious syrup. Some restaurants still serve this little treat on the house after you've eaten your meal. Macun can also be made from other fruits such as figs and pumpkins and are perfect with a Turkish coffee, as the sweetness compliments the bitter coffee very well.
3. Dondurma (Ice Cream)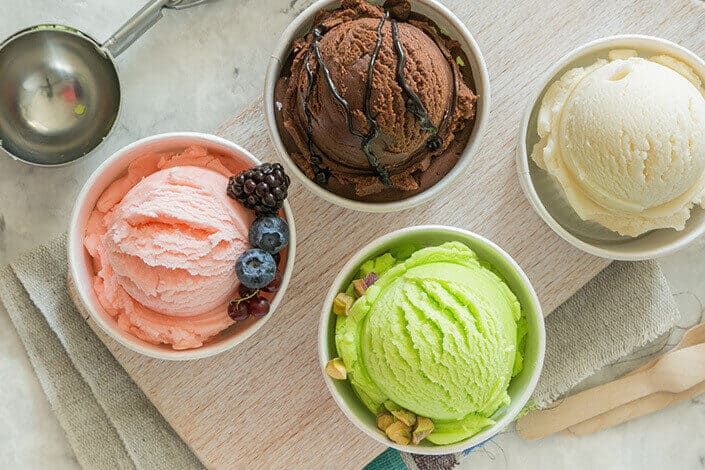 There are so many "gelato" and ice cream shops in North Cyprus, making them the perfect place to stop and enjoy a refreshing ice cream or milkshake when out and about. Most also sell a wide variety of desserts, pancakes, waffles and cakes as well as sorbets and hot drinks. There are huge choices of ice cream flavours to choose from and most of them are made with fresh fruits. One of the biggest chains, Mardo's, offers a massive selection of over 14 different flavours!! Some of the favourites include; pistachio, cheesecake, melon, prickly pear, lemon, Oreo, Bounty, blue angel and caramel. 
4. Ceviz Sucugu (Walnut Sausage)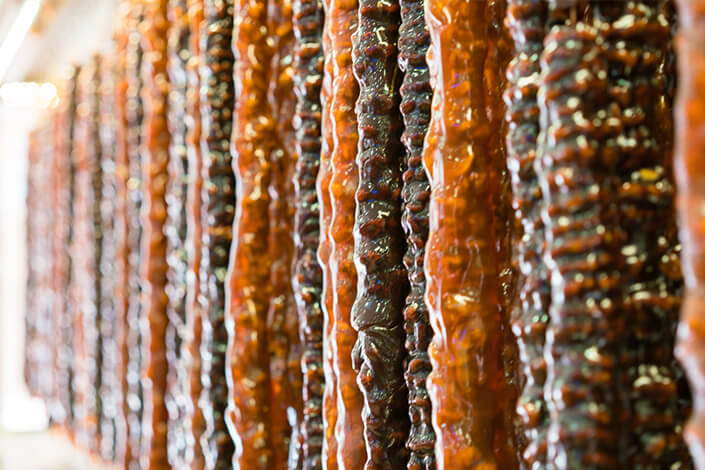 You may well have seen these hanging in shops and wondered what they are! Well, they are called ceviz sucuğu / badem sucuğu which basically translates as walnut sausage. They are made from grape molasses, fruit juices, walnuts or almonds, flour and sugar. The nuts are threaded onto a string and then dipped in the mixture before being hung up to cure. An amazingly satisfying treat, so don't be afraid to ask the shopkeeper about each of the flavours on display! 
5. Sütlaç (Rice Pudding)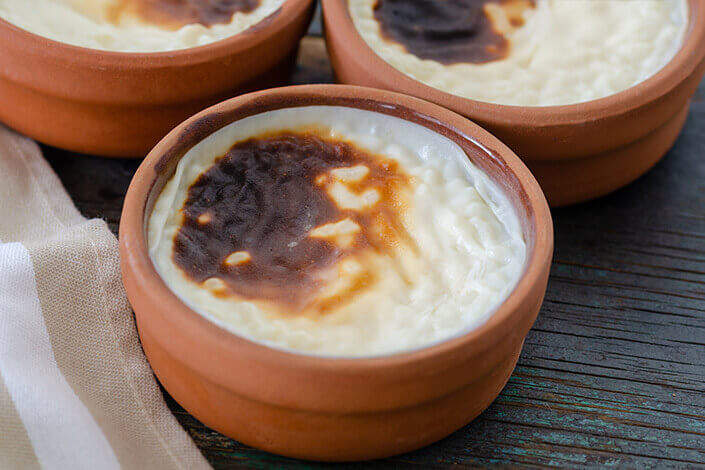 Unlike rice pudding in the UK, sütlaç is served cold, with a delicious thick skin on top and is the perfect end to a lovely meal, being both refreshing and wonderfully satisfying. You can find this dessert in nearly every restaurant, as well as bakeries and supermarket counters. One to definitely try at least once when in North Cyprus! Also look out for muhallebi which is a rice-based milk pudding which looks very similar, however it has a wobbly texture like jelly and comes without the skin. 
6. Lokma (Fried Dough Balls)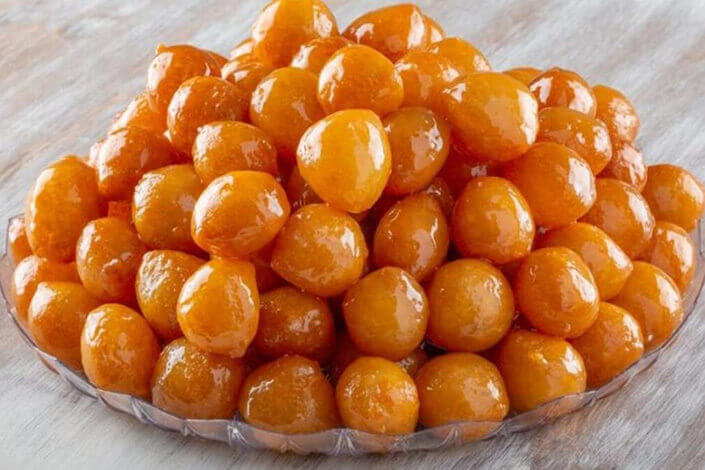 Lokma are fried pastry balls or sausage shapes soaked in a sweet sugar syrup, sort of like a mini doughnut. The dough is deep fried, soaked in the syrup and then sprinkled with honey, sesame seeds or sometimes cinnamon. It's common to find these being served at street stalls around North Cyprus, and most sellers will be more than happy for you to try a ball for free, knowing full well that they are so moreish, you'll definitely want more!
7. Kadayif (Shredded Pastry Cake)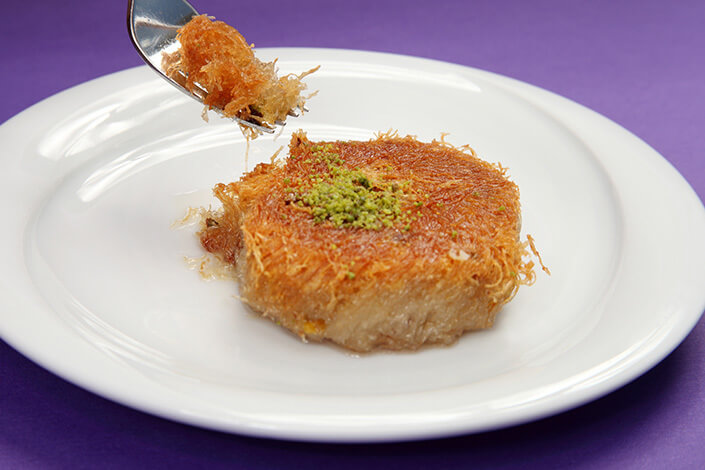 The second most popular dessert in North Cyprus apart from baklava, it's not surprising that you will find various forms of kadayifi everywhere. The basic ingredients are shredded pastry dough known as "angel hair", butter or cheese, milk and nuts. The "stringy one" which you will see is called "tel kadayif", the syrupy spongy one is "ekmek kadayıfı" which is one of the oldest desserts in Cyprus, similar to bread pudding, and finally "taş kadayıfi" are a type of folded pancake filled with nuts such as pistachio and hazelnuts. All of these kadayifi desserts are best served with a good dollop of kaymak which is a type of clotted cream. 
8. Pastelli (Nut Crunch)
Pastelli is a traditional caramel dessert made from sesame seeds, honey and carob fruit syrup. The cooled syrup is pressed into thin bars and either grounded peanuts or sesame seeds are added on top. A delicious snack with a great crunch! 
9. Trilece (Milk Sponge Cake)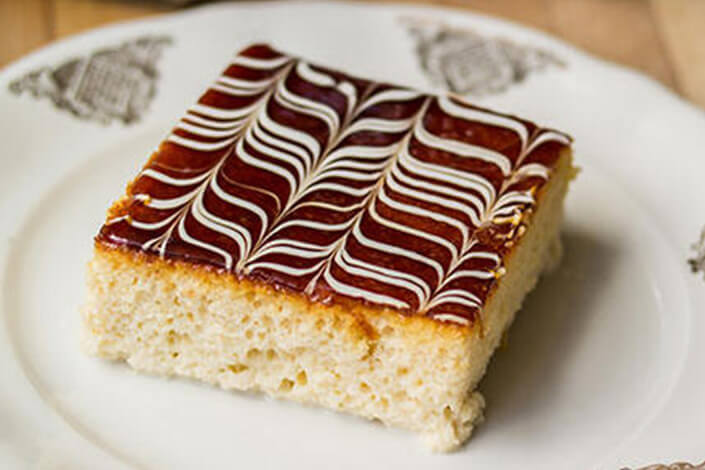 Trileçe is a delicious milky sponge cake, which is very juicy and light, perfect after a heavy meal. Made from 3 different types of milk, this moist sponge is one of the more popular desserts you will find on buffets and in restaurants in North Cyprus. The trileçe either has a caramel syrup topping or a fruit syrup is sometimes used and it can be decorated with a cream lattice marble design or desiccated coconut.  
10. Baklava (Syrup Filo Pastry)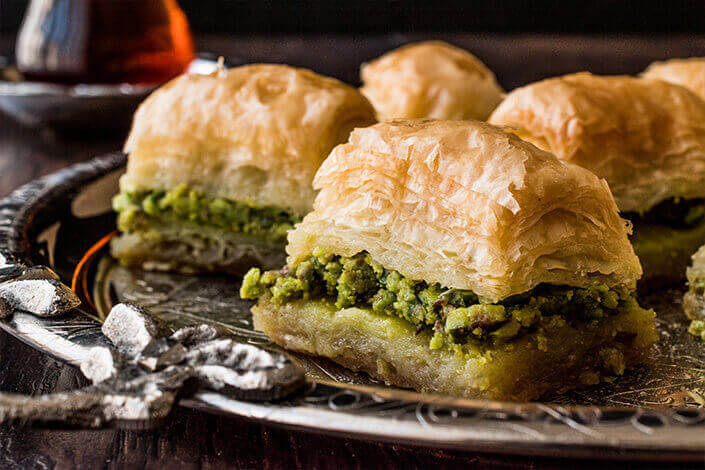 Finally, we come to the most popular dessert in North Cyprus - baklava! Made from filo pastry, and filled with chopped nuts before being generously soaked in sugar syrup or honey, baklava can be enjoyed at any time of the day, and goes especially well with tea or coffee. You will find it pretty much everywhere in North Cyprus, so if you've never tried it, try a piece with a dollop of cream or ice cream. Yum!