Top 9 Things to Do in Karpaz Peninsula
Discover a hidden heaven on the earth and immerse yourself in nature's masterpiece.
An untouched paradise waiting to be explored…
Top 9 Things to Do in Karpaz Peninsula
Discover a hidden heaven on the earth and immerse yourself in nature's masterpiece.
An untouched paradise waiting to be explored…
An untouched paradise waiting to be explored…

The Karpaz Peninsula, located in the eastern part of Northern Cyprus, is a beautiful region known for its stunning natural beauty, secluded beaches, and rich history. Whether you are looking for a relaxing getaway or an adventure-filled holiday, the Karpaz Peninsula has something to offer for everyone. Plus, with improved road access, getting there has never been easier.
 In this blog, we will discuss some of the top activities you can do in the untouched Karpaz Peninsula.
1. Explore Golden Beach
Golden Beach is a 1.8 miles stretch of golden sand and crystal-clear waters located on the Karpaz Peninsula's northern coast. The beach is home to endangered loggerheads and Green turtles, and visitors can watch them hatch and make their way to the sea. With crystal-clear waters and stunning mountain views, Golden Beach is the ideal spot for sunbathing and swimming.
2. Feeding Donkeys: A Must-Try Activity in Karpaz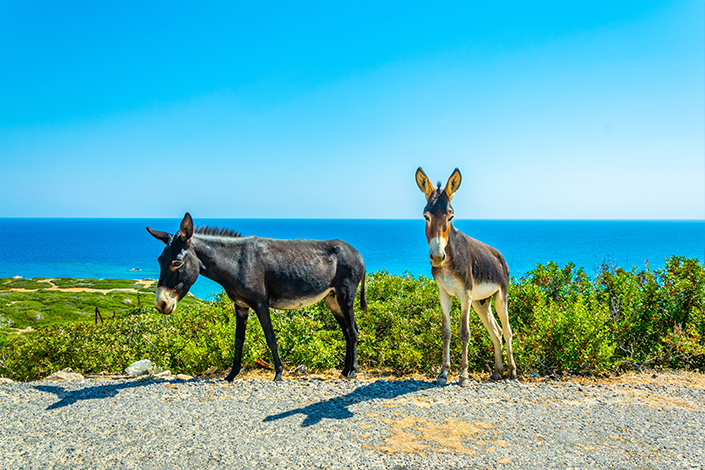 Animal lovers and families with children should not miss the opportunity to visit the charming Karpaz National Park and interact with friendly donkeys. At the donkey sanctuary, visitors can feed and play with the donkeys, and even bring treats like carrots to make the experience more interactive.
3. Visit St. Andrew's Monastery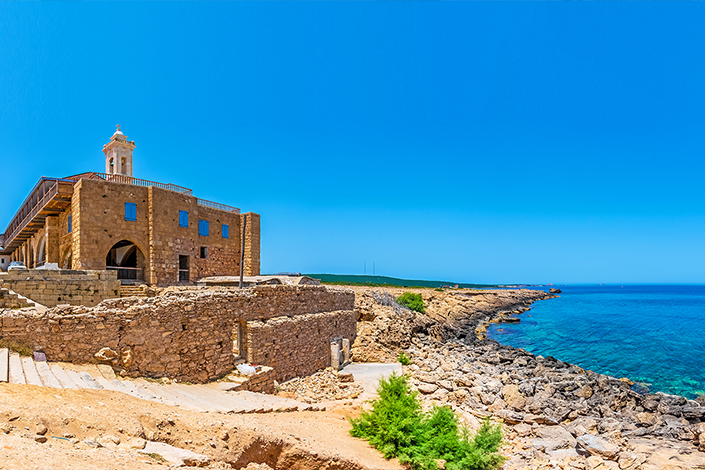 St. Andrew's Monastery is a 15th-century monastery that is still in use today. Legend has it that the monastery's origin story goes like this: Saint Andrew was on a journey to the Holy Land when his ship went off course and hit rocks at this spot. When he reached the shore, Andrew struck the rocks with his staff, and suddenly, a spring of healing water gushed out. This water miraculously restored the sight of the ship's captain, who had been blind in one eye. Ever since that day, the place became a popular pilgrimage site.
4. Go Hiking in the Karpaz National Park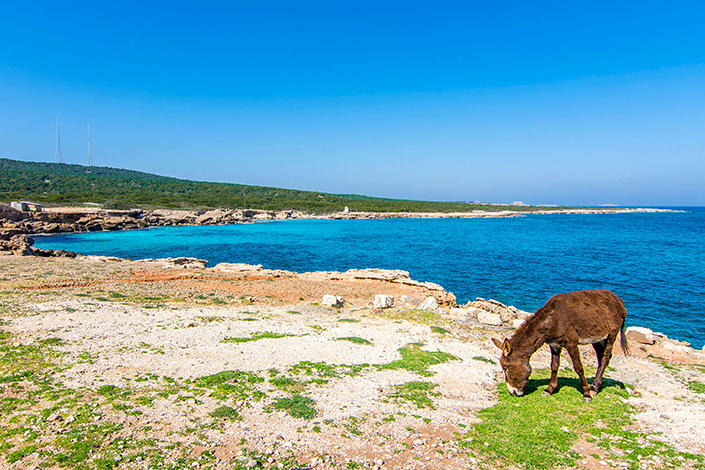 The Karpaz National Park, located on the eastern end of the peninsula, is home to a diverse range of flora and fauna, including wild donkeys, foxes, and birds of prey. The park offers several hiking trails, including the 6-mile Karpaz Peninsula Trail, which takes visitors through pine forests, rocky terrain, and along the stunning coastline.
5. Go Fishing in the Mediterranean Sea
The Karpaz Peninsula's pristine coastline offers some of the best fishing opportunities in North Cyprus. Visitors can hire a boat or go on a fishing tour and try their luck catching local fish species such as sea bream, red mullet, and barracuda.
6. Yeni Erenkoy and Buyukkonuk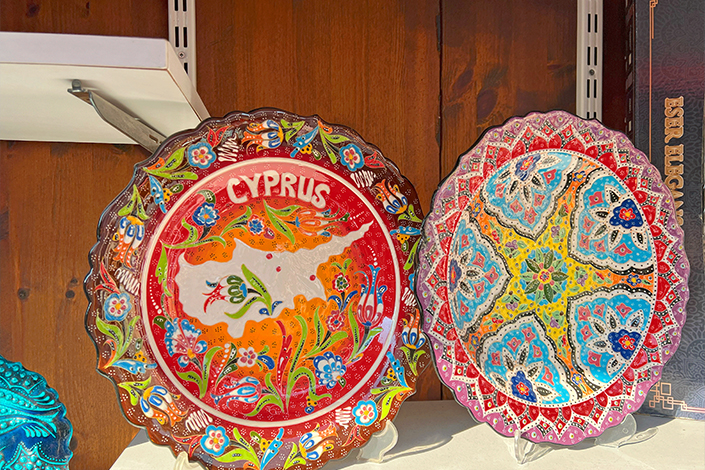 Delve into its rich history in the tobacco industry and don't miss the vibrant Monday market offering local goods, fresh produce, handmade crafts, and traditional snacks in Yeni Erenköy. Meanwhile, Büyükkonuk Eco Days, held twice a year in the eco-village of Büyükkonuk, allow you to participate in traditional activities like bread-making and handicrafts, enjoy local music and dance performances, and support the local community with stalls selling fresh produce.
7. Visit Bafra - Beach Paradise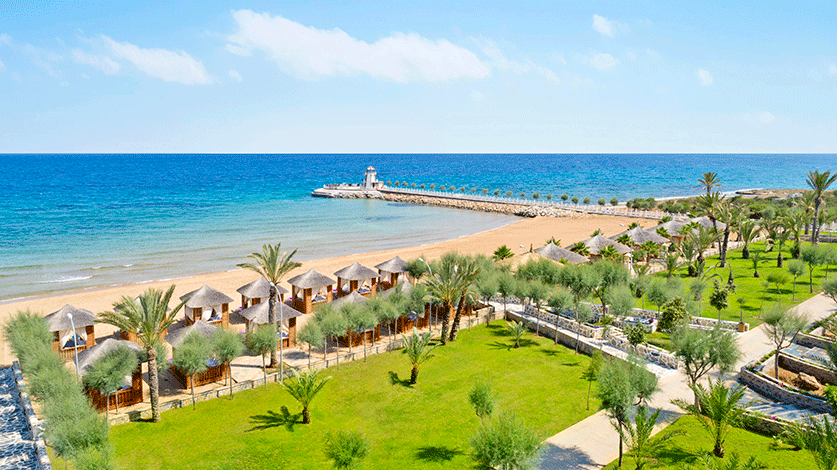 Bafra is a small town located in the Famagusta district of North Cyprus, and it is situated near the Karpaz Peninsula. It is known for its beautiful coastline, crystal-clear waters, and stunning natural landscapes.
Plus, Bafra is home to many hotels with private beaches and pools, such as
Each offering unique amenities and activities. Visitors can enjoy water activities such as swimming or simply relax on the beach and soak up the sun.
Bafra is definitely worth a visit for anyone exploring the Karpaz Peninsula and seeking a more laid-back atmosphere. If you're interested in planning your Bafra holiday, be sure to check out this link.
8. Visit Kantara Castle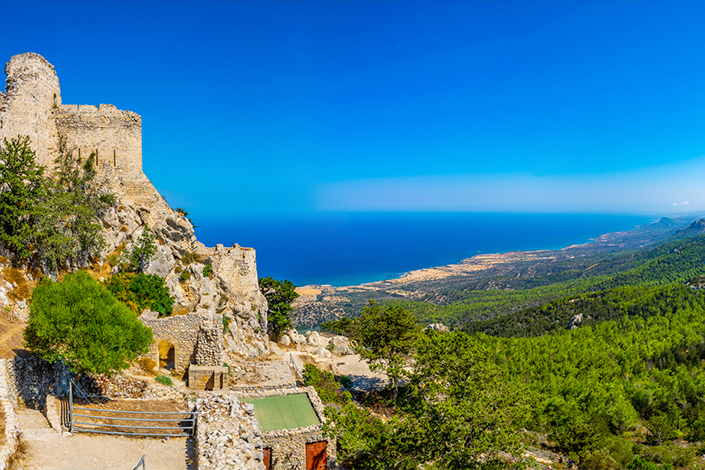 Kantara Castle, situated within a one-hour drive from the Karpaz Peninsula, is a highly recommended landmark that should not be missed. The castle's name, "Kantara," originates from Arabic and signifies a bridge or an arch. This name is quite fitting, considering the castle's strategic position, acting as a bridge between mountain ranges and offering panoramic views of both the northern and southern coasts. Boasting a fascinating history that dates back to the Byzantine era, it serves as an ideal destination for history enthusiasts, adventurers, and those seeking breathtaking scenery.
9. Last But not Least, Karpaz Gate Marina Hotel
Nestled in the beautiful Karpaz Peninsula, the Award-winning Karpaz Gate Marina Hotel offers a wide range of world-class amenities and exceptional service to its guests. From its private beach club and stunning 33m infinity pool to its modern spa and wellness centre with customised retreat programs, this Marina Resort provides an unparalleled experience of relaxation and luxury. Plus, The hotel's restaurant is a standout feature of the property, and all visitors are welcome to enjoy its delicious food and scenic marina views.
In conclusion, the Karpaz Peninsula is a hidden gem in North Cyprus, offering visitors a unique blend of natural beauty, history, and culture. Whether you are interested in exploring the region's stunning beaches, hiking through pine forests, or experiencing local culture, the Karpaz Peninsula has something to offer for everyone.