Top 10 most instagrammable Spots in Cyprus
Do not miss out on these most incredible photo moments...
A Photograph is a thousand words…
Top 10 most instagrammable Spots in Cyprus
Do not miss out on these most incredible photo moments...
A Photograph is a thousand words…
A Photograph is a thousand words…

Whether you want to create an energetic atmosphere with the buzz of the cities bursting with life, or capture the plush and crystal clear coastlines of the island you can get your perfect snapshot. Cyprus has some of the most dazzling instagram spots for you to share with your friends and family. Take a snapshot of the soft curves of Cyprus's natural landscapes or capture the essence of true Cypriot spirit.
Petra tou Romiou (Aphrodite's Rock)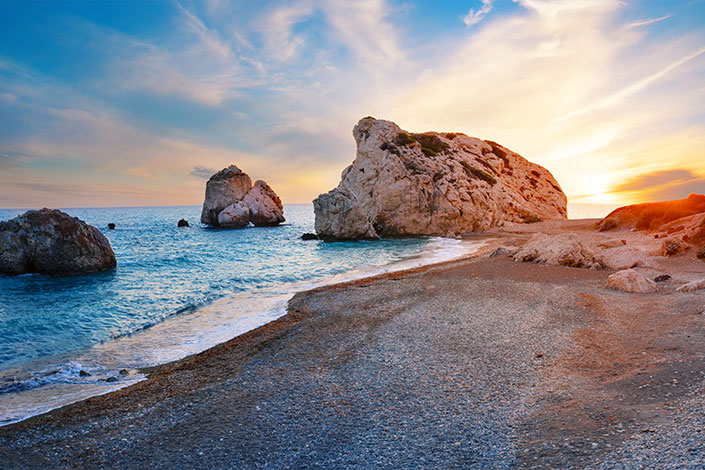 Legend has it that Aphrodite the goddess of love & beauty emerged naked from Petra rock found in the region of Pathos. This is the magical birthplace of Aphrodite, so if it is fit for a goddess it's certainly fit for an instagram photo. The rock is submerged within the depths of the enigmatic waters of the Mediterranean sea. Take your camera just before sunset for an enchanting photograph, while being cradled by magnetic foamy waters.
Kyrenia Harbour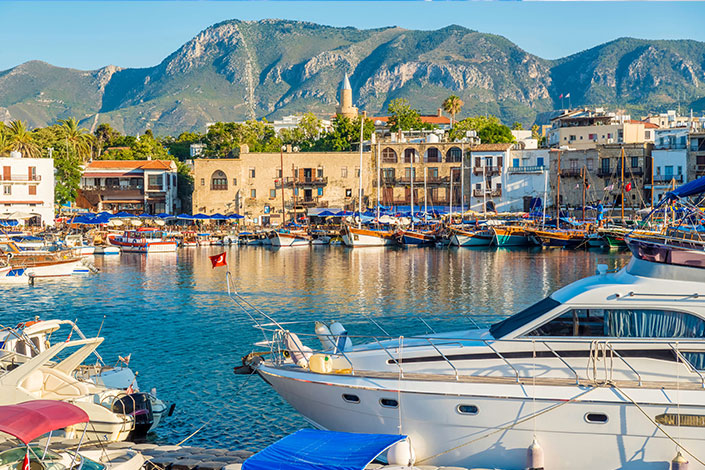 Kyrenia Harbour is an enchanting & charming site to behold bursting with life. It feels almost like a movie set the way the old buildings sit precariously like matchsticks above the harbour which are full of character. The Kyrenia castle stands proudly against the backdrop of the fishing boats bobbing up and down in the gorgeous cove of the harbour. At night it is painted with colourful lights flickering from the cafes, bars and restaurants which surround the harbour. It truly makes an excellent instagram spot, if you go to the Kyrenia castle bridge you can capture some dazzling panoramic views of this old charismatic town. Also as a perk, Kyrenia harbour is being completely renovated so make sure you visit for the great reveal!
Sea Caves, Ayia Napa - Peyia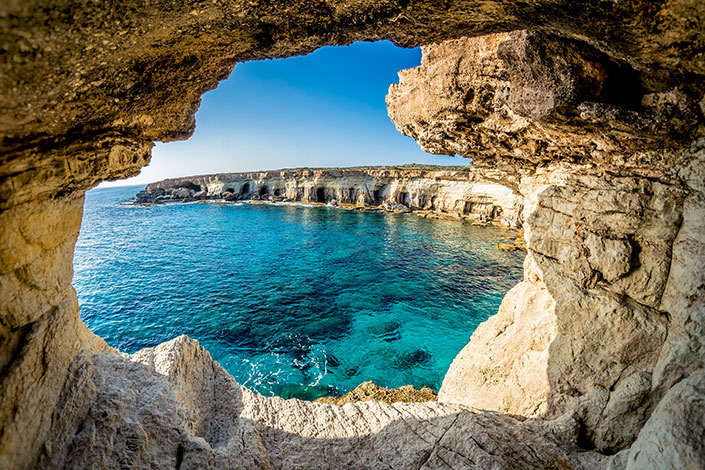 The mystical sea-caves in Ayia Napa are truly a mesmerising site to behold, making them the most photographed spot on the island. Often featured on Instagram, white-washed caves in natural formations against foamy waters provide the perfect backdrop.
You do not have to despair if you find yourself on Paphos' other side either. Although less well known, perhaps also just as impressive is an area with sea caves near Peyia. Wait for nature's magic to do its work at sunset and capture the sun mirroring this enchanting setting at dawn.
Cyprus Villages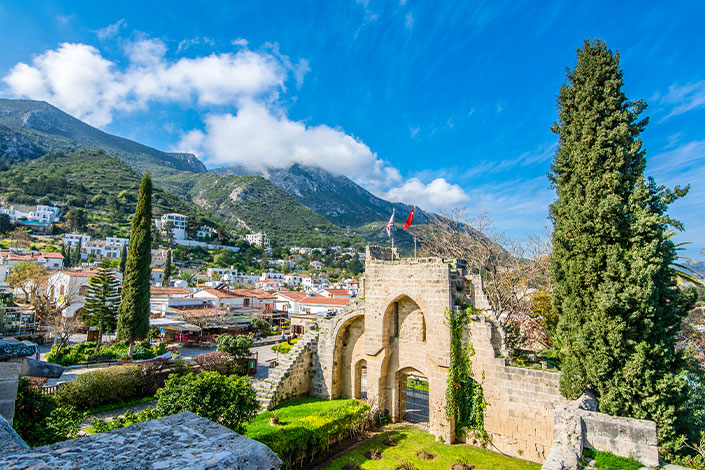 Cyprus is home to some of the most quaint & charming villages in Europe. Small old villages can be found nestled along the side of the mountains away from tall buildings, crowded beaches, and flashy hotels. Additionally, they provide the perfect backdrop for photography as well as a cool escape from the summer heat.
There are many villages to visit. Some iconic ones are Bellapais and Karmi villages in the North while in the south the Troodos villages are popular among tourists in the winter. Platres, Kalopanayiotis, and Kakopetria are some of the Troodos villages most popular with locals.
Karpaz Peninsula the Untouched Panhandle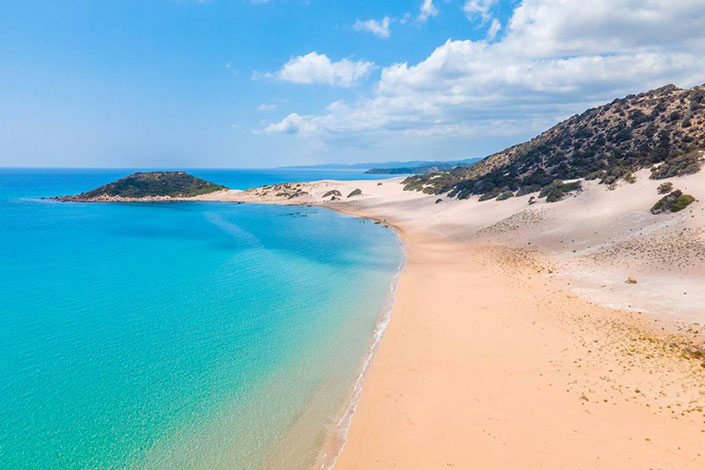 Karpaz is arguably one of the most undisturbed coastlines in Europe. Decadent, soft, powdery sands stretching out generously along the islands 'panhandle'. Capture enigmatic landscapes, wild donkeys & ancient monuments of history & experience the true beauty of nature. Making Karpaz one of the most photogenic places on the map.
Troodos Mountains in Winter
Snowfall in Cyprus? Yes please! Head over to mount olympus, the snowiest point of Cyprus found in the Troodos region.
From November to April, this region is covered in snow which creates a magical backdrop full of pine trees & white powdery snow. It would make excellent photos to share with your loved ones in the festive season. The skiing scenery is also served by four local ski resorts: Troodos Square, Platres, Pedoulas, and Kakopetria. It is located in the Troodos Mountains and has four main slopes dedicated to different skiing difficulty levels.
Nicosia Old Town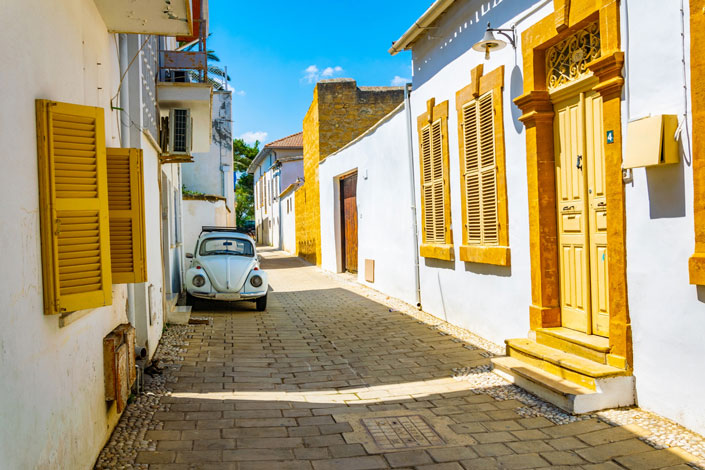 Nicosia is often clouded by being labelled as the last divided city in the world. This often takes away from the underrated home this city truly is. It is home to some of the most beautiful colonial buildings, quaint cafes and bookshops and the narrow winding streets making it an enchanting place and hashtag perfect place for that instagram shot to share with friends & family.
Varosha Ghost Town(Famagusta)​
Picture history's once most iconic luxury tourist destinations in the 1970s visited by such celebrities as Elizabeth Taylor, Richard Burton, Raquel Welch, and Brigitte Bardot to name a few. Varosha was the world's leading tourist destination from 1970-74 with a coastline filled with luxury resorts and a fully living, breathing town full of bars, shops & restaurants.
After the war of 1974, the town was barricaded and closed off to the world never to be seen again, until now… Varosha is now finally open to the public, picture buildings frozen in time, picture streets abandoned.
Due to it being inaccessible for some time, it also has two of the most undisturbed beaches with crystal clear waters that you can now visit.Varosha is truly a living museum making for some of the most eerily magnetic and mesmerising views to share. So explore the sandy shores of Varosha Famagusta, a forgotten paradise.
Salt Lake Larnaca in the Winter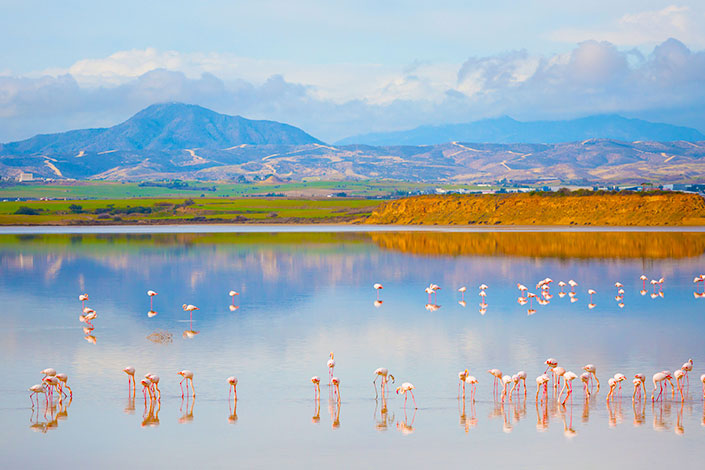 The place of pink Flamingos makes for a great snapshot against nature's pristine waters. The salt lake of Larnaca is a protected habitat & consists of four salt lakes, each of varying sizes, located west of the city. The largest lake is Aliki, followed by Orphani, Soros, and Spiro. Legend has it that Saint Lazarus requested food and drink from an old woman that caused the lake's saltiness. In response, Lazaros said that may her vines be dry and a salt lake forever more, since they had dried up. Will you dare take your photo?
Paphos Old Town
Paphos Old Town is an amazing destination that has something for everyone. It's a picturesque coastal town filled with history, architecture, and culture. There are plenty of sights to explore such as churches, monuments, museums, and more. There are also lots of great restaurants and shops to check out while you're there. The stunning ocean views make it the perfect spot for relaxation or some exciting activities like surfing or swimming. So come visit Paphos Old Town and discover all it has to offer. Paphos Old Town is sure to make your Instagram post stand out!
Author: Sevilay Shakir