TripAdvisor Traveller Rating
Kyrenia
TripAdvisor Traveller Rating
Family Owned Holiday Village with Traditional Values and Incredible Views
Family
Best for Relaxation!
Relax in breathtaking surroundings looking out over the splendorous Mediterranean coastline.  Villas are architecturally designed as traditional village houses that wind gently though beautiful flowers and mountain shrubs. With genuine character and a harmonious feel, Onar Village remains a popular choice.
FREE WiFi in all rooms & public areas
Why Holiday Makers Love it
Relaxing in a Beautiful Location
Peace & Tranquillity
Panoramic Sea & Mountain Views
Large Infinity Pool
Warm, Turkish Cypriot Hospitality

Included Special Offers:

Included Special Offers:
Enjoying a magnificent, elevated position with a stunning mountain backdrop, Onar Village overlooks the whole of Kyrenia and the Mediterranean beyond.
Designed to harmonize with the beautiful surroundings, the gardens are a mixture of trees, shrubs and flowers bursting with colour and aroma. The villas reflect Turkish Cypriot homes, but with all the amenities of modern living. Hotel rooms have a high standard of furnishing and decor, with an ideal location overlooking the pool and the coastline.
Aside from their stunning infinity pool, designed to provide guests with panoramic views of the Med whilst swimming, The Onar Village also boasts bespoke features and facilities for all to enjoy - An indoor pool with a glass atrium roof and their small museum, displaying a private collection of rare artefacts from the archaeological history of Cyprus.  At Onar Village you can truly experience an authentic atmosphere with the comfort, warmth and welcome of a family owned establishment.
Cyprus Paradise Experts Recommend
We highly recommend visiting St. Hilarion Castle, which just a short drive up the hill from the Onar Village - a magnificent attraction, with breathtaking views (and lots of stairs!) It's one of the most popular and complete castles of Kyrenia. Dramatically set on a rocky crag with fascinating ruined turrets, towers and windows.  Rumour has it that it inspired the template for both the fairy-tale castles of King Ludwig in Bavaria and Walt Disney's Snow White. If you happen to visit in spring, the surrounding landscape is a stunning scene of wild, exotic flowers.
Take the shuttle bus into Kyrenia and in a ten minute drive you will be able to experience the famous historical port, with its boat rides, shops, restaurants and bars.  Also home to Kyrenia Castle at the east end of the harbour and The Icon Museum, located in the former Greek Orthodox Arkhangelos Church - the perfect choice for exploring both art and history. Opposite the Museum are the remains of Byzantine catacombs, currently with a restaurant on top!  Hotel guests can benefit from a special discount at Cafe Chimera. Other local restaurants also offer free taxi pick-ups - just enquire at reception for details.
The nearest public beach is Diana Beach, about 5 minutes east of Kyrenia. It's a small sandy beach, where rocks line the shore. There's a small seasonal entrance fee and sun loungers and jet skis can also be rented. A small restaurant providing snacks and drinks is also at hand. The private beach of Vuni Palace Hotel is a ten minute drive away and offers a fancy day out for those who don't mind paying a high entrance fee to also enjoy its premium facilities.
Please note that some services and amenities may not be available during low season.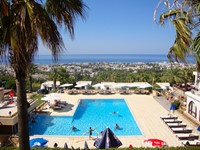 Relaxing Swimming Pools and Cool Pool Bar
The outdoor infinity pool at The Onar Holiday Village offers a spacious swim for guests to appreciate and a lovely sunbathing terrace with a Pool Bar almost within arm's reach of the water. You can enjoy relaxing on a lounger, whilst taking in the views over the picturesque rooftops below to the crystal blue sea and the distinctive curve of Kyrenia harbour beyond. The heated indoor pool offers the added pleasure of a glass atrium roof, so is bright and enticing throughout the year.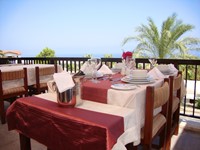 Enjoy Cypriot Specialities
At the Onar Holiday Village restaurant, guests can relish their favourite international dishes as well as sample tasty varieties of traditional Turkish Cypriot cuisine. Special buffet evenings, feature traditional Turkish mezes and local specialities including charcoal-grilled kebabs and slow-roast lamb cooked in a clay oven (kleftiko). During the summer, tables are laid on the terrace and decking so guests can enjoy dining under the stars. In the colder, short winters of North Cyprus, guests can marvel the views through the restaurant's picture windows and enjoy the warmth of a cosy log fire.
Try a traditional steam bath
Onar Village has a small, attractive relaxation centre complete with a traditional marble-lined steam bath (Turkish hamam), fantastic Jacuzzi and sauna as well as a fitness room. A variety of massages and beauty therapies are also available.
Reviews
Where is the Onar Village?
10 minutes drive to the nearest sandy beach (Diana Beach)
40 minutes transfer to Ercan airport
1 hour 30 minutes transfer to Larnaca airport