7 Nights

Tue, 29 Jun 21

Tue, 06 Jul 21
Hotel Details
Customise Your Holiday
Summary
Final Step
Kyrenia
An attractive Tudor Style complex set in a tranquil olive grove
Small & Friendly
Where hospitality comes first!
Behind the facade of a traditional mock Tudor frontage and dark beams, you'll find a friendly, established hotel that welcomes repeat guests time after time.  Offering a good choice of accommodation, great value and a fantastic service, at the Ship Inn you can expect the best from a beautifully tranquil setting.
FREE WiFi in public areas
Why Holiday Makers Love it
Cosy Atmosphere
Spectacular Waterfall
Friendly & Helpful Staff
Minutes from Shops & Restaurants
Duration:
Stay:
This offer can be combined with other offers.
A distinctive and characteristic holiday complex with sensational mountain views, situated only 1 mile away from the vibrant and historical town of Kyrenia.
The Ship Inn is an impressive small and friendly hotel. Offering a relaxed, home from home atmosphere, guests like to return year after year. The mock Tudor façade is almost surreal as the hotel is landscaped amongst a beautiful olive grove with exotic plants and flowers against a magnificent mountain backdrop. The hotel commands a fantastic location as Kyrenia town is only a couple of minutes away on a local bus.
The resort comprises of hotel rooms, garden rooms and villas complete with balcony or patio and all built around a lovely spacious swimming pool.  The majority of rooms look out at scenic views of the Kyrenia hills, in particular the famous St. Hilarion Castle. The Ship Inn takes pride in offering wonderful hospitality and makes the effort to recognise the requirements and gain the satisfaction of both its new and loyal guests.
Cyprus Paradise Experts Recommend
There's plenty of local restaurants within walking distance of The Ship Inn, which is very conveniently situated.  Hurdeniz is a popular fresh seafood restaurant, The Meyhane and The Archway offer local traditional cuisine, Jashan's Indian restaurant, The Chinese House and Ambiance is also a coastal firm favourite.
 When it comes to sightseeing, you don't have to look far... the neighbouring village of Zeytinlik is one of the oldest villages in Cyprus.  The Templar Knights are rumoured to have lived in this beautiful area in the Middle Ages as it leads to one of the three exits of St.Hilarion Castle, which is still to this day a majestic attraction.  Only about a 10 / 15 minute drive away, it offers spectacular views and is stunningly set on a rocky crag with fascinating ruined turrets, towers and windows.  Rumour also has it, that it created the inspiration for the fairy-tale castles of King Ludwig in Bavaria and Walt Disney's Snow White. If you happen to be holidaying during the spring, the landscape is filled with beautiful wild, exotic flowers.
If its shops, restaurants, cafes and bars you're after, Kyrenia Town and it's harbour is about a five minute drive from the hotel, home to all the central amenities you could wish for.  The historical harbour presents a traditional variety, along with boat rides and historical museums.
Kervansaray Beach, in Karaoglanoglu is one of the most popular public beaches in Kyrenia. Escape beach boasts plenty of water sports and is a larger, more fashionable choice.  The Ambiance Beach Club is also a Kyrenia favourite.  Ask the friendly receptionist or your knowledgeable Tour Rep for further details and help with directions.
Please note that some services and amenities may not be available during low season.
Enjoy a Spacious Swim
The outdoor swimming pool at The Ship Inn is strikingly designed as well as spacious, complete with a lovely separate children's area. There's plenty of space surrounding the pool, so guests can relax and enjoy their drinks and snacks from the pool bar. The Ship Inn also offers an indoor heated swimming pool, perfectly convenient for those cosy winter months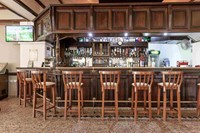 An English Pub in the Med!
At the Ship Inn, guests can enjoy fantastic international cuisine in their Grand Sofra restaurant. Generous buffet breakfasts in the morning and a tasty à la carte in the evening, including a seriously good 21 day matured steak, ensures a lovely dining experience! The pool bar provides guests with a variety of light snacks and delicious lunches to enjoy during the summer months. The Tudor Style building is also home to a traditional English style pub, which allows its guests to feel at home with a good selection of beers and snacks, whilst having a chat and watching the footie on wide screen in a friendly atmosphere!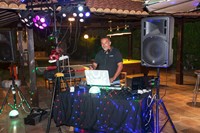 Belly Dancing Fun!
Weekly live music (high season only) The Ship Inn provides varied weekly entertainment during high season, which includes live music, belly dancing and disco dancing with a DJ!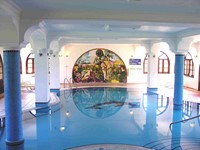 Just Relax!
The hotel enjoys a relaxing SPA which includes a jacuzzi, sauna as well as a fitness room allowing guests to enhance their holiday experience within a tranquil and revitilising atmosphere. Professional massage treatments can also be indulged upon request.
Reviews
Where is the The Ship Inn?
The Shipp Inn is located in the well - appointed village of Karaoğlanoğlu, just 5 minutes along the coast road from central Kyrenia, close to shops, bars & restaurants.
6 minutes drive to nearest sandy beach (Kervansaray Beach)
1.5 miles from Kyrenia town
40 minutes transfer from Ercan airport
1 hour 20 minutes transfer from Larnaca airport