7 Nights

Mon, 28 Jun 21

Mon, 05 Jul 21
Kyrenia Palace Boutique Hotel (Kyrenia)
Hotel Details
Customise Your Holiday
Summary
Final Step
Kyrenia Palace Boutique Hotel
Kyrenia
TripAdvisor Traveller Rating
Based on {{model.Accommodation.TripAdvisorTotalReviews}} Reviews
Kyrenia
TripAdvisor Traveller Rating
Based on {{model.Accommodation.TripAdvisorTotalReviews}} Reviews
A unique harbour boutique, truly intriguing!
Small & Friendly
Located in Kyrenia Harbour!
Bursting with charm and elegance, this remarkable hotel adds to the beauty of the picturesque, historical harbour, with its ancient stone structure and intriguing bespoke décor and furnishings.
FREE WiFi in all rooms & public areas
Why Holiday Makers Love it
Located in Kyrenia's popular harbour
Shopping, Restaurants & Bars Galore
A Museum of Bespoke Furnishings
Friendly & Welcoming Staff
Surrounded with Historical Beauty
Great for both Couples & Families

Included Special Offers:

Included Special Offers:
Duration:
Stay:
This offer can be combined with other offers.
Being built in 1889 and converted into a hotel from a private mansion in 1976, this characteristic hotel is both historical as well as beautifully enticing.
The Kyrenia Palace Boutique Hotel is located in the heart of Kyrenia. The hotel is an exquisite delight, pampering to the eye it's with artistic furnishings, chandeliers, gorgeous antiques and lush fabrics.  Sensitively restored by conserving its ancient stone structure and high ceilings, it cleverly maintains the feature of being a window into the past for its guests. Their spa provides both a revitalising and intimate atmosphere and after enjoying the abundance of shops and sites on its doorstep, it's easy to kick off those shoes and relax into a massage fit for an ancient princess, before relishing of one of their mouth-watering delicacies, traditionally prepared and served before you in a warm and hospitable manner.
Cyprus Paradise Experts Recommend
Along the harbour you will find plenty to do such as organised boat tours, fishing trips, sunset dinner cruises, shopping for presents and souvenirs, exploring sites, enjoying an ice cream on the seafront or a lovely lunch on one of the rooftop restaurants. If you happen to be in Cyprus on the 20th July, it's an idea to book a roof top table for one of the most exhilarating air shows you will ever see! Easy to miss half way around the harbour is the Carob and Cyprus Life museum. The museum is housed in one of the old carob warehouses and is packed full of interesting local history. At the east end of the harbour, Kyrenia castle and its shipwreck museum is also a definite must see!  Not far from the castle (heading west along the seafront towards the shops) you will see the Kyrenia Harbour Tourism Office, which is great for quick directions as well as finding out about local festivals & events.
If you fancy a dip in the sea there is the Dome Hotel and the Rocks Hotel on the West side of the harbour, both have lovely sunbathing terraces, with immediate access to the crystal blue waters of the Mediterranean Sea.  Just bear in mind that hotels do charge an entry fee for you to access their beach areas.  The public sandy beach of Diana Beach in Karakum is about a 15 minute walk away and there is also a sandy beach at the Lord's Palace Hotel, located in the new harbour area.
Please note that some services and amenities may not be available during low season.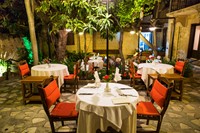 Historically Appetizing
A lovely, a'la Carte menu coupled with a genuine, traditional service can be enjoyed in the quaint, popular restaurant situated in the hotel's delightful back garden.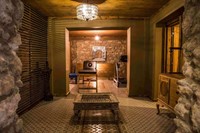 Traditional Treats!
Free for all staying guests, their cosy spa, sauna & fitness area can be enjoyed with a choice of traditional & world famous massages!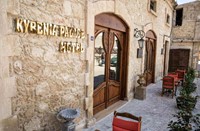 Life on the Harbour!
The Kyrenia Palace Boutique hotel boasts being situated in the hub of entertainment just steps away from many vibrant bars and restaurants! You will certainly enjoy strolling down the lively harbour on the warm Cyprus evenings and blending into the friendly atmosphere.
Reviews
Kyrenia Palace Boutique Hotel
Where is the Kyrenia Palace Boutique Hotel?
The Kyrenia Palace Boutique hotel is positioned at the east end of the famous Kyrenia Harbour between a selection of bars and restaurants.
15 minutes walk to the nearest sandy beach (Lord's Palace Beach)
5 minutes walk to the historical Kyrenia Castle
40 minutes transfer from Ercan airport
1 hour 20 minutes transfer from Larnaca airport
Kyrenia Palace Boutique Hotel
Kyrenia