TripAdvisor Traveller Rating
Famagusta
TripAdvisor Traveller Rating
A tranquil breeze in the heart of the Med
Beach Holiday Small & Friendly
Highly recommended by Cyprus Paradise!
Beautifully positioned on the calm eastern Mediterranean coastline, this brand new modern hotel welcomes every guest with its fresh facilities, light, soothing décor and warm, hospitable staff.
FREE WiFi in all rooms & public areas
Why Holiday Makers Love it
Seaside Location
Small & Friendly Hotel
Brand New Rooms & Facilities
Roof Bar with Stunning Views

Included Special Offers:

Included Special Offers:
Sea Life Hotel enjoys one of Cyprus' most sensational and peaceful sandy beaches as well as a wealth of wellness options.  Its varied facilities and nearby attractions, ensures its guests are spoilt for choice, whilst feeling pampered in the serenity of their Mediterranean abode.
This new attractive hotel, towards the north of Famagusta is right by the sea and beautiful stretch of fine sand. Aside from the luxury of swimming in the beautiful turquoise waters all day, Sea Life Hotel guests can also enjoy an outdoor swimming pool, separate children's pool, fitness centres, charming cafes as well as a beauty salon with pampering treatments. Its gorgeous Mediterranean views are complimented by cream and blue décor, which replicates the outdoors and promotes an atmosphere of wellbeing.  Modern, contemporary rooms with light wooden floors and furniture also promote its freshness and comfort, allowing its guests to truly relax and enjoy their immediate surroundings, leaving their hectic lives behind!
Cyprus Paradise Experts Recommend:
When you can resist enjoying the beach and decide to get out and about, then you will be far from disappointed. Sea Life Hotel provides a perfect base for discovering the outstanding natural beauty of this incredible region.
Enquire about the protected beach area nearby where sea turtles lay their eggs and when in season, you can witness the mother turtle burying her eggs, or her little hatchlings scrabbling down to the sea – a wonderful site for all ages (check with your Rep for information on organised turtle watching sessions).  Also not far you can come across the Roman ruins of Salamis, once a mighty Roman port and now a remarkable day out exploring its ancient gymnasiums & temples - another great attraction for all ages.  A field of historical and natural delights await you the more you wander. The "bright lights" of Famagusta town are less than 10 miles away, where you can enjoy vibrant cafes, bistros, bars and restaurants as well as the chance to see Othello's Tower and Citadel, mentioned in Shakespeare's play of the same name.
Please note that some services and amenities may not be available during low season.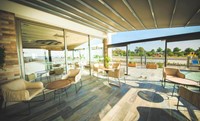 Stunning Roof Top Views
The Sea Life restaurants and bars include a main restaurant, lobby bar, terrace bar, as well as an attractive bar placed on the roof of the hotel. Both spacious & comfortable indoor and al fresco dining can be enjoyed. Breakfast and dinner are served as an open buffet, which include Cypriot and European cuisine. Throughout the day, the restaurant and bars offer grilled meat, pasta, fish, chicken, various desserts, refreshments and cocktails. There is also a special detox menu with vegetarian dishes. Stunning views from the terrace and the roof make holidays, special events and celebrations particularly magical and memorable.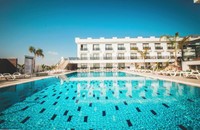 It's Time to Splash In!
A pristine outdoor swimming pool is surrounded by a spacious sunbathing terrace complete with comfortable sunbeds. A separate children's pool is adjacent and offers a slide for the kids to enjoy. Striking views of the sea and exotic palm trees can also be admired whilst having a relaxing swim and a choice of cooling refreshments are available at the friendly and vibrant Pool Bar. Guests can also experience the stunning view of the pool lit up at night and enjoy its exotic atmosphere.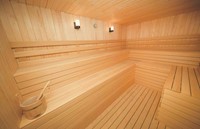 A Harmonious Journey Awaits You
The Ayurvedic Center provides health & beauty amidst the exotic, rural environment of North Cyprus. Enjoy special treatment packages including massage, facial and body treatments, aromatherapy & yoga to achieve pure relaxation and balance in the body and soul. Try Swiss cosmetics in combination with Indian aroma oils, local and Indian herbs, and indulge in the Sea Life's unique journey to wellness and harmony.
Reviews
Where is the Sea Life Hotel?
Located on the famous Long beach, Sea Life hotel is situated in Iskele, Famagusta. The hotels location is perfect for yoga tours, walking and historical sightseeing.
On the seafront with private sandy beach
10 miles from Famagusta town
2 miles from the ruins of Salamis
55 minutes transfer from Ercan airport
1 hour 10 minutes from Larnaca airport