The Savoy Ottoman Palace
Kyrenia
TripAdvisor Traveller Rating
Kyrenia
TripAdvisor Traveller Rating
Sumptuous Sultan Stay in the Harbour!
Luxury
Located in Kyrenia Harbour!
Experience the life of a sultan with lavish decor - a truly majestic experience, all situated within the heart of the picturesque, vibrant harbour and its historical atmosphere.  The Savoy Ottoman Palace is a golden opportunity to enjoy North Cyprus in magnificence and luxury.
FREE WiFi in all rooms & public areas
Why Holiday Makers Love it
First-Class Resort
Spacious & Luxurious
Ottoman-Style Rooms
High Level of Hospitality
Surrounded by Shops & Restaurants
Amazing Breakfast & Evening Meals

Included Special Offers:

Included Special Offers:
The Savoy Ottoman Palace is definitely something extraordinary, rich in ornate furnishings and in-house amenities, reflecting royal Ottoman arts & culture
If luxury and elaborate service is what you are looking for and only the very best will do, then welcome to the Savoy Ottoman Palace.  A quite unique development of spacious, gleaming hotel rooms situated in a privileged location, just a short stroll from the popular Kyrenia Harbour and its famous historical attractions. With showy Ottoman design, decor and furnishings, trend-setting restaurants and bars and extensive guest services, including free shuttles to the beach, the Savoy Ottoman Palace responds to the needs of the most demanding holiday, leisure and business travellers.
The hotel features an elegant sun terrace with spectacular views, a prestigious Spa, as well as a glamorous casino. Showered with premium Turkish and Cypriot hospitality, superior traditional comforts and a blend of Ottoman and International cuisine, guests can expect to enjoy a regal experience at the Savoy Ottoman Palace.
Cyprus Paradise Experts Recommend
You can really shop till you drop staying at The Savoy as on its doorstep is the popular shopping area of Kyrenia Harbour. You will also be really spoilt for choice with the variety of charming roof top restaurants, bars, coffee stops… If you fancy a traditional boat ride, along the harbour there are plenty to be found and a sunset dinner, whilst sailing on the Mediterranean Sea is a definite must!
The historical Kyrenia Castle and Shipwreck Museum are famous sightseeing hotspots situated at the east end of the harbour. Within the castle walls there is a museum containing the wreckage of an ancient ship! Often missed half way around the harbour is the interesting Carob and Cyprus Life museum, packed with local history and the Icon Museum, located in the former Greek Orthodox Arkhangelos Church, is the perfect choice for exploring both art and history. Opposite this museum are Byzantine catacombs, currently with a restaurant on top!
If you decide to hire a car, you can enjoy experiencing the island to its full potential.  The Savoy Ottoman Palace offers a free car park and many sensational places are easy to reach with a car.  The charming, cultural villages of Bellapais and Karmi, the golden beaches of Kyrenia (Alagadi, Escape and Camelot to name a few), the breathtaking mountain castles of Buffavento, Kantara and St. Hilarion, as well as the numerous traditional mosques and churches dotted around the surrounding areas are all highly recommended sites to see whilst visiting the beautiful coastal town of Kyrenia.
Please note that some services and amenities may not be available during low season.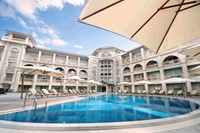 Immerse in luxury!
The pool at The Savoy Ottoman Palace is a luxurious centrepiece in their principal courtyard. Designed to offer a traditionally intimate atmosphere, guests are invited to relax on stylish, comfortable sun loungers complimented by lovely large parasols during their hot Ottoman holiday. The hotel also has a VIP private rooftop pool (for guests opting to stay in their exclusive Sultan Suites).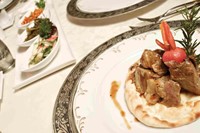 Royal Ottoman Dining!
The flamboyant restaurants and bars at The Savoy are often visited by the discerning residents of Cyprus for special occasions and events. Their buffet breakfast in particular is one of the best in Kyrenia! The fine dining at The Savoy is a unique experience in itself, offering authentic gourmet Lebanese and Ottoman-inspired cuisine. Both their Sarayburnu Restaurant and their 'Top Kapi' Restaurant are popular choices, with the latter offering stunning views of the island. For delicious midday snacks, their classy pool bar is the perfect choice. Their stylish Ottoman pub and bistro also allows guests to enjoy a laid back holiday pint, a game of pool and a casual lunch. The Vitamin Bar and Lobby Bar also offer guests the fine opportunity to relax and enjoy a stunning selection of stylish beverages.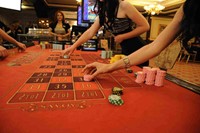 Glitz and Glamour all the way!
Indulge in the glitz and glamour of the Ottoman Palace casino for an evening of pleasure. Aside from the fun of the slots, their casino also hosts regular live concerts by some of Turkey's biggest stars - just part of the superior cultural experience of holidaying at the Savoy.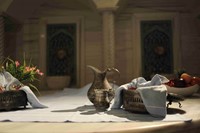 The Spa is a Must!
The Spa at The Savoy Ottoman Palace Hotel is built in a rich traditional style, with floor to ceiling marble and traditional hot water fountains. Their fitness centre, sauna, steam bath and in particular their Turkish Hammam and full body massages, offer guests a royal pampering treatment. When that freshly prepared healthy refreshment is required, their Vitamin Bar is ready and waiting to complete your exhilarating experience.
Reviews
Where is the The Savoy Ottoman Palace?
The Savoy Ottoman Palace Hotel is situated in the privileged area of Kyrenia Harbour, surrounded by its traditional cafes, restaurants, shops and bars and close to historical attractions.
3 miles to the nearest sandy beach (Golden Bay)
40 minutes transfer from Ercan airport
1 hour 25 minutes transfer from Larnaca airport
The Savoy Ottoman Palace
Kyrenia