7 Nights

Tue, 04 May 21

Tue, 11 May 21
Salamis Bay Conti Resort (Famagusta)
Hotel Details
Customise Your Holiday
Summary
Final Step
Salamis Bay Conti Resort
Famagusta
Famagusta
5* Salamis Bay Conti Resort is set on one of the finest golden sandy beaches on the island – a splendid beach holiday!
Ultra All Inclusive Family Luxury Beach Holiday
Perfect for exploring the ancient & historical sites in North Cyprus!
If you long for beaches with endless golden sands and turquoise waters combined with sunset views and historical surroundings, then Salamis Bay Conti Resort near the ancient city of Famagusta, is the one for you.
FREE WiFi in all rooms & public areas
Why Holidaymakers Love it
Fantastic Location
Long Sandy Beach
Friendly Staff
Perfect for Couples & Families
Stunning Pools & Aqua Park
Brand New Jetty Sun Terrace Area
Duration:
Stay:
This offer can be combined with other offers.
Named after the fascinating ancient city of Salamis, The Salamis Bay Conti Resort remains one of the most established and popular beachfront resorts on the island. It's stunningly designed pools and aqua park set in extensive grounds with a wide range of enticing facilities and accommodating staff ensures a wonderful choice for both sightseeing and leisure.
The Salamis Bay Conti Resort sits prestigiously on the eastern coast of the island against the blue Mediterranean Sea and Famagusta's famous stretch of fine golden sands. It provides its guests with a comfortable sense of space, combined with a light and airy, peaceful atmosphere. Neutrally decorated, modern bungalows and hotel rooms enjoy beautiful views over the sea from their private terraces and balconies.
This resort is a preferred choice for couples and families seeking an active holiday due to its wide range of sports, water activities, fitness facilities and lively entertainment. There is also the opportunity to venture about and explore the surrounding area – the ancient Roman city of Salamis and the walled city of Famagusta are some of the most famous attractions on the island. When it's time to wind down, the resort also offers total relaxation with the provision of an exquisite spa, including indoor pool, Turkish bath, sauna as well as a myriad of soothing body treatments.
Cyprus Paradise Experts Recommend
One of the huge benefits of staying at The Salamis Bay Conti Resort is the fact that it's close to famous historical attractions and archaeological sites, just waiting to be explored. You can take a walk along the coast to the ruins of ancient Salamis, once a thriving Roman port and believed to have been the capital of Cyprus as far back as 1100 B.C. It was home to various historical groups over the course of its history, including Assyrians, Egyptians, Persians as well as the Romans. Its vast Roman gymnasium, baths, theatre and large arched tombs and columns serve as a reminder of the magnificent cities that existed in antiquity.
The remarkable walled city is another fascinating site that we highly recommend visiting.  From the resort you can simply jump on the shuttle bus that goes into Famagusta twice a day and in only 15 minutes you will find yourself arriving at the old city of Famagusta, encircled by massive historical walls, on average 60 feet high and 30 feet thick, dating back to the mediaeval times. Even the kids can let their imagination run wild on the mere site of the Othello tower, an interior castle that forms part of the ancient walls.
Other than these incredible ruins, there are also famous monasteries, such as St. Barnabas and museums like the Icon Museum as well as nature reserves and mountain trails suitable for walking or biking.  If you've hired a car, the stunning unspoilt rural, cultural and traditional area of the Karpaz Peninsula is without fail, a definite must see!
Please note that some services and amenities may not be available during low season.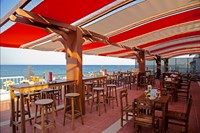 Board Basis Options
Ultra All Inclusive (1 April - 31 October) • Buffet breakfast, lunch, snacks and dinner, with unlimited local alcoholic and non-alcoholic drinks to accompany meals. • Late afternoon tea time with snacks is included. • Soup and snacks are served in the evening. • Drinks are served at selected times from the Lobby Bar, Snack Bar and Beach Bar (in summer). All Inclusive (1 November - 31 March) • Buffet breakfast, lunch, snacks and dinner, with unlimited local alcoholic and non-alcoholic drinks to accompany meals. • Drinks are served at selected times from the Saluna Bar (in winter). • An extra supplement is charged for Turkish coffee, fresh juices and ice cream. • Room Service is chargeable.
Endless Golden Sands to Enjoy!
Situated on the beachfront, the resort offers immediate access to a beautiful, long golden sandy beach with clear turquoise waters.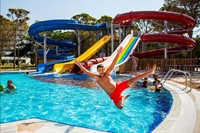 Fun for all the Family!
The fun aqua park enjoys 5 colourful water slides and consists of 4 large pools and 2 children's pools.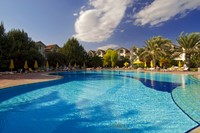 A Lagoon of Fun!
The main curvaceous lagoon-style pool of the Salamis Bay Conti Resort gives everyone plenty of space to soak up the sun. Surrounded with palm trees, a convenient pool bar and featuring an attractive infinity wall of water, it's as much fun to just sit and chill out in as well as to swim.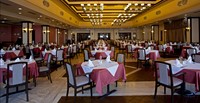 Healthy Options on Holiday!
Breakfast, lunch and dinner are served in the Selçuk Restaurant (main restaurant) as an open buffet, serving International and local cuisine. A wide variety of healthy options are also provided for guests who give importance to a low fat diet. The Turkuaz à la carte restaurant serves traditional Cypriot dishes. Guests at the Salamis Bay Conti Resort can also benefit from a midnight soup service too! Local soft and alcoholic drinks are available from the Lobby Bar, Vitamin Bar, Pool Bar and Beach Bar in summer. Guests can also enjoy a snack by the sea from the Beach Restaurant. Minibars are filled with soft drinks on arrival and refills are payable locally.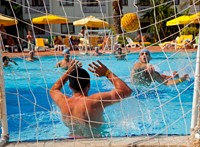 It's Fun and Games for all!
Salamis Bay Conti Resort provides an abundance of fun, games and activities for both couples and families alike to enjoy, such tennis, table tennis, volleyball, billiards, table football and darts, including fun matches for holiday makes of all ages to partake in! There are also pool activities, children's events, live music evenings, plays and dance shows, beach parties, disco nights, and even belly dancing courses!
A Sea View Sauna!
Treat yourself in the hotel's spa and wellness centre offering physical and mental purification with a sensational sauna that has a glass window looking out to the sea, a traditional Turkish bath with a body peeling and foam massage, Rome and Finnish Baths, relaxing indoor pool, jacuzzi and a wide range of relaxing and rejuvenating treatments, including exotic massages and natural skin beauty treatments.
Reviews
Where is the Salamis Bay Conti Resort?
The Salamis Bay Conti Resort is situated on a golden sandy beach, 5 miles from Famagusta on the eastern coast of the island.
On the seafront with private sandy beach
8 miles from Famagusta town
Shuttle Service to Famagusta Town (charges apply)
45 minutes transfer from Ercan airport
1 hour 10 minutes tranfer from Larnaca airport
Salamis Bay Conti Resort
Famagusta