Riviera Beach Bungalows
Kyrenia
TripAdvisor Traveller Rating
Kyrenia
TripAdvisor Traveller Rating
Enjoy simplicity at a rustic hideaway with tranquil gardens and a private sandy bay
Family Small & Friendly
An ideal seaside holiday!
Relish the heavenly scent of Jasmine whilst strolling around the private bungalows amidst manicured gardens with exotic trees and colourful flowers, before finding yourself standing in a beautiful sandy beach cove with the turquoise waters of the Mediterranean at your feet.
WiFi in public areas (chargeable)
Why Holiday Makers Love it
Quaint bungalows in lovely setting
A quiet, relaxing break
Great and convenient for the family
Fab for nature lovers

Included Special Offers:

Included Special Offers:
Riviera Holiday Village provides a pure & simple seaside holiday with value accommodation within rustic surroundings.  Its convenient location enables its guests to enjoy exploring this beautiful island during their relaxing stay in North Cyprus.
The Riviera Beach Bungalows are beautifully nestled in their own little sandy bay, so you're never apart from the soothing sound of lapping waves and the magical views of the Mediterranean Sea and mountains.  Complimented by sun-blessed terraces, a circular swimming pool with a cascading fountain and exotic shady gardens, the Riviera provides the perfect opportunity to chill out and enjoy a traditional Cypriot atmosphere.
Families will be able to put their feet up whilst their little ones enjoy an outdoor playground and their own pool section and adults can snorkel from a private jetty before indulging in a traditional massage and a sunset cocktail.   Aside from enjoying the natural environment of the complex itself, the Riviera Bungalows are conveniently situated just two miles west of Kyrenia Town, with a plethora of sites to visit and an array of outdoor activities such as paragliding and donkey riding to experience.
Cyprus Paradise Experts Recommend
Some of the must see attractions around Riviera Hotel are The Peace & Freedom Museum, Karmi Village, Kyrenia Harbour and St. Hilarion Castle. The castle offers spectacular views along with its fascinating ancient turrets, towers and windows.  Rumour also has it, that it fired the inspiration for the fairy-tale castles of King Ludwig in Bavaria and Disney's Snow White. If you happen to be around during the spring, the landscape is beautifully filled with wild, exotic flowers.
For shopping Riviera Holiday Village is conveniently situated, as the center of Kyrenia Town is only a five minute drive away. Its historical harbour is a lovely place to buy presents and offers the pleasant opportunity of traditional souvenir and jewellery shopping.
Please note that some services and amenities may not be available during low season.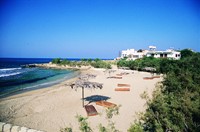 A Hidden Cove just for you!
Experience the sound of lapping waves and the feeling of your feet sinking into golden sand whilst you soak up the sun on their private, tranquil sandy beach cove with picturesque Mediterranean views. Children can also relax & play in their safe environment whilst sun worshippers will love the rocky promontory section, with a natural salt water pool and plenty of space to lie back and enjoy the Cyprus sunshine. Their jetty with convenient ladders is perfect for snorkelling and enjoying the marine life just metres from the shore.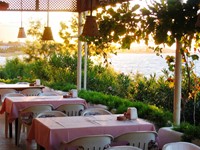 Dine Cypriot Style!
The Riviera Beach Resort's restaurant is a short stroll through their lovely gardens and provides a relaxed and traditional setting, serving a home-made tasty buffet of local cuisine. In the summer months guests can also enjoy dining in a delightful terraced area shaded with grapevines. Their friendly bar is great for catching up on the latest news on TV or simply relaxing with other holidaymakers enjoying the mountain views from the large shaded terrace.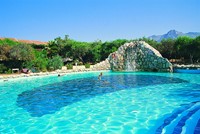 A Mermaid's Delight
The Riviera's charming secluded freshwater pool is surrounded by lush trees and nature. To add to this wonderful oasis experience there is a pretty cascading waterfall to enjoy swimming under leaving you feeling exotic, refreshed and ready for a cooling cocktail from their attractive shaded bar. Children can also enjoy their own pool surrounded by shady trees – just perfect to splash about in and have some fun.
Reviews
Where is the Riviera Beach Bungalows?
The Riviera Beach Bungalows boast a stunning coastal spot in Karaoğlanoğlu, Kyrenia close to a variety of shops, bars & restaurants.
On the seafront with private sandy beach
5 Minute drive to Kyrenia Town
5 Minute drive to Kyrenia Town
1 hr 30 minutes transfer from Larnaca airport
Riviera Beach Bungalows
Kyrenia