Le Chateau Lambousa Hotel
Kyrenia
Kyrenia
Medieval Escape in a Grand Boutique Hotel w/Sandy Beach Club
Luxury Family
Surrounded by local restaurants and bars!
Le Chateau Lambousa hotel offers a unique experience in the pearl of the Mediterranean, with its beautiful & natural setting, striking medieval architecture and hotel services available around the clock. The beach, restaurants, bars and shops are only a short stroll away.
FREE WiFi in all rooms & public areas
Why Holiday Makers Love it
Luxury Spa
Spacious Rooms
Near Bars & Restaurants
Friendly & Helpful Staff
Amazing Medieval Décor
Minutes From the Beach

Included Special Offers:

Included Special Offers:
Duration:
Stay:
This offer can be combined with other offers.
Le Chateau Lambousa has added a unique landmark to this picturesque coastal area of the Mediterranean. With its historical character, oozing with style and class, it has become one of the most remarkable hotels in Kyrenia.
In a prime and peaceful area of Lapta, known as the pearl of the Mediterranean due to its intense beauty, Le Chateau Lambousa sits between the mountains and the sea. It prides itself in being "The Kingdom of Hospitality" offering premium hospitality and a warm and charming atmosphere. From its fascinating history and prestigous design to its antique furniture, luxurious velvets and medieval statues and ornaments, the hotel has caused a high level of interest and its popularity still continues to soar. Guests can indulge in a varied choice of spacious and comfortable accommodation, including traditional bungalows, swanky hotel rooms and fancy suites, tastefully furnished in keeping with the medieval aesthetic. Their abundance of pampering facilities, including their spa, pool and beach areas, complimented by plush features, ensures that feeling of spoiling yourself is to be experienced in every visit to their kingdom.
Cyprus Paradise Experts Recommend
Aside from the stunning architecture that The Chateau Lambousa Hotel has to offer, the area of Lambousa itself contains a rich history and fascinating structures to explore. You will find Roman era fish tanks here, which are large rectangular pools that have been constructed by cutting into the rock. The remains of the Roman harbour wall can also be viewed, with two churches beyond that wall that can be seen although not currently explored. Exit through the back gates of The Chateau Lambousa to find yourself situated right in the center of the popular Lapta Strip, with a wide range of sea view restaurants to choose from, such as The Calamari offering fantastic sea food and Mediterranean dishes. The Fly Inn and The Lodge are great for evening entertainment as well as a bite to eat and Blue Song a real favourite for a relaxing coffee or a light lunch. If you want some extra outdoor fun for the kids, ask the friendly receptionist directions to the Wild Duck, it is only about a five minute drive away! The dolmus busses stop anywhere on this main road with a simple wave of your hand and you can
easily find yourself in the centre of town within 20 minutes!
Please note that some services and amenities may not be available during low season.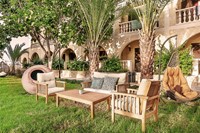 Board Basis Options
Bed & Breakfast • Breakfast is usually served as an open buffet in the main restaurant. Half Board • Breakfast & dinner are usually served as an open buffet in the main restaurant.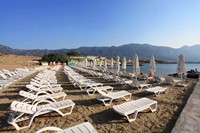 Kabanas of fun!
Guests staying at Le Chateau Lambousa have the privilege of enjoying the fantastic beach club just a stone throw away from the hotel, via its large back entrance gates. Its golden sandy beach with comfortable sunbeds and lush cushioned kabanas that sit along the edge of the sea, popular beach bar and water sport facilities allow guests to have a variety of appealing options to sit back with a cocktail and enjoy the Mediterranean sea.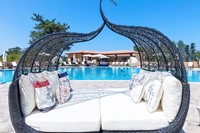 Sunbathe in style!
Le Chateau Lambousa offers two stunning pools. Their main spacious pool directly outside the hotel building, gently curves around the spacious terraced area so you can have the choice of lying back in either the sun all day! Their attractive and comfortable sun loungers, rattan day beds and sofa loungers are irresistibly indulging and you could easily spend a whole day being served their refreshing traditional mint lemonades, whilst reading a good book and listening to some well-chosen classics played by the hotel. Their second pool is away from the main building, in the centre of the bungalow area. It promotes a quieter atmosphere as its mainly enjoyed by guests staying in the surrounding bungalows, as their garden terraces open right out to the pool.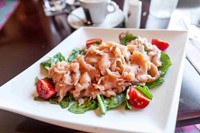 Fancy a poolside pub lunch?
There are 2 restaurants on site. Ambassador restaurant serves an open buffet of Turkish and International cuisine for breakfast, lunch & dinner. The North Shield Pub has a large range of beers, spirits and cocktails. Enjoy a variety of snacks while watching your favourite football matches in the cosy traditional English pub. During the summer, the tasty lunches on their menu can be enjoyed all over their attractive and spacious outdoor terraces. Chateau Lambousa also has a pool side snack bar open in summer months.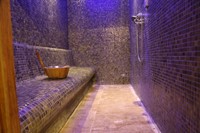 A natural Journey of Revitalisation
Le Chateau Lambousa's Spa and Wellness Centre's exquisite décor is designed to take you on a natural journey of revitalisation. Offering Turkish bath, sauna, massage service, hair and beauty treatments, fitness centre, and much more, it allows its guests to enhance their relaxing holiday experience in a highly tranquil and hospitable atmosphere.
Where is the Le Chateau Lambousa Hotel?
Located in the popular coastal village of Lapta, Le Chateau Lambousa is within walking distance of restaurants, small shops and bars and 12 miles from central Kyrenia
12 miles from Kyrenia town
45 minutes transfer from Ercan airport
1 hour 25 minutes transfer from Larnaca airport
Le Chateau Lambousa Hotel
Kyrenia