7 Nights

Mon, 28 Jun 21

Mon, 05 Jul 21
Club Alda Hotel (Kyrenia)
Hotel Details
Customise Your Holiday
Summary
Final Step
TripAdvisor Traveller Rating
Based on {{model.Accommodation.TripAdvisorTotalReviews}} Reviews
Kyrenia
TripAdvisor Traveller Rating
Based on {{model.Accommodation.TripAdvisorTotalReviews}} Reviews
A cozy retreat with fantastic mountain views and warm staff, who make you feel at home.
Small & Friendly
Close to the Lapta Coastal Promenade!
Situated amongst the verdant greenery of banana trees and citrus orchards, this family run resort is in a superbly convenient location; the sea front, bars and restaurants being a scant ten minutes' walk away. The beautiful mountain views, lush gardens and quiet sunbathing terraces make this a perfect retreat for those looking for calm relaxation.
WiFi in all rooms & public areas (chargeable)
Why Holiday Makers Love it
Pleasant Atmosphere
Helpful & Friendly Staff
Next to Local Saturday Market
Stunning Mountain Views
Peaceful Ambiance
Affordable Prices

Included Special Offers:

Included Special Offers:
Duration:
Stay:
This offer can be combined with other offers.
Club Alda Hotel is a small complex in a peaceful area, with stunning surroundings.  It offers a choice of simplistic traditional bungalows and bright and airy hotel rooms that offer guests enough privacy to relax in a homely atmosphere.
Club Alda Hotel is a family run combination of hotel rooms and quaint bungalows in the popular, coastal area of Lapta, between the green Besparmak Mountains and the Mediterranean sea.   The complex enjoys its gorgeous spot amongst Mediterranean lemon and banana groves and its beautiful gardens with picturesque surroundings, including a beach only 300m away.
Club Alda Hotel offers the benefits that a huge resort may not be able to provide - a cosier and secure environment, where it feels easier to make friends with other holidaymakers, a quieter dining and pool experience as well as a more personable approach from its staff, who often address guests by name and focus more of their attention on each guest's needs, ensuring a memorable holiday.
Cyprus Paradise Experts Recommend

Although there is no beach at Club Alda Hotel, it is only about a ten minute walk down to the coast where you can enjoy The Cabin Beach Club.  If you don't mind travelling a bit further, about a 5 minute drive towards Karsiyaka, you will see a signpost for Sardunya Bay, a stunning sandy beach that enjoys small boat rides and a casual lunch in its popular restaurant.  This gorgeous bay is at the beginning of the Lapta coastal walk, a purpose built promenade along the most stunning coast line area in Kyrenia.  Offering sensational views, it's a great place to take pictures, so don't forget your camera!
Club Alda Hotel is within the vicinity of Lambousa, which contains rich history and fascinating structures to explore, including Roman era fish tanks, which are large rectangular pools that have been constructed by cutting into the rock. You can also see the remains of the Roman harbour wall, with two churches beyond (currently  the churches are not permitted to be explored).
When it comes to finding a good choice of restaurants, you are about a 15 minute walk from the vibrant Lapta Strip along the coast, with a wide range of sea view restaurants to choose from. We recommend visiting Silver Rocks, The Calamari, The Fly Inn and The Lodge.  The latter are great for some evening entertainment, as well as a bite to eat.
If your children could do with some varied outdoor fun, ask the friendly receptionist directions to Lapithos Water Park, which offers fantastic water slides and The Wild Duck, a popular, casual restaurant with a small playground and a few small animals to enjoy.  Both places are only about a five minute drive away!
The dolmus mini busses stop anywhere on the main road and with a simple wave of your hand they will stop and you can easily find yourself in the centre of town within 20 minutes! 
Please note that some services and amenities may not be available during low season.
A pool of peace…
Club Alda has a seasonal outdoor pool surrounded by an attractive terrace and exotic banana trees. Guest can enjoy amazing views of the beautiful landscape whilst swimming.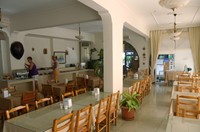 Fresh Ingredients
Club Alda provides a buffet or traditional breakfast depending on the season, and they also offer the option of providing breakfast in your room. Tasty, freshly cooked evening meals are available in their à la carte restaurant. There is also a bar on site for their guests to enjoy. Club Alda are happy to organise a packed lunch for their guest upon request.
Reviews
Where is the Club Alda Hotel?
Club Alda is located in the coastal village of Lapta, 11m west of Kyrenia, nesting in peaceful green pastures between the green Besparmak Mountains and the sparkling blue Mediterranean Sea.
10 minutes walk from the nearest beach
7 miles west of Kyrenia town
35 minutes transfer to Ercan airport
1 hour 35 minutes transfer to Larnaca airport