Information On Coronavirus (COVID-19) for Cyprus Paradise Customers
Unofficial Update 25/08/2020
Here is the current information we have received unofficially regarding entry to North Cyprus as of 25/08/2020. 
This information is likely to change on a daily basis, however we wanted to give customers an update on the current situation. 
To book a package with us for travel within the next few weeks you will need to give us a call on 0203 150 0395 as we need to book the hotel and flights on separate dates for you. Currently we can only offer flights to and from Ercan airport.
Please note - You can still fly into Cyprus via Larnaca however you would need to fly back to the UK from Ercan airport only as the border currently does not allow tourists to cross back into the south once they have entered the north. 
You need to undertake a PCR swab test 3 days before departure in the UK. You will need a proper printed certificate from a laboratory which must have a QR code to prove you have tested negative for Coronavirus. Text messages or phone messages are not accepted. Unfortunately we are unable to recommend any COVID test centres as they differ for each country - please contact the TRNC Consulate in London for their advice on your nearest test centre - https://londra.mfa.gov.ct.tr/en/
You will then be PCR swab tested again on arrival at Ercan airport (currently free of charge) before being taken to a hotel of the government's choice which is allocated on arrival, subject to availability. You will need to pay for this accommodation with cash or card on arrival (not AMEX). The current price is 265TL per person per night for 7 to 8 nights. Obviously this depends on how quickly you get your swab test results, usually this is within 24 hours, however you may have to pay for an 8th night depending on the time of your swab.
This may also affect your onward booking for staying at the hotel of your choice afterwards, so please bear this in mind when booking your holiday hotel. The hotel staff at the quarantine hotel will bring food and water to your room each day. You have to quarantine in your hotel room for 7 - 8 days and cannot leave your room for any reason.
On the 7th day you will be retested via swab test which you need to pay for, which is currently around 200TL. Results will be available within 24 hours. Once a negative test result is obtained, you are free to leave the hotel and go to the hotel in which you wish to stay. Please note that the situation is changing on a daily basis so it may well change before your arrival.
If your result is positive, then you will not be able to leave the quarantine hotel or you will be taken to hospital if you are ill, which you will need to pay for. Unfortunately, we are unable to refund your flights in this situation. We will obviously do our best to help you if this unlikely event was to occur and we have representatives in resort who you can contact for more information.
Important Message
We are currently experiencing an extremely high volume of calls. Please rest assured that we will be contacting each and every customer regarding their travel plans as soon as we can, with in-resort repatriations and customers travelling in the following 7 days being our main priority. Please do not call or message us unless you are due to travel within the next week and you have not yet heard from us. 
Customers who are travelling with us within the next month will be contacted as soon as possible, as we are contacting customers in departure-date order. 
We thank you for your patience and support during this time. 
If you have any questions relating to Coronavirus (COVID-19) please check the FAQs below. 
New ABTA Guidelines on Refunds
We appreciate that many of our customers are asking for cash refunds now and we are working hard with the airlines and hotels to process refund requests as quickly as possible. Unfortunately, due to the scale of the situation we are experiencing significant delays in doing so and this in turn impacts our ability to refund you. 
We are following ABTA guidelines and they have sought urgent Government help to ensure the rules around refunds are fit for purpose in the current situation and have therefore introduced the Refund Credit Note (RCN).
A Refund Credit Note entitles you to rebook a holiday at a future date, with no amendment fee or receive a cash refund at the expiry date of the note. It also retains the financial ATOL protection that you had with your original booking. Your RCN is valid until March 31st 2021 showing the amount of your credit note and you can use that against any holiday with Cyprus Paradise from when flights resume, up to and including December 31st 2021.
We are delighted to confirm that we have frozen our 2020 room rates for 2021! Working closely with our hotel suppliers, who are happy to extend any offers, discounts and room upgrades etc.
We urge you not to contact your credit card provider as we are adhering to ABTA & Governmental guidelines by providing the RCN facility. Therefore, chargebacks will not be processed against us .
If you have travel insurance you might find it quicker to apply for a refund under your policy. We will be able to assist you with the paperwork for this by providing you with a cancellation invoice.
Please see the advice given to customers on the ABTA website.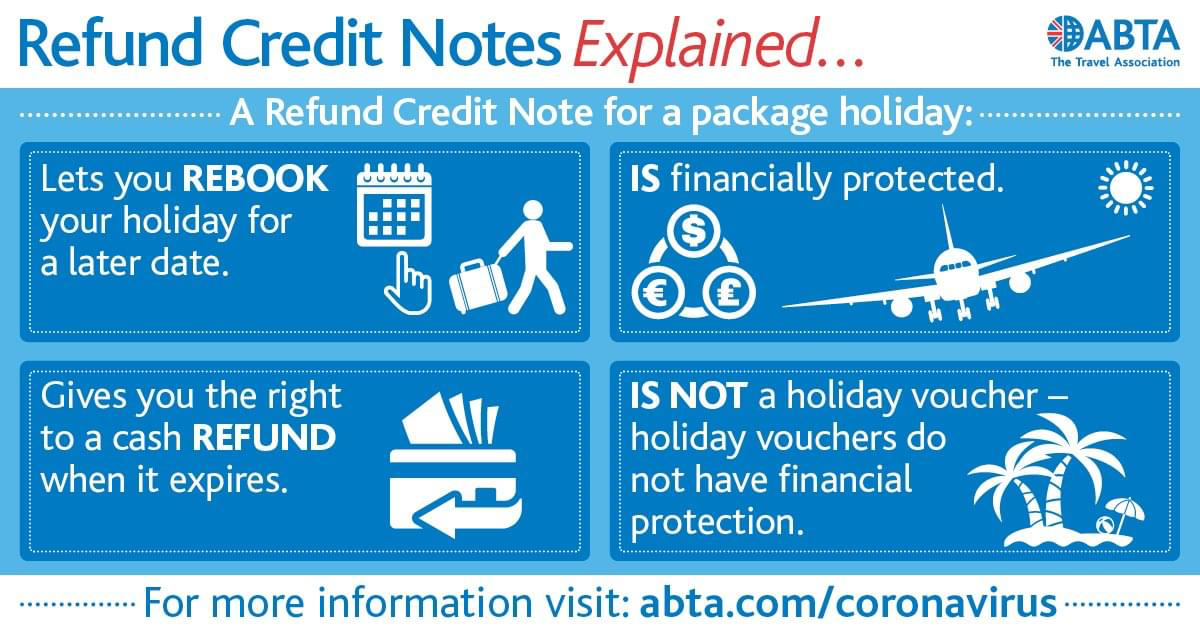 Priority for Cyprus Paradise:
Your safety and peace of mind
Thank you for booking with us and trusting Cyprus Paradise for the last 27 years. The current situation is a difficult time for both the tourism industry and the world.  This is the time to support each other, ensure we do not lose hope in travel and only continue with our holiday plans when it is safe to do so for everyone.
We are working closely with the government, health organisations and all suppliers to ensure we are following the latest advice as well as keeping our services up to date for you and ensuring that our customers are safe and that we are doing everything we can to help any customers affected. 
Frequently Asked Questions
How can I check the status of my holiday?
You will be contacted in due course if any changes are applied to your holiday booking. If you are travelling within the next week and have not yet been contacted, please call Customer Services on 0208 150 6088.  
Package Holiday Bookings
We are contacting everyone in departure-date order.
Hotel-Only Bookings
If you would like to reschedule your hotel-only booking for an alternative date, duration and board basis for the same dates for 2021 we are able to offer you the same booking price. For amendments to different months, duration or board basis, extra charges may apply.
Flight-Only Bookings 
If you have booked a flight-only booking with us, then please check the current status of your flight with the airline directly, as cancellations / schedule changes are dependent on the conditions of the individual airline. Once we receive information from the airlines regarding your booking, you will be notified as soon as possible.  
Car Hire & Transfer Only  Bookings
Customers can rearrange their transfers and car hire bookings, or alternatively you can cancel and receive a full refund.
Can we help you?
If you are travelling in the next 48 hours, please call: