The Royal Apollonia
Limassol
TripAdvisor Traveller Rating
Limassol
TripAdvisor Traveller Rating
Luxury Beachfront Resort with Spa close to Limassol
Family Luxury Beach Holiday
Highly recommended by Cyprus Paradise!
The Royal Apollonia Hotel is a 5-star beachfront resort located near Limassol and the archaeological site of Amathus. The hotel features 3 swimming pools including an indoor pool, 2 floodlit tennis courts, a selection of 4 restaurants, 2 bars and a fully-serviced spa.
FREE WiFi in all rooms & public areas
Why Holiday Makers Love it
Great Food
Friendly & Helpful Staff
Excellent Service
Spacious Rooms

Included Special Offers:

Included Special Offers:
Duration:
Stay:
This offer can be combined with other offers.
The Royal Apollonia Hotel boasts a prime position, set along the beachfront between Limassol and Amathus. The hotel is within a short walk of shops, bars and restaurants, and offers luxury, modern accommodations for discerning travelers.
Guest areas at The Royal Apollonia Hotel are chic and stylish with contemporary finishes, neutral colour palettes and splashes of colour throughout. Guest bedrooms and suites are spacious and well-appointed, offering luxury and comfort during your stay. The rooms feature floor-to-ceiling windows and have either sea or inland views from a private, furnished terrace or balcony. The interiors are equipped with satellite TV, hot and cold air-conditioning, mini bar, safety deposit box and private bathrooms.
The Royal Apollonia Hotel has an array of amenities to entertain you during your stay. Swimming pools are surrounded by verdant trees, islands and terraces equipped with sun loungers and parasols. It's the perfect place to relax with a good book or enjoy a cooling dip. The main freshwater swimming pool is an impressive 523m2, and there's also a children's paddling pool with water activities to keep the little ones entertained.
Dining in the hotel is also a treat. Guests can experience delicious dishes at one of the hotel's 4 restaurants. Each one offers a selection of menus ranging from buffet-style dining, themed evenings and live cooking shows, to Mediterranean, Japanese and international cuisine. Following a hectic day exploring the local area, The Royal Spa allows time for relaxation with a vast choice of treatments including hot stone massage and chakra harmonisation or you can experience the incredible benefits of the Climatological Dead Sea Room.
Please note that some services and amenities may not be available during low season.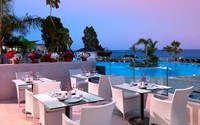 Taste the Difference
The Royal Apollonia Hotel invites guests to take an incredible culinary journey. Whether you enjoy sampling Greek cuisine or Japanese dishes, or prefer smaller plates of meze or international food, the hotel offers it all. With themed evenings, live cooking extravaganzas, poolside snacks and buffet menus, there's something to suit all the family.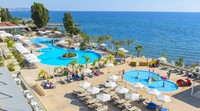 Take the Plunge!
The hotel has 3 swimming pools which include a 523 m2 freshwater pool, children's pool, and an indoor pool where you can escape the sizzling midday sun. With sun loungers, palm trees, parasols and a seasonal pool bar for snacks, there's plenty to occupy all guests.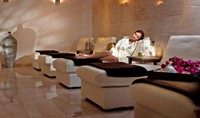 The Ultimate Spa Experience
The Royal Spa offers guests the chance to revitalise the mind, body and spirit. With a wide range of facial treatments, massages and alternative therapies, there's something to suit all guests! A highlight is The Royal Spa Climatological Dead Sea Room which invigorates the immune system, helps to regenerate the growth of cells and can ease ailments, illnesses and stress.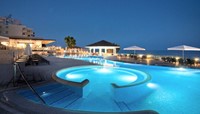 Daytime & Evening Fun
During the daytime, guests can enjoy activities by the hotel pools, or venture to the beach to learn how to scuba dive or partake in thrilling water sports! Guests are entertained by singers and live music in the evenings, but if you fancy something livelier, head into Limassol to experience buzzing bars and exciting nightlife.
Reviews
Where is the The Royal Apollonia?
The Royal Apollonia is perfectly positioned for guests to enjoy the lively Limassol and the nearby archaeological sites of Amathus. Set on the beautiful beachfront with spectacular views of the Mediterranean, the hotel is within a short walk of many bars, shops and restaurants.
Distance to town center: 5 km
Distance to Larnaca Airport: 77 km
Transfer time to/from Airport: 1 hr
Distance to Paphos Airport: 65 km
Transfer time to/from Airport: 1 hr
The Royal Apollonia
Limassol