7 Nights

Mon, 28 Jun 21

Mon, 05 Jul 21
Rose Gardens Holiday Village (Kyrenia)
Hotel Details
Customise Your Holiday
Summary
Final Step
Rose Gardens Holiday Village
Kyrenia
TripAdvisor Traveller Rating
Based on {{model.Accommodation.TripAdvisorTotalReviews}} Reviews
Kyrenia
TripAdvisor Traveller Rating
Based on {{model.Accommodation.TripAdvisorTotalReviews}} Reviews
Mediterranean gardens, Mountain views & Marvellous pools await you at this welcoming property
Small & Friendly
A friendly, family run favourite!
Embrace the warmth and genuine hospitality of a friendly family at The Rose Gardens, who really go out of their way to ensure their guests have an enjoyable and memorable holiday.  A lovely choice for the holiday maker, who appreciates peace & quiet in a positive and bubbly atmosphere.
WiFi in all rooms & public areas (chargeable)
Why Holiday Makers Love it
Tranquil Gardens
2 Large Outdoor Pools
Stunning Mountain Views
A Stroll From the Village of Alsancak

Included Special Offers:

Included Special Offers:
Duration:
Stay:
This offer can be combined with other offers.
The Rose Gardens Holiday Village ensures their guests receive a variety of appealing facilities and services in a comfortable, intimate, and attractive setting.
Rose Gardens Holiday Village takes its name from its lovely gardens, filled with fragrant roses. It is situated in the beautiful village of Lapta, which enjoys amazing views of the stunning Five Finger mountains and the Mediterranean sea! Its owner, Turgay, welcomes his guests as part of the family and addresses his many loyal guests by name. His family and staff enjoy participating in the fun Kareoke and Quiz evenings that they regularly organise for their holiday makers during the summer months. 
With fantastic onsite facilities, including 2 brand new pools, a modern fitness centre with the latest equipment as well as a great choice of accommodation from traditional galleried bungalows to newly built hotel rooms, with private balconies / terraces, you can expect to sit back and enjoy a perfect Mediterranean experience in the warmth of traditional hospitality.  
Cyprus Paradise Experts Recommend
If you fancy a dip in the sea Lapta and Alsancak have some of the best beaches on the Cypriot north shore with clear waters and stunning sandy coves. Alternatives are Kervansaray beach, Mare Monte beach, Escape beach (fantastic for water sports, such as scuba diving and snorkeling), Oris beach and Camelot beach.
The Rose Gardens itself has some great evening entertainment to be enjoyed as well as the Lapta strip about a 10 minute drive away - The Fly Inn is a lovely alternative, looking over the coast offering a bite to eat to the sound of live music.  For those of you who want to party all night, Escape Beach Club and Ice Club are both only about a five minute drive away and open during the summer.  When you've finished dancing, you can watch the sunrise over the Mediterranean Sea.
About a two minute drive from Escape Beach Club, immediately next door to the Ada hotel you will find the Martyrs Monument and an open air Peace and Freedom museum, where you can discover both modern and ancient history, it is good place to stop off along your way and take a memorable holiday snap.
Please note that some services and amenities may not be available during low season.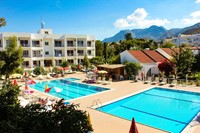 Two New Pools!
The Rose Gardens Holiday Village offers two fantastic freshwater pools to choose from, with plenty of sun loungers and sun shades for all their guests to enjoy. Their separate children's pool area offers convenience and relaxation for families.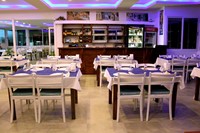 Al Fresco Breakfasts
Breakfast, lunch and dinner are served a la carte in Rose's Restaurant, serving traditional and International cuisine. In summer, the pool bar serves drinks and snacks throughout the day and in the evening.
A barrel of laughs!
The Rose Gardens Holiday Village always ensures their guests can enjoy their summer evenings outdoors by organizing regular BBQ Nights, Quiz Nights and Kareoke nights near the bar area. There is also the opportunity to watch movies or sports in their TV lounge, choose a book from the library, or enjoy discovering the aviary, with its resident chickens and exotic birds.
Reviews
Rose Gardens Holiday Village
Where is the Rose Gardens Holiday Village?
The Rose Gardens is located 10 miles west of Kyrenia, in the beautiful village of Lapta, enjoying a tranquil spot between the mountains and the sea.
5 minutes drive to the nearest sandy beach (Camelot Beach)
55 minutes transfer from Ercan airport
1 hour 30 minutes transfer from Larnaca airport
Rose Gardens Holiday Village
Kyrenia