TripAdvisor Traveller Rating
Kyrenia
TripAdvisor Traveller Rating
Central Kyrenia and Seafront Extravagance
Luxury
Located in Kyrenia Harbour!
The Rocks Hotel is a highly established, sophisticated and classy hotel in the heart of Kyrenia Harbour, close to vibrant shops, bars, restaurants and historical sites. With a distinguished service and the luxury of Kyrenia on your doorstep, the Rocks Hotel is an exquisite choice for an all year round city break
FREE WiFi in all rooms & public areas
Why Holiday Makers Love it
Sea view Pool Area
Excellent Hospitality
Cheerful & Efficient staff
Near Harbour & Historical Sites
Beautiful & Relaxing Atmosphere
Wonderful Breakfast & Meal Spread

Included Special Offers:

Included Special Offers:
Perfectly and conveniently situated, this highly reputable hotel offers good old fashioned luxury, with keen attention to traditional hospitality
If you prefer an exclusive town hotel, with a well established reputation for excellence and full amenities close at hand, the sophisticated Rocks Hotel makes a perfect choice. The hotel has an enviable location on the popular harbour, and is surrounded by charming sea front restaurants, traditional cafes, bars, shops, historical interests and boat rides.  
The Rocks Hotel offers a stylish lagoon-style pool with attractive wooden terracing, providing immediate access to the sea. Its invigorating spa offers elaborate facilities, including holistic beauty treatments. Their chic cafe serves the finest sweet and savoury delights in an enticing outdoor terrace, within a sophisticated atmosphere. Classically stylish and elegant, with plush furnishings and attention to detail, guests can fully enjoy an extravagantly pampered holiday.
Cyprus Paradise Experts Recommend
Aside from the bustling shops and bars of the harbour surrounding the Rocks Hotel, the harbour is a place of history and appreciated for its natural beauty. Once upon a time it was lined with warehouses, stored with fruits of the countryside whilst they awaited export. The buildings are now mostly restaurants, all of which have tables and chairs lining the water. The castle at the east end of the harbour is a very spectacular site and within its walls there is a 12 century chapel showing reused late Roman capitals and a shipwreck museum that is frequently visited by residents and tourists.
If the amazing cuisine The Rocks Hotel provides for guests is not enough to give you all the tasty choices that one could ever wish for,  Niazis restaurant nearby is a popular, upmarket Turkish choice for some delicious, authentic mezes. A sunset dinner whilst sailing on the Mediterranean Sea is also a tempting choice on offer by many of the boats along the harbour!
It's easy enough to get around with the main bus depot being situated just about a ten minute walk away, by the Colony Hotel.  If you decide to hire a car it's even easier, as the Rocks Hotel has a free car park and many sensational places that are close by, but tucked away, only within easy reach of a car.  The traditional villages of Bellapais and Karmi, the sandy beaches of Kyrenia (such as Alagadi, Escape and Camelot), the fascinating castles of St Hilarion and Kantara, as well as traditional mosques, churches and museums dotted around the surrounding areas are all remarkable places to experience whilst holidaying in Kyrenia.
Please note that some services and amenities may not be available during low season.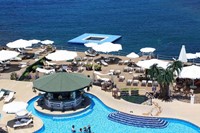 Private and Exclusive
Just a stroll away from the haughty interiors of the Rocks Hotel, across the ornamental pool area, guests have exclusive access to the stylish decking beach terrace, with immediate access to the crystal blue waters of the Mediterranean Sea.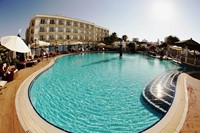 Immerse in ornate surroundings
The stunning pool area of the Rocks Hotel offers a stylish, fresh water pool and a fantastic service. Complimented by attractive rattan day beds, modern decking, an ornate bridge, charming waterfall and a fancy swim up bar, with views across the Mediterranean, guests will only have to make the decision of swimming in style or relaxing in the delightful luxury of their private beach.
High class meals in the med
A most gracious breakfast and dinner are served as open buffet in L'Hirondelle, their classic and elegant main restaurant, complimented by a charming service. La Habanera restaurant is open 24 hours and offers a plush and polished design, serving classic Italian cuisine cooked with seasonal vegetables from the hotel's very own farm. Reservation is advised due to its popularity. The Rocks Cafe is a serious treat for a mid- morning coffee or afternoon tea. It's also an exclusive and comfortable place for a light gourmet lunch or snack, offering a tranquil atmosphere. The Onyx-Bar is a chic American style bar restaurant offering a tasty selection on the menu including amazing deserts! There is a live DJ in the evenings, with Friday and Saturday nights offering a clubby atmosphere.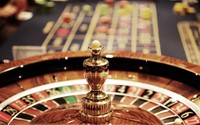 A Harbour Hotspot
The Rocks Hotel's famous casino often plays host to fantastic Turkish and international acts. In the evenings, the fashionable Onyx Bar is a "the place" to enjoy a classy drink, at the weekends it offers a vibrant, stylish disco with a great DJ to dance the night away. La Habanera Restaurant offers professional live music and is often visited by the discerning residents of Kyrenia to enjoy an evening in the harbour.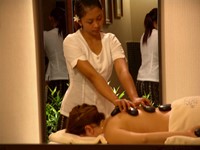 Try an expert masseur!
The exclusive Spa provides a quality rejuvenating experience, enjoying luxury facilities, including a well-equipped fitness centre, Turkish Bath, sauna and beauty centre. Fancy treatments carried out by highly experienced, quality staff, such as a hot stone or indulgent chocolate therapy, a classic Thai full body massage or even a marine algae wrap, fully relax your body, mind and spirit and offer a superior sense of total well-being.
Reviews
Where is the Rocks Hotel?
In the centre of Kyrenia Harbour, close to shops, bars, cafes, restaurants and historical attractions.
On the seafront with private beach
Located in Kyrenia town
40 minutes transfer from Ercan airport
1 hour 20 minutes transfer from Larnaca airport