Riverside Garden Resort
Kyrenia
TripAdvisor Traveller Rating
Kyrenia
TripAdvisor Traveller Rating
A Serene Mountain Haven with Stunning Gardens and Luxurious Views
Family
A peaceful and secluded location
Nestled comfortably in the foothills of the Kyrenia Mountain range, this luscious garden resort is one of our most popular tranquil choices for both couples and families.  It boasts premium hotel rooms and facilities that cater for all ages, with an adult only pool, half olympic pool and one with water-slides for children of all ages.
WiFi in all rooms & public areas (chargeable)
Why Holiday Makers Love it
Secluded & Peaceful
Modern & Spacious Rooms
Garden & Mountain Views
Traditional with a warm atmosphere

Included Special Offers:

Included Special Offers:
Duration:
Stay:
This offer can be combined with other offers.
This country retreat is in an idyllic setting, with spectacular gardens, filled with a variety of fruit trees and scented flowers, and surrounded by citrus groves.
Situated on the gentle slopes of the Kyrenia mountain range, is the Riverside Garden Resort. Their spacious array of accommodation and facilities is spread throughout eight acres of fragrant gardens, simply awash with the colours of summer: the crimsons and mauves of bougainvillea, the brilliant whites of jasmine and the rich greens of countless varieties of plant-life. The Riverside Garden Resort is wonderful all year around, in the winter months guests can enjoy plucking oranges and lemons from trees on their terrace!
This well-maintained, family-run holiday resort is one of our most popular Kyrenia choices.  It offers fantastic, tastefully decorated accommodation, including premium hotel rooms with Jacuzzi showers and stunning picturesque views, as well as traditional bungalows with private garden terraces and a homely atmosphere. Following the choice of 3 pools to either swim, shoot down a slide or simply sunbathe in bliss, guests can also enjoy a spot of tennis, followed by a revitalising massage, then spend the evening enjoying some live music in the restaurant or a relaxing drink in their cosy Ranch Bar.  The Riverside Resort is a hidden Mediterranean mountain of treasure, with something to offer for everyone.
Cyprus Paradise Experts Recommend
A car is advisable at this resort, although not essential as there is a very reliable and regular courtesy bus to Kyrenia Town as well as to the beach (seasonal only). If you like walking, the only water fall in Northern Cyprus is found in the next village above the Riverside, ask at reception for the best route to Malatia village. The Lapta coastal walk is another favourite place to have a stroll, it's a lovely purpose built promenade along one of the most stunning coastlines of Kyrenia, just make sure you take a camera, the amazing views are not to be missed! Ask the receptionist or your friendly Tour Rep for directions, it's only about a 15 minute drive away!  The delightful Sardunya Bay is at the end of the walk, where you can stop to have a rest with a refreshing drink and light snack on soft golden sands.
If you've hired a car, stop off on the way to Kyrenia to enjoy some water sports at Escape beach and have a venture around The Peace and Freedom Museum nearby, featuring a historical war memorial monument - great for a quick sightseeing snap!
There are plenty of surrounding restaurants and bars to choose from. Within a 15 minute walk, Acmenya is the most popular with a lovely menu and a large children's play area for the kids to enjoy. They also serve fancy cakes and coffee if you fancy a spot of afternoon tea. Further down on the Lapta Strip, The Calamari, Riverside's sister restaurant offers fantastic seafood and a selection of tasty alternatives as well as stunning views over the coast.  Riverside will also be able to arrange free transport to this restaurant for you if you book via their reception desk. The Lapta strip also enjoys The Fly Inn and The Lodge, which are both great for some evening entertainment, hosting regular karaoke and popular live music events.
Please note that some services and amenities may not be available during low season.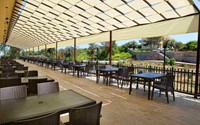 Board Basis Options
Half Board • Breakfast & dinner are usually served as an open buffet in the main resort restaurant. Full Board+ Buffet breakfast, lunch and dinner, with unlimited soft and alcoholic local drinks to accompany meals are served in the Main Restaurant. • Soft and local alcoholic drinks are served from 10:00 to 22:00 at the A La Carte restaurant by the swimming pool. Extra supplements are required for ice cream, bottled and canned drinks. Room service and Mini Bar is chargeable.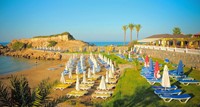 Stunning Local Beach
The sandy beach is 1 mile away and Riverside Garden Resort holiday makers are entitled to the privilege of using the sun-loungers, parasols, showers & changing rooms free of charge. There is a free shuttle service from the hotel to the beach during the summer months.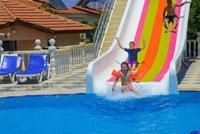 The Kids will love it!
The hotel has a small, colourful aqua park for families to enjoy, with 4 different slides to keep the children entertained all day long! The pool is large enough for adults to also enter and swim and its surrounding terrace has plenty of sunbeds to relax and sunbathe upon.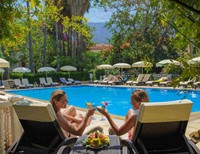 Drift away in the Adult Only Pool
The Riverside Garden Resort has three spacious outdoor pools, including an attractive adult only pool and an excellent children's aqua pool with colourful slides. The adult pool is the furthest away from the aqua park to provide couples with peace and relaxation.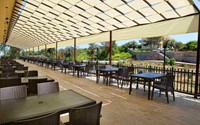 Enjoy every Bite
A traditional breakfast, lunch & dinner are usually served as an open buffet in the main resort restaurant, that offers both indoor as well as outdoor seating with stunning mountain views. A supplement can be paid locally for a full English breakfast. Their A'la carte Restaurant is by the pool area serving drinks and snacks, hamburgers, pizzas and kebabs throughout the day. In the evenings a fantastic meal can be enjoyed al fresco amongst the Mediterranean plants and their aromas. The Ranch Bar is a British style pub with warm classic décor, comfortable furnishings and a cosy atmosphere. It is open in the evenings during high season, and enjoys great views from the terrace.
Let go and Enjoy!
The well laid, spacious main restaurant enjoys entertainment evenings during the summer months, such as traditional Cypriot nights and professional live music. A friendly Ranch Bar invites guests to relax in its cosy atmosphere and have a cocktail or two. There's also a tennis court, volleyball and basketball for sporty guests and older kids, as well as horse riding (chargeable & booking required) and massages (chargeable & booking required). The hotel can also arrange babysitters should parents fancy a romantic evening in peace and quiet under the light of the Mediterranean stars.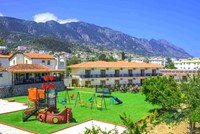 Varied Outdoor Activities
• Babysitters (chargeable & booking required) • Children's playground • Horse riding (chargeable & booking required) • Aqua Park • Tennis, volley ball & basketball for the older ones • Games Room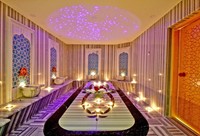 Boutique Quality Spa
The hotel's brand new boutique spa oozes sophistication and will leave you wanting more with its rejuvenating Turkish bath, steam room and relaxation room. There are also several massage rooms where professionally trained therapists from Bali offer a wide range of massage treatments. The beautiful spa will undoubtedly be a highlight of your stay.
Reviews
Where is the Riverside Garden Resort?
The Riverside Garden Resort is situated the village of Alsancak, within a slightly secluded area, approx. 500m to local restaurants, banks, pharmacy, bus stop and shops. Please note that due to its location Riverside Garden Resort is not suitable for those with difficulty in walking.
Free shuttle service to the sandy beach
9 miles to Kyrenia town
45 minutes transfer from Ercan airport
1 hour 25 minutes transfer from Larnaca airport
Riverside Garden Resort
Kyrenia