7 Nights

Mon, 28 Jun 21

Mon, 05 Jul 21
Oscar Resort Hotel (Kyrenia)
Hotel Details
Customise Your Holiday
Summary
Final Step
Oscar Resort Hotel
Kyrenia
TripAdvisor Traveller Rating
Based on {{model.Accommodation.TripAdvisorTotalReviews}} Reviews
Kyrenia
TripAdvisor Traveller Rating
Based on {{model.Accommodation.TripAdvisorTotalReviews}} Reviews
A Firm Four Star Sea Front Favourite with a Fab Choice of Accommodation, Facilities and Activities!
Family
Where hospitality comes first!
With its stunning seafront location, just 1.5 miles away from Kyrenia Harbour, and its wealth of indoor and outdoor facilities, including 3 pools, outdoor Jacuzzi, an Aqua Park and a sandy beach with water sports. Oscar Resort Hotel is one of our well established four star family favourites.
FREE WiFi in lobby, WiFi in rooms & public areas (chargeable)
Why Holiday Makers Love it
Loving Wave Pool
Friendly & Helpful Staff
Incredible Sea & Pool Views
Encouraging Animation Team
Near Historical Kyrenia Harbour
Something to do for All the Family

Included Special Offers:

Included Special Offers:
Duration:
Stay:
This offer can be combined with other offers.
Set on the coast of the Mediterranean Sea on its exclusive golden sandy beach cove, Oscar Resort offers a traditional family holiday and a classic couple beach escape with an array of activities to enjoy in the North Cyprus sun.
This very well established holiday resort is graced with guests who return year after year.  Set around three distinctive swimming pools, complimented by lush landscaped gardens and waving palm trees, kids can enjoy splashing in the wave pool and fun on the water slides, whilst adults can relax in the outdoor Jacuzzi and dive into a range of water sports.  For fitness & health fans the resort also boasts tennis courts, water aerobics, a large indoor swimming pool & a spa centre and even a resident masseuse to help holidaymakers wind down after an exhilarating work out.
The resort 's array of tastefully decorated accommodation includes  well-equipped, contemporary hotel rooms, elevated Pink Court studios, Mediterranean mezzanine Mini Villas and newly built poolside luxury suites.  All boast private balconies enjoying views of the sea, the harbour or the town. Guests also have the pleasure of enjoying a selection of bars and restaurants, including two lovely restaurants situated by the pools that serve a variety of tasty lunches, snacks and drinks throughout the day.
Being located right near Kyrenia Town Centre and its popular historical harbour, guests also have the opportunity of conveniently visiting the hotels vibrant vicinity.  With the resort's courtesy road train service to and from the town centre 3 times a day, 6 days a week, shops, bars, cafes, boat rides and famous attractions can be enjoyed at leisure.
Cyprus Paradise Experts Recommend
This resort is fortunately only a 15 / 20 minute walk away from Kyrenia town, perfect for exploring its stunning Venetian Harbour and castle, abundance of shops, vibrant bars, clubs, open air restaurants and enjoying the boats waiting to sail you across the crystal waters. The hotel operates a little yellow road train during the summer period for its guests to enjoy traveling to and fro from the town centre. Don't forget to ask the receptionist if there are any concerts going on at the Kyrenia Amphitheatre, which is not far from the harbour at all, offering some brilliant musical and theatrical productions.
It's convenient to get around with the local dolmus busses that stop practically anywhere at the wave of your hand.  The main bus depot is also conveniently situated on the way to the harbour right by the Colony Hotel.  If you decide to hire a car it's even easier, as there are many sensational places tucked away close by such as the traditional, picturesque villages of Bellapais and Karmi, the historical 7th century Church of Antiphontis, the numerous popular beaches of Kyrenia (Alagadi, Escape and Camelot) and the spectacular castles of St Hilarion and Kantara.
Please note that some services and amenities may not be available during low season.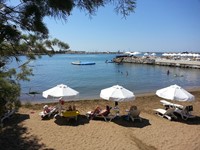 Dive off a jetty
On the hotel's private golden sandy beach, guests can enjoy the resort's exclusive jetty as well as a variety of water sports during the summer season, including wake boarding, jet skiing, ringo, banana boat rides, and parasailing. Children can enjoy paddling in safety, protected by the hotel's impressive breakwater. Sun loungers including mattresses and umbrellas are all provided free of charge to hotel guests and a beach towel service is also available for a small deposit.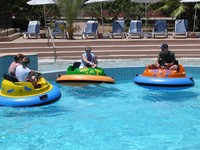 A wacky wave pool
Oscars Resort has plenty to offer for families and children of all ages. Head straight for their aqua park to have some water fun shooting down the exciting water slides and enjoy the experience of a bumper boat in the wave pool with a thrilling wave machine!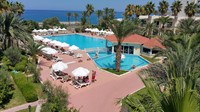 A choice of three pools
The Oscar Resort enjoys 2 activity themed pools as well as a fantastic outdoor Jacuzzi. Surrounded by gardens of waving palm trees, the half Olympic pool allows children the delight of splashing around safely in their own swimming section, whilst adults can take pleasure in a spacious swim before lazing on a comfortable sun lounger under the beating sun or the lovely shade of a parasol. The resort provides the additional luxuries of water aerobics, an exotic swim up pool bar and the relaxing opportunity of lunching on a tasty snack from the poolside restaurant.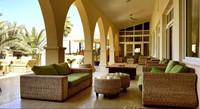 The Aqua Restaurant awaits you
The Oscars Resort enjoys a wide variety of food at its restaurant, cafeteria, bars and patisserie serving excellent meals and snacks. Meals are usually served as an open buffet in its reputable main restaurant, The Aqua overlooking the Mediterranean Sea, where guests can choose whether to dine in or al fresco to enjoy the gorgeous view. In the summer season the pool and beach snack bars are also available for refreshments served throughout the day.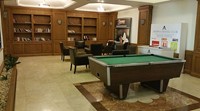 It's a song and dance for all!
The Oscar Resort offers a delightful, rolling entertainment programme consisting of beach parties, live music nights, jazz nights, bingo, karaoke and bar nights. The hotel's casino is also a popular entertainment option. Children and families can also enjoy a variety of fun at the kids club, with games galore including billiards, darts, table tennis and tennis.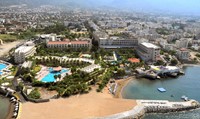 Try a chocolate massage!
The Oscar Resort's luxurious indoor swimming pool spa comes complete with traditional Turkish bath (Hamman), sauna, steam room and refreshing pool. Expert beauty treatments using natural ingredients and a massage parlour boasting classic, Asian and traditional massages with exotic ingredients, from hot stones to chocolate are also an exclusive treat!
Reviews
Where is the Oscar Resort Hotel?
The Oscar Resort is situated on the coast, very central to Kyrenia, only a 15 Minute walk from the historical Harbour.
On the seafront with private sandy beach
10 minute drive to Kyrenia Town (FREE Shuttle service)
45 minutes transfer from Ercan airport
1 hour 20 minutes transfer from Larnaca airport
Oscar Resort Hotel
Kyrenia