Mountain View Hotel
Kyrenia
TripAdvisor Traveller Rating
Kyrenia
TripAdvisor Traveller Rating
Great Value Hotel with Excellent Views and Service
Small & Friendly
A friendly, family run favourite!
Hidden away in a tranquil area, offering sweeping views of the surrounding countryside, mountains and sea, this family-run hotel prides itself in being one of the friendliest and most relaxing 3 star hotels in Kyrenia, enjoying repeat guests year after year.
FREE WiFi in public areas
Why Holiday Makers Love it
Freshly Cooked Meals
Happy & Relaxing Environment
Incredible Mountain & Sea Views
Rooms offer a Lovely Balcony

Included Special Offers:

Included Special Offers:
Duration:
Stay:
This offer can be combined with other offers.
Mountain View Hotel provides a peaceful holiday with a cosy, traditional and hospitable environment. Guests can enjoy a stroll in Mediterranean gardens amongst the palm trees, or relish simmering under the sun on poolside loungers surrounding a glistening pool
As a small family run establishment, guests can take comfort in the personal touches of this hotel, such as the friendly staff addressing them by name and catering for all their individual needs and going the extra mile.
At the hotel you can unwind in their gorgeous gardens and take a dip in the refreshing pool. As the sun sets you can enjoy a drink on your own private balcony or at the pool bar, whilst admiring the most spectacular views of Kyrenia Five Finger Mountains and the Mediterranean Sea.
Being just three miles outside of Kyrenia, the hotel is perfectly positioned for you to enjoy the lively atmosphere and culture of his historic harbour town, whilst also enjoying a peaceful night's sleep in a spacious room. Mountain View hotel is just a short walk away from a lovely little beach, often used by locals as well as tourists, and will allow you to experience Turkish-Cypriot friendliness first-hand. At a small cove close to the hotel you can also sit and listen to the waves break whilst gazing out cross the Mediterranean – a truly relaxing experience.
Cyprus Paradise Experts Recommend
There's plenty to see and do within the vicinity of The Mountain View Hotel. Have a wander to the local beach or into Karaoglanoglu, a Cypriot village with small shops and cafes.  Explore a nearby attraction such as St Fanourios Church, which is to be found in the village of Karaoglanoglu, just past the football ground, overlooking the sea. Dedicated to St Fanourios, it is built at the point where, as myth has it, St Fanourios, while climbing the steep cliffs, fell and met his end. Dedicated to St George, unlike most of the Orthodox churches in North Cyprus, this is an active place of worship, and it is unusual to visit it and not see a candle burning on the small altar.
In no more than a ten minute drive away on the local bus, you can find yourself at Kyrenia Harbour enjoying it's vibrant atmosphere of quaint little shops, traditional cafes along the waterfront and historical sites, which include the famous Kyrenia castle – a definite must see!  You can also enjoy some rooftop dining or a pleasurable boat ride in the sunset.
For a spot of entertainment, take the bus west to the seafront venues on the popular Lapta Strip. The Fly Inn and The Lodge host some great events.  For a fancy night out, try out the Ambiance Restaurant close by and then visit The Merit Park Hotel to have a flutter in its flamboyant casino.
Make sure you have a chat to Sue the owner and the staff at the Mountain View, who will happily fill you in on the best places to visit, where to see sea turtles hatching, or what bus to catch into Kyrenia.
Please note that some services and amenities may not be available during low season.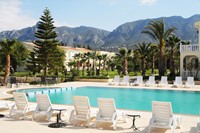 Enjoy a countryside dip
The spacious outdoor pool at The Mountain View Hotel is perfectly positioned to enjoy uninterrupted views of the countryside and mountains. It also offers a separate children's section at the end, making it convenient for families. The array of sun loungers and sun parasols that surround the cool inviting waters, along with their lovely little pool bar that serves great refreshments, gets you through the long, hot summer days of Northern Cyprus.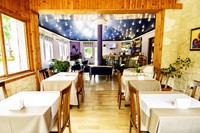 Freshly cooked meals
The Mountain View offers both a Bed & Breakfast option and a Half Board option. For breakfast & dinner, guests can relish in a generous open buffet, whilst lunch enjoys a lovely a la carte menu. Full English breakfasts are available upon request (charge applies). At The Mountain View Hotel, there is a wide variety of Turkish and International cuisine to enjoy, whilst overlooking the tranquil Mediterranean Sea. Dishes are freshly prepared to a high standard using local ingredients.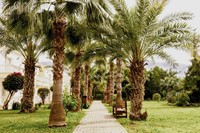 Nearby Fun
There is an abundance of exciting entertainment and activities to enjoy within a ten minute drive both east and west of this hotel. The Lapta Strip's lovely coastal venues are popular, such as The Fly Inn and The Lodge, which host regular live music and karaoke events. For a more traditional atmosphere, Kyrenia harbour is also home to some vibrant bars, restaurants and cafes as well as an amphitheatre. For children, there is The Funky Monkey Kids Club situated next to nearby Pine Bay Hotel, a professionally supervised indoor play area that has a lovely little café attached to it. Lapithos Waterpark, Starlux cinema and Kings Bowling (with an amusement centre located downstairs) are also popular choices in the area to keep the little ones entertained.
Reviews
Where is the Mountain View Hotel?
The Mountain Village Hotel is situated in a relatively secluded area within the lovely coastal village of Karaoglanoglu, about a 10 minute drive from the centre of town.
5 minutes drive to the nearest sandy beach (Kervansaray Local Beach)
10 minutes drive to Kyrenia town
1 hour 30 minutes transfer to Larnaca airport
50 minutes transfer to Ercan airport
Mountain View Hotel
Kyrenia