7 Nights

Fri, 12 Mar 21

Fri, 19 Mar 21
Hotel Details
Customise Your Holiday
Summary
Final Step
Kyrenia
A grand boutique hotel with a magnificent location
Small & Friendly
Highly recommended by Cyprus Paradise!
Meryem's was originally built as a grand family residence in a beautiful location away from the hustle and bustle of Kyrenia town. Today it is run as a boutique hotel by the original owners. This elite establishment prides itself in its warm and highly personalised service.
FREE WiFi in all rooms & public areas
Why Holiday Makers Love it
A Selection of Workshops
Idyllic Location
Small & Friendly Atmosphere
Many Bars & Restaurants Nearby

Special Offers available
Duration:
Stay:
This offer can be combined with other offers.
Meryem's Hotel is a boutique hotel that welcomes guests through its gold trimmed gates into a grand mansion dressed in luxurious décor and furnishings, surrounded by beautiful and lush gardens blooming with seasonal flowers, offering spacious and luxurious accommodation, as well as a swimming pool with a small kids' pool. The hotel bears the name of the hostess and the family make every effort to let their guests experience a family setting in North Cyprus. The level and detail of service provided is practically unparalleled, ensuring that guests can enjoy a care-free stay.
This marvellous hotel is not just a luxurious boutique establishment with an idyllic ambience. The hotel has the distinction of providing a selection of workshops that teach guests more about the island's rich culture, including making hellim, lemonade, jams or picking olives from the family's garden and making olive oil. The hotel even has its own mini farm with several animals such as chicken and goats for fresh eggs and milk!
Cyprus Paradise Experts Recommend
Meryem's Hotel enjoys a scenic location in the region of Catalkoy, with spectacular views of the Five Finger Mountain range and only a short drive from the signature Five Fingers themselves! This is a truly picturesque part of the island, also known as Alevkayasi, which is a popular picnic ground with stunning views of the Kyrenia coastline. The hotel is also a 15 minute drive from the virgin beach Alagadi, to which the hotel offers a free shuttle service!
At the hotel guests have the benefit of parking their hired cars, however they also have the convenience of the public transport system which stops just outside the hotel. Minibuses travelling to the west will take you to Kyrenia town with a plethora of places of interest such as the breath-taking harbour, shops, bars and restaurants as well as many historical sites such as the Kyrenia Castle, Hz. Omer's Tomb and the magnificent St. Hilarion Castle, while venturing to the east will take you to the beautiful Buffavento Castle and the more rural areas of Esentepe with stunning landscapes. The hotel's lounge area has a mini concierge service where guests have the benefit of maps, brochures, vouchers and further information on current and upcoming events/festivals.
Please note that some services and amenities may not be available during low season.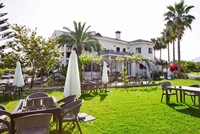 A Scenic Swim
The hotel features a lovely outdoor swimming pool surrounded by tall palm trees and lush gardens with the beautiful mountains in the backdrop, creating a heavenly atmosphere for a relaxing swim and bath under the sun. It also comes with a mini paddling pool for children!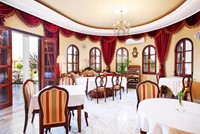 Traditional Dining
Breakfast is served at the main hotel restaurant where both continental and traditional Cypriot delicacies are offered with fresh seasonal produce that mostly come from the family gardens. The delicious a'la carte options of Karanfil Restaurant with specially designed menus are also a must-try! Guests can enjoy drinks at the Lobby Bar and the Beer Garden, in addition to special afternoon events such as Cypriot coffee on Tuesdays and English tea on Thursdays served with tasty traditional pasties!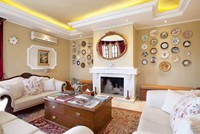 Cultural Workshops
At Meryem's guests can also indulge in workshops that show insight into several cultural aspect of Cypriot tradition, including the making of jams and the famous Cypriot cheese hellim, as well as lemonade, mandarin juice and olive oil which also covers the process of picking of the produce from the family gardens! The workshops also cover literary tours for a deeper understanding of the local tradition and culture.
Reviews
Where is the Meryems Hotel?
Meryem's Hotel is located in the pretty village of Catalkoy between the Five Finger Mountain range and the Mediterranean Sea, merely 15 minutes' drive from Kyrenia town.
15 minute drive from Alagadi Turtle Beach (FREE Shuttle Service)
15 minute drive from Kyrenia town centre
35 minute transfer from Ercan Airport
1 hour 25 minutes transfer from Larnaca Airport