Merit Royal Hotel
Kyrenia
TripAdvisor Traveller Rating
Kyrenia
TripAdvisor Traveller Rating
The Merit Royal Hotel is an adult only sophisticated spa hotel, providing world class accommodation, facilities and service.
Adult Only Luxury Beach Holiday
Where hospitality comes first!
The Merit Royal Hotel provides a magnificent coastal escape, where myths of its stunning, sandy cove linger in the soothing sea breeze and majestic views sweep you away within a royal Mediterranean setting.  Gracing guests with a unique and harmonious beach experience, unlimited luxury and quality and a personalized service, this prestigious hotel remains reputable, popular and unforgettable.
FREE WiFi in all rooms & public areas
Why Holiday Makers Love it
Spacious Rooms
Great Hospitality
Luxurious Architecture & Interior
Lovely Views of the Sea

Included Special Offers:

Included Special Offers:
The Merit Royal Hotel is a plush and prestigious seafront hotel that boasts a unique and unspoilt spot in the popular village of Alsancak. A reputable brand that guarantees its guests a world class experience.
The hotel is situated by Zephyrus Cove, the birthplace of the wind god Zephyros in Greek mythology.  It is one of the most heavenly sandy bays of Northern Cyprus, stretching across the turquoise waters of the Eastern Mediterranean.  Its glorious architecture, bespoke furnishings, luxurious fabrics and charming touches are pampering to the eye as soon as you walk in to be received with a noble welcome, complimented by a genuine smile and traditional warmth.
The Merit Royal also boasts a showy outdoor pool as well as a relaxing indoor pool with stunning views through its glass walls, a dazzling and sumptuous spa, a popular casino and a range of recreational activities and entertainment.  Elaborate meals served in its grandiose restaurants and fancy drinks in its impressive bars are fit for a prince! The fact that the Merit Royal does not cater for children under the age of 14, makes it a tranquil favourite for discerning couples expecting peace, pampering and opulence at its best.
Cyprus Paradise Experts Recommend
The Merit Royal itself is fortunate to be situated in the birthplace of the wind god Zephyros according to Greek mythology.  It is also situated in Alsancak, a village built upon the historical ruins of Lambousa, now a convenient location for visiting some of the incredible historical sights of Kyrenia. 
The Peace and Freedom Open Air Museum is only a few minutes ride away, featuring a famous war memorial monument.  If you like walking, the Lapta Coastal Walk in the neighbouring town (about a 10 minute drive west of Kyrenia), is highly recommended, where you can enjoy the stunning views along a newly built coastal promenade stretching 1.5km.  On the way there, passing through Lambousa, you can also witness fascinating structures, including rock tombs, Roman era fish tanks and the remains of the Roman harbour wall.
There is a courtesy shuttle service from the hotel to Kyrenia and and in approx.15 minutes, you will be able to enjoy the abundance of shops, restaurants, bars and cafes as well as visit the sites in the centre of Kyrenia, including its historical harbour and Byzantine castle.  If you've hired a car, also recommended is the beautiful mountain village of Karaman, which makes the perfect, picturesque stop off along the way to have a wander around a remarkable Bronze Age cemetery, discovering its tombs and witnessing a human effigy, symbolising the Goddess of Fertility.  The hotel's receptionists as well as your Tour Rep will be more than happy to assist you with directions and further enquiries.
Please note that some services and amenities may not be available during low season.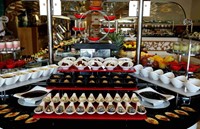 Ultra All Inclusive
• Buffet breakfast, lunch & dinner with unlimited alcoholic and non-alcoholic drinks to accompany meals. • Soft Buffet at the Spa Cafe at selected times. • Late afternoon Tea Time in the Premium & Royal Lobby. • Alcoholic and non-alcoholic drinks are served at selected times from the Lobby all year round (The Hotel Management assign the beverage list). • Local Alcoholic and non-alcoholic drinks are served at selected times from the Pool & Beach Bars in summer (The Hotel Management assign the beverage list). • One minibar included a day • Late afternoon Tea Time in the lobby Additional Information • Extra Supplements and reservations are required for dinner at the A La Carte Restaurants: Dragon Restaurant, Blue Sea Restaurant, A La Turca, Bella Merit. • Room Service is chargeable. • Mini Bar is chargeable.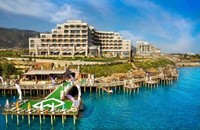 Feel like a Greek Goddess…
The Merit Royal benefits from its own private beach. It's incredibly beautiful sandy beach cove is sheltered and enticing, blessed with a lovely cooling sea breeze. Cradled by the rocky coastline behind, it is said to be the birthplace of the wind god Zephyros according to Greek mythology. There is the privilege of an exclusive jetty, with stylish sun loungers to enjoy being sun kissed whilst floating above the crystal blue waters. Beautifully designed, exotic kabanas are also graciously provided, offering the ultimate regal experience (booking is advisable).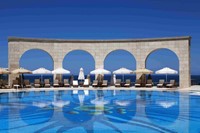 A dazzling dive!
The exquisitely designed outdoor swimming pool area is spacious and decorated with huge stone arches. Its elegantly curved pristine infinity pool offers outstanding views and presents a centre piece in itself when it is beautifully floodlit at night. The sparkling indoor pool also offers an amazingly soothing experience, with its cosy and intimate surroundings and glass walls with stunning views out to the sea.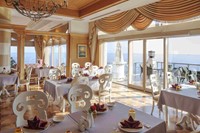 It's a royal feast for all!
A gourmet breakfast, lunch and dinner are served in the Royal Restaurant, where service goes beyond expectations and your selection can be cooked and served to personal taste. Bella Merit offers a delicious variety of distinguished Italian cuisine and The Blue Sea Restaurant a sumptuous selection of fancy Lebanese dishes. The Merit Royal's impressive bars include The Captain's Lounge, The Royal Baris and Dionysos Wine House. The Lobby Bar offers hot beverages, traditional night soup, a splendid chocolate buffet and a variety of local spirits. Both The Viyana Café and The Spa Café make a wonderful alternative for drinks and snacks.
A pompous pamper!
The Royal SPA boasting an area of 3500 square metres consists of divine and fanciful facilities including a stylish sauna, steam room, salt room, indoor pool, fun pool with Jacuzzi as well as an impressive fitness centre and Spa café. Complimented by the most exclusive Far East and classic body and skin care treatments, carried out by professional and experienced therapists, guests are honoured with a true oasis of tranquillity and renewal.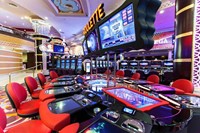 Casino fun!
Guests can enjoy a night at their top casino, where Turkish live concerts often take place during peak season. Further entertainment is also occasionally organised for guests during peak season.
Reviews
Where is the Merit Royal Hotel?
The Merit Royal Hotel prestigiously sits in a gorgeous, unspoilt coastal spot 5 miles west of Kyrenia's city center, within the popular area of Alsancak. A free shuttle bus from the hotel to Kyrenia Town Centre is available at set times during the day.
On the seafront with private sandy beach
6 miles from Kyrenia town
FREE Shuttle Service to Kyrenia Town
45 minutes transfer from Ercan airport
1 hour 25 minutes transfer from Larnaca airport
Merit Royal Hotel
Kyrenia