Merit Royal Diamond Hotel & Spa
Kyrenia
Kyrenia
A 5* All-inclusive with world-class service of the Merit Royal Hotels chain.
Ultra All Inclusive Luxury Beach Holiday
Brand new luxurious Merit Royal Hotels Chain.
A 5 star Merit Royal Diamond Hotel & Spa has been added to the Merit family of prestigious hotels in Northern Cyprus. There are incomparable 5-star facilities at this luxurious resort that boasts panoramic views.
Why Holiday Makers Love it
Private & Sandy Beach
Bars & À La Carte Restaurant
Ultra All-inclusive Board Basis
Olive Spa & Wellness Center

Included Special Offers:

Included Special Offers:
5* Merit Royal Diamond Hotel & Spa is the newest addition to the Merit family of prestigious hotels in Northern Cyprus. This luxurious resort boasts panoramic views and incomparable 5-star facilities and never fails to impress even the most discerning guests.
This lavish five-star hotel is located in the picturesque village of Alsancak, five miles away from Kyrenia Town Centre and its historic sites, in a breathtaking position on a beautiful cove. 
In addition to its breathtaking views of the Mediterranean Sea and the Five-Finger Mountains, the hotel boasts opulent amenities beyond guest's expectations. A luxurious holiday experience is further enhanced by modern, sophisticated accommodation and extensive terraces enjoying picturesque views.
As well as catering for young families and children and boasting its own fantastic Kids Club and Kids pool. The Merit Royal diamond hotel including its exceptional restaurants, majestic Spa, indoor pool and state of the art fitness center.  Guests staying at The Merit Royal diamond hotel also have access to the stunning Zephyrus Beach Cove of the neighbouring Merit Crystal Cove Hotel, one of the most beautiful bays of North Cyprus.
Cyprus Paradise Experts Recommend
A popular village, Alsancak is built on the ancient ruins of Lambousa, the Kingdom of Heritage. It is now a convenient location, just 15 minutes from the center of Kyrenia and ideal for visiting some of the incredible historical sites in the area.  Guests of the hotel are welcome to enjoy the courtesy shuttle service from the hotel to Kyrenia, where they can also visit the famous Byzantine castle as well as museums, shops, restaurants, cafes, and bars...
If you enjoy walking, paths worth experiencing include the spectacular walk to the charming Malatya Waterfall situated in a small mountain village just above Alsancak, a walk in the picturesque, charming village of Karaman, where you can also witness the fascinating Bronze Age Cemetery and its tombs, the old favorite Gecitkoy Reservoir walk, where crakes, eagles and herons have been spotted and the Lapta Coastal Walk, a newly built promenade boasting 1.5km of stunning sea views, which is becoming more and more popular!
If you've hired a car, also recommended is the beautiful mountain village of Karaman, which makes the perfect, picturesque stop off along the way to have a wander around a remarkable Bronze Age cemetery, discovering its tombs and witnessing a human effigy, symbolizing the Goddess of Fertility. The hotel's receptionists as well as your Tour Rep will be more than happy to assist you with directions and further enquiries.
Please note that some services and amenities may not be available during low season.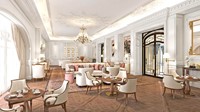 Bursting with flavour
The crystal imperial main restaurant serves an all inclusive open-buffet breakfast, late breakfast, lunch, and dinner. The concept-inclusive local/imported alcoholic & non alcoholic beverages are served during all meals. So relish in great international flavours.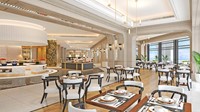 Every bite is a delight!
There are multiple bars including the lobby bar,tea lounge serving a wide selection of brews and exciting tea flavours, as well as pastries which are served between 12.00 pm-10.00 pm. There is also an all-inclusive bar at the Diamond pool, which serves alcoholic and nonalcoholic drinks between 10.00 am and 06.00 pm. The Whiskey lounge also offers premium drinks subject to an extra charge.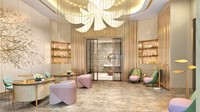 Bliss & Tranquility
The Spa & Wellness Center is open between 09am - 08pm. Massage, scrubbing & foaming therapies, the use of the Salt Room and the Pilates & Yoga Studio are subject to an extra charge. Olive Spa & Wellness Center has fully-equipped 7 single massage rooms and 7 VIP massage rooms.
Where is the Merit Royal Diamond Hotel & Spa?
Located in Kyrenia, 1.9 km from the Municipality of Alsancak Beach, 10 km from Girne city center and 45 km from Ercan Airport. The hotel is embracing the deep blue waters of the Eastern Mediterranean and integrating with every shade of green.
On the seafront with private sandy beach
6 miles from Kyrenia Town
FREE Shuttle Service to Kyrenia Town
45 minutes transfer from Ercan airport
1 hour 25 minutes transfer from Larnaca airport
Merit Royal Diamond Hotel & Spa
Kyrenia