7 Nights

Mon, 28 Jun 21

Mon, 05 Jul 21
Merit Nicosia Hotel (Kyrenia)
Hotel Details
Customise Your Holiday
Summary
Final Step
Merit Nicosia Hotel
Kyrenia
TripAdvisor Traveller Rating
Based on {{model.Accommodation.TripAdvisorTotalReviews}} Reviews
Kyrenia
TripAdvisor Traveller Rating
Based on {{model.Accommodation.TripAdvisorTotalReviews}} Reviews
A luxurious hotel rising in the vibrant capital Nicosia
Luxury
Highly recommended by Cyprus Paradise!
Merit Nicosia, part of the highly prestigious Merit hotel chain, is a stylish and elegant hotel where guests can indulge in luxurious facilities right in the centre of Nicosia.
FREE WiFi in all rooms & public areas
Why Holiday Makers Love it
Located in Central Nicosia
Prestigious Hotel Chain
Selection of Rooms
Superb Food
Luxury Spa & Wellness Centre
Ideal for Conferences

Included Special Offers:

Included Special Offers:
Duration:
Stay:
This offer can be combined with other offers.
A monumental building that seamlessly blends Ottoman and Byzantine architectural styles, Merit Nicosia Hotel sets itself apart from its contemporaries as the first 5* hotel in the Northern Cyprus capital Nicosia. The hotel is dressed in elegance from top to bottom, including its selection of spacious hotel rooms that are designed with guests' utmost comfort in mind.
At Merit Nicosia, guests also have the benefit of world-class facilities such as the hotel's luxury spa & wellness centre, an indoor and an outdoor pool, as well as its divine a'la carte restaurants serving delicious food! The hotel has also proved to be a popular destination for meetings and conferences over the years due to being extremely well-equipped for hosting such events. All these facilities are in addition to the hotel's priceless location in the heart of Nicosia!
Cyprus Paradise Experts Recommend
 Whether you are looking for a stay in the capital specifically or you're interested in a central location in general, Cyprus Paradise couldn't recommend Merit Nicosia Hotel enough! The hotel is ideally situated for exploring this historic capital of the Mediterranean as it is within easy reach from some spectacular historical sites including Buyuk Han, Kyrenia Gate and the famous Selimiye Mosque, as well as the old streets of Nicosia that still retain their historic charm to this day. The hotel is also close to the central bus station which connects you to all the other towns in North Cyprus, as well as being within walking distance from the border that can give you easy access to the Southern side of Cyprus as well!
The hotel itself is located on one of the most vibrant and electrifying streets in the whole of Cyprus, being Dereboyu Street which features a great selection of shops, bars and restaurants for a great time out in the capital!
Please note that some services and amenities may not be available during low season.
Unrivalled dining
Guests are treated to the hotel's open buffet style breakfast at the main restaurant. The hotel also offers exquisite a'la carte options that simply must be tried. This includes the Ottoman Kebab House which also features stunning views of Nicosia. Sultan Restaurant is another option where you can enjoy delicious food in exotic gardens to the accompaniment of pleasant music. The Lobby Bar is also at your service with soft, hot or alcoholic drinks.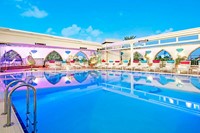 A year-round swim!
Merit Nicosia not only has a beautiful and relaxing glass-enclosed indoor swimming pool at its plush spa, but it also offers guests an outdoor pool that provides a refreshing spot during summer months, making the hotel an ideal choice in all seasons!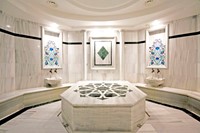 Exquisite me-time
Guests will be absolutely stunned by the hotel's luxury spa that is designed for utmost relaxation both in its ambience and its high-end facilities, including a marble Turkish Bath, saunas, steam room, ice fountain, fitness centre, aroma shower bath, as well as massage, ski and body therapies performed by experts.
Reviews
Where is the Merit Nicosia Hotel?
Merit Nicosia Hotel is located right in Nicosia which is the capital of Cyprus, the hotel is positioned near many shops and restaurants.
30 minutes transfer from Ercan airport
1 hour transfer from Larnaca Airport
Merit Nicosia Hotel
Kyrenia