Lords Palace Hotel
Kyrenia
TripAdvisor Traveller Rating
Kyrenia
TripAdvisor Traveller Rating
Lord's Palace is a divine hotel of British architectural design, offering each and every guest an elite experience
Luxury Beach Holiday
One of the Top 25 Luxury Hotels – Cyprus in the 2019 TripAdvisor Traveller's Choice Awards
The Lord's Palace Hotel offers a contemporary blend of classic elegance and subtle splendour. Based in the heart of Kyrenia Town, complete with an incredible rooftop pool boasting panoramic views, this glitzy hotel warmly welcomes its guests to relax in its classy, Mediterranean seafront abode.
FREE WiFi in all rooms & public areas
Why Holiday Makers Love it
Sea View
Ultimate Luxury
Relaxing & Comfortable
Surrounded by Famous Sites
Roof Top Pool with Stunning Views
Restaurants & Bars on Your Doorstep

Included Special Offers:

Included Special Offers:
Duration:
Stay:
This offer can be combined with other offers.
The Lord's Palace Hotel graces its guests with five-star facilities fit for aristocracy.  Its glorious façade towers over the new harbour of Kyrenia, within walking distance of the historical Kyrenia harbour, the Kyrenia castle and its surrounding shops, bars and restaurants.
The property's traditional British architecture and fabulous interior décor in contemporary shades of cream and gold, adorned by chic furnishings, instills a sense of grandeur in all its guests from the moment of arrival. This is complimented to perfection by fabulous views, exclusive facilities and outstanding service which ensure that guests can enjoy the ultimate holiday experience in peaceful and luxurious surroundings. From a stunning rooftop pool to a first-class spa, gorgeous enclosed gardens and a private sandy beach, Lord's Palace Hotel guarantees a plethora of stylish areas to unwind and relax in with every comfort of its guests born in mind.
Guests can also revel in the hotel's vast selection of fantastic restaurants and bars, promoting a myriad of culinary delights. From scrumptious light snacks to fancy fine dining, Lord's Palace Hotel has the ability to entice any appetite in a variety of appealing atmospheres. One of the best spots in the whole of Kyrenia is the hotel's rooftop Sky Bar, where watching the beauty of the Mediterranean sunset over the Kyrenia horizon provides an unforgettable moment, before dancing the night away to the music of their live DJ with glittering lights of the city in the backdrop.
Cyprus Paradise Experts Recommend
The Lord's Palace Hotel is right by the lovely new harbour of Kyrenia. It is a quiet spot down near the sea, with lots of small boats moored up. It's an exceptional place to sit and relax, taking in a wonderful view of the Kyrenia Mountain range.  Only short stroll away is the historical old harbour with its quaint little cafes, bars, restaurants and shops. Aside from the strip of lovely boats waiting to whisk you away, it also boasts the famous site of Kyrenia castle, which is a must-visit!  Often missed half way around the harbour is the Carob and the Cyprus Life museum. Housed in one of the old carob warehouses, it is packed with fascinating local history.
Make sure you ask the receptionist if there are any concerts going on at the nearby Kyrenia Amphitheatre, host to some fantastic musical and theatrical productions that would most definitely add some exceptional flavour your holiday.
Just a five minutes' drive away from the town centre is the picturesque village of Bellapais. This popular hillside village has outstanding views and many little shops beaming with charming character. It is also where the historical gothic Bellapais Monastery (also known as Bellapais Abbey) is located. This is another spot that ranks high on our list of recommendations. If you can manage to leave behind the luxurious restaurants of Lord's Palace Hotel, there are many lovely little traditional restaurants and bars dotted around the pretty village offering a unique atmosphere.
Please note that some services and amenities may not be available during low season.
Board Basis Options
Half Board Plus • Buffet breakfast and dinner, with unlimited local alcoholic and non-alcoholic drinks to accompany meals (The Hotel Management assigns the beverage list). Full Board Plus • Buffet breakfast, lunch and dinner, with unlimited local alcoholic and non-alcoholic drinks to accompany meals (The Hotel Management assigns the beverage list). • Drinks are served at selected times from the Full Board Bar (The Hotel Management assigns the beverage list). Additional Information • This board basis does not include official and religious holidays (please enquire for further details) • Extra Supplements are required for specific imported alcoholic drinks. • Extra Supplements are required for fresh juice, Cappucino, Expresso, Latte and Turkish Coffee. • Meals at the A La Carte Restaurants are also not included. • Room Service is chargeable.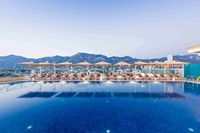 Amazing Rooftop Pool
The Lord's Palace Hotel boasts the most stunning rooftop swimming pool in Kyrenia, granting its guests the incredible pleasure of sightseeing and watching the boats sail out of the harbour, whilst enjoying a great swim! Their designer sun loungers around the stylish terrace, complete with glass walls, make for a truly exclusive experience as guests to relax by the pool and enjoy a drink from the lovely bar. The hotel also offers a sensational indoor pool within its Spa & Wellness Centre, as well as a children's pool for the benefit of families and their young ones.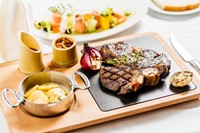 A feast of desires!
Guests can expect incredible culinary delights from the skilled Master Chefs at the hotel's multiple restaurants. The a'la carte Komur Ocakbasi will be your go-to for delicious fish and steak meals with a huge wine menu. Spice Restaurant features unique décor with a fully visible kitchen, serving buffet breakfast and dinner. The Beach Restaurant, set on the shoreline, serves delightful snacks, refreshments and ice cream. There's also Park West Café, which is not only ideal for an afternoon sit with tasty pastries and hot drinks, but it also has a great a'la carte menu. Last but certainly not least, the rooftop Sky Bar offers a full a la carte menu, served against breath-taking views of Kyrenia and the Mediterranean.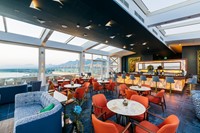 Dance upon a fortress!
At Lord's, guests have a range of entertainment options to party like royals! Starting with the rooftop Sky Bar with live DJ performances 3 times a week, enjoy a cocktail with beautiful views of Kyrenia in the backdrop. Summer sees the opening of the hotel's seafront club Odyssey, which is one of the most popular clubs in Cyprus. There's the recently-launched luxury Marrakech Lush Club where guests can dance the night away indoors in the winter season. The hotel is also home to one of the most prestigious casinos in the entire island.
Time to be treated as royalty
At the Lord's Palace Hotel guests can expect to be pampered from the moment they enter the extravagant spa and wellness centre, which also consists of a fitness centre and hairdressing salon. With an exciting range of luxury treatments and facilities, including a variety of tailored therapies, massages and a quality Turkish Hamam, guests can expect to be truly spoilt for choice.
Reviews
Where is the Lords Palace Hotel?
The Lords Palace Hotel is located by the seafront of the New Harbour in the centre of Kyrenia. It is close to popular historical sites, shops, restaurants and bars.
On the seafront with private sandy beach
20 minutes walk from Kyrenia Town centre
50 minutes transfer from Ercan airport
1 hour 30 minutes transfer from Larnaca airport
Lords Palace Hotel
Kyrenia