7 Nights

Tue, 29 Jun 21

Tue, 06 Jul 21
Hotel Details
Customise Your Holiday
Summary
Final Step
Kyrenia
Experience traditional Cypriot hospitality with peace and tranquility within the mountains
Small & Friendly Value for Money
Highly recommended by Cyprus Paradise!
The Lapida Hotel is a quiet and quaint hotel 10 miles west of Kyrenia, in the peaceful village of Lapta, famous for its close proximity of the sea and mountain range. Enjoy the warm culture and personal touches of an authentic Cypriot family, in a small hotel that offers scenic surroundings with traditional style and facilities.
FREE WiFi in all rooms & public areas
Why Holiday Makers Love it
Cosy & Welcoming
Large Terrace Area
Personable & Helpful staff
Genuine Turkish Hospitality
Duration:
Stay:
This offer can be combined with other offers.
The Lapida Hotel provides their guests with a traditional stay in the picturesque village of Lapta, a great value mountain retreat, where warmth and relaxation come first.
Open all year around, with all the benefits of a small hotel, Lapida is a family run, traditional experience providing excellent value for money. Here you can appreciate genuine, friendly Cypriot hospitality, where every need is catered for by the owner, Fethi and his family, together with his personable and courteous staff. Offering spacious and relaxing Mediterranean gardens and comfortable accommodation with scenic mountain views, you can enjoy a peaceful and memorable holiday.
Cyprus Paradise Experts Recommend
Stroll down the Lapta coastal walk – a stunning coastal promenade, the views are sensational and this hotel is fortunate enough to be only a few minute drive away! Sardunya Bay is at the end of the coastal walk, a stunning beach that also offers small boat rides and a casual lunch in its popular restaurant.
The local Silver Rocks restaurant on the main road, only a few minute drive away is a must!  Whether it's just a coffee, drink at the bar or a fantastic meal looking over the coast you're after, this restaurant really is the perfect choice.  They also have a pool if you fancy a quick dip! The Wild Duck, again just a 2 minute drive away from the hotel, is another favourite, making a nice stop for lunch. It is lovely for children with its small park and local animals to enjoy. 
For night time entertainment, there's JK's bar only a few minute drive away - from the main road take the right turning for the Sempati Hotel and follow the road. The Fly Inn & The Lodge are about 5 minutes away on the main road, on the popular Lapta Strip, which is vibrant with local restaurants and bars, some overlooking the sea. Or, catch the local bus (dolmus) into Kyrenia for a 30 minute ride to the lively centre of Kyrenia Town.
Ask The friendly Owner, Fethi for further advice on places to see and things to do in the area, who is more than happy to provide guidance on the hidden hotspots of this quieter part of town.
Please note that some services and amenities may not be available during low season.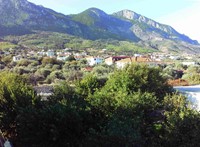 Life's a beach!
There are numerous local beaches to be enjoyed just a short drive away, including the popular Sunset Beach.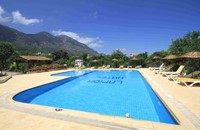 A Freshwater Dip
The Lapida Hotel offers a spacious freshwater swimming pool with a separate children's section. The pool is situated in their beautiful gardens, surrounded by sunbeds and different places to relax, including sunny terraces, spacious grass areas, comfortable outdoor seating and a hammock.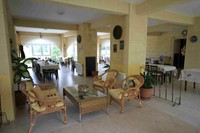 Traditional Delights!
Breakfast and dinner are served open buffet in the hotel's light & airy restaurant, offering a wide range of cuisine where local Turkish Cypriot dishes are their speciality. The great thing about this small Cypriot family run hotel, is that the waiters will know your name and food preferences before long! Grandmother actually cooks the delicious food – make sure you try her speciality, slow-roast lamb, cooked in the hotel's clay oven – it melts in the mouth!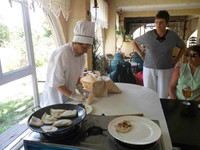 Relax and have fun!
Live entertainment is available throughout the summer season (Cyprus night) and Sunday BBQ's, scuba diving and horse riding can also be arranged nearby. The hotel also offers traditional Turkish cooking lessons in whereby you cook breads, pastries more from scratch. They also offer Yoga sessions in the lush gardens surrounding the hotel, unwind and find your inner peace.
Reviews
Where is the Lapida Hotel?
Located in the quaint, mountain village of Lapta, 10 miles west of Kyrenia, The Lapida hotel is just a walk from a few restaurants and amenities and a short ride away from local beaches, bars and shops.
7 minutes drive to the nearest beach (Sardunya Bay)
9 miles west of Kyrenia town
40 minutes transfer from Ercan airport
1 hour 30 minutes transfer from Larnaca airport