7 Nights

Mon, 28 Jun 21

Mon, 05 Jul 21
Korineum Spa and Beach Resort (Kyrenia)
Hotel Details
Customise Your Holiday
Summary
Final Step
Korineum Spa and Beach Resort
Kyrenia
TripAdvisor Traveller Rating
Based on {{model.Accommodation.TripAdvisorTotalReviews}} Reviews
Kyrenia
TripAdvisor Traveller Rating
Based on {{model.Accommodation.TripAdvisorTotalReviews}} Reviews
Luxurious Countryside Escape with prestigious Spa & Beach
Beach Holiday
Boasts a diverse range of facilities!
It is the breathtaking setting that sets this resort apart, set above the coast, in the midst of glorious countryside, surrounded by umbrella pines and olive trees, between the remarkable Five Finger Mountains and the sparkling waters of the Mediterranean. This distinguished resort has impressive accommodation, a sumptuous spa, stunning outdoor pool, a private beach club as well as its own championship golf course.
FREE WiFi in all rooms & public areas
Why Holiday Makers Love it
Luxurious Rooms
Professional Academy
Spectacular Nature Tracks
Breakfast & Evening Spread
Relaxing & Calm Atmosphere
18 Hole Championship Golf Course
Wedding Packages Available

Included Special Offers:

Included Special Offers:
Duration:
Stay:
This offer can be combined with other offers.
The Korineum Spa and Beach Resort combines panoramic views, absolute tranquillity and an exclusive choice of leisure within a spacious and secluded haven.
The stunning scenery of The Korineum Spa and Beach Resort is matched by its luxury standards of accommodation and facilities. The beautifully decorated and furnished rooms, magnificent outdoor pool and sumptuous private beach and spa facilities are highly impressive, whilst fitness fanatics will gasp in awe at the floodlit tennis courts, 18-hole golf championship course and state of the art fitness centre on site.  Welcoming discerning couples, families, children, sports enthusiasts and fitness teams alike, the Korineum Spa & Beach Resort ensures some exhilarating fun as well as relaxing bliss for everyone.
A fantastic range of dining experiences also awaits their guests, from international fusion cuisine served in the smart Carob Island restaurant, fine cognac and cigars available in Clubbers Lounge, to special dining events at the beach and an incredibly popular Sunday brunch!  If you're looking for an immaculate hotel, with a country club service and an abundance of exciting facilities in a peaceful sanctuary, The Korineum Spa and Beach Resort ensures you will cherish an unprecedented Mediterranean experience.  
Please note that the hotel will accept 3 guests in one room, on the understanding that the additional bed supplied is a temporary bed.
Cyprus Paradise recommendations
Esentepe is home to some stunning beaches, lovely local restaurants and incredible natural beauty. Its large span of unspoilt nature has allowed the town to retain much of its traditional charm. Make sure you take advantage and spend some time venturing the villages, mountain trails and hidden exotic sandy coves.  There is also the option of visiting Alagadi Beach, a long, popular sandy beach , also famous for its loggerhead and green turtles, as it's a place where they come to nest. We highly recommend that you enquire about the fascinating opportunity of watching them hatch with your Tour Rep.
Esentepe's historical buildings include the 12th century medieval domed Antiphonitis Church, which used to be the centre of an influential monastery and was once the Byzantine monument in the Kyrenia hills.  The area is also known for its horse riding and paragliding facilities.  Speak to the friendly receptionist about Catalkoy Riding Club, which organises exciting rides in the Kyrenia Mountain range led by professional staff. 
When it comes to shopping with a spot of sightseeing, Kyrenia harbour, Nicosia and Famagusta are all brilliant places for shopping as well as their abundance of historical sites.  Kyrenia's mountain castles and quaint museums, Nicosia's traditional Turkish Baths "Buyuk Hamam" and 'Bandabulya' (indoor market) as well as the Famagusta's famous Venetian City Walls, are all fascinating sites to see.
Please note that some services and amenities may not be available during low season.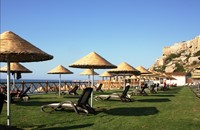 Private Beach Club
The Korineum also boasts a 70m private beach with both a beautiful sandy area and a well- kept grass area alongside a prestigious pier. A courtesy shuttle service conveniently escorts their guests to and from the beach club and their fantastic Beach Snack Bar offers a selection of delicious lunch varieties and exotic refreshments, adding to the relaxing experience. Further facilities include private changing cabins, toilets and outdoor showers.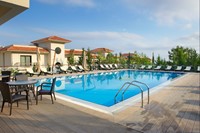 Swim Amongst the Pines
The Korineum's relaxing swimming pool is nestled in the soft landscape amongst their traditional pines. The resort also provides an infant pool adjacent to it, allowing their little guests to enjoy a fun splash and swim together as well as a small park for them to run about and play.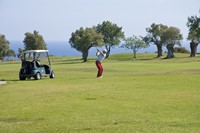 Challenging fun
The Korineum Golf and Beach Resort boasts a stunning setting with panoramic views for their dynamic 6,232 metre, 72 par course. With Golf Professionals at hand to assist both beginners and experienced golfers, all guests are assured a spot of fun! Their professional Golf Academy and international standard 18 hole golf course is the one and only of its kind in the country.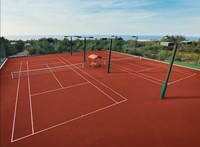 A Trusted Tennis Academy
The Korineum also allows guests to enjoy a game of tennis at their exclusive Academy! Their four quality clay tennis courts are available to hotel guests for up to two hours per day. UK professional tennis coach is also onsite to assist players of all levels.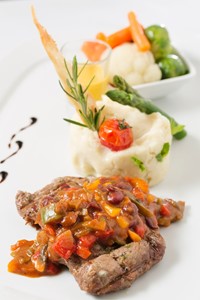 Feast on Carob Island!
The hotel provides fantastic breakfast and dinner buffet meals in their stylish Carob Island Restaurant, complete with hot cooking stations! Lunch is served a'la carte at The Valley Restaurant offering an international and traditional selection. The Clubbers Bar, open all year, presents their guests with a Fusion Menu with tasty bites and sumptuous meals within a cosy atmosphere. During the summer season, the Sandal Pool Bar serves a great variety of drinks and snacks throughout the day. The Loggerhead Sports Bar is set in a relaxing lounge with a cosy log fire, with pool tables, darts and bridge tables for a fun time! The Academy Shanks Bar in the Golf Academy area offers a lovely variety of hot and cold refreshments and sandwiches. Special dining events include Traditional Cypriot Nights at the beach with Kleftiko (slow roasted lamb) and a popular Sunday brunch (booking required).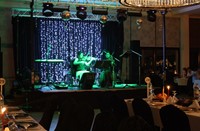 A field of fun for all!
The Korineum organises regular seasonal events for their guests to enjoy! From Traditional Cyprus Nights, which include Klefkito evenings on the beach and live music to challenging golf matches and pleasurable games of pool, darts and bridge in their friendly Sports Bar, it's a field of fun for all! • Cyprus nights (seasonal) • Live music on Saturdays and Wednesday • Sunday Brunch (seasonal)
Enjoy a Balinese Style Spa
The Korineum Boutique Spa is designed to harmonize with the calm atmosphere of the Hotel. Its two massage rooms, sauna and cosy relaxing areas combined with exotic Bali Spa packages, treatments and massages provide a unique sense of well-being and tranquillity to purify your mind and lift your senses.
Reviews
Korineum Spa and Beach Resort
Where is the Korineum Spa and Beach Resort?
The Korineum Spa & Beach Resort is located on the north-east of the island, set in beautiful countryside, less than 4 miles from the village of Çatalkoy and approximately the same distance from the famous Alagadi (Turtle) beach.
FREE Shuttle service to its own private beach (in high season)
16 miles east of Kyrenia town
40 minutes transfer from Ercan airport
1 hour 40 minutes transfer from Larnaca airport
Korineum Spa and Beach Resort
Kyrenia