Korineum Golf and Beach Resort
Kyrenia
TripAdvisor Traveller Rating
Kyrenia
TripAdvisor Traveller Rating
Luxury Golf Escape with prestigious Beach & Spa
Golf
Highly recommended by Cyprus Paradise!
Cyprus Paradise is proud to present the first 18 Hole Championship Golf Course designed by British architect David Hemstock. Highly recommended on Trip Advisor, the spectacular Korineum Golf & Beach Resort & Spa is set in beautiful, rolling hills, overlooking the Mediterranean, just a short drive from Kyrenia.
FREE WiFi in all rooms & public areas
Why Holiday Makers Love it
Luxurious Rooms
A Professional Academy
Spectacular Nature Tracks
Relaxing & Calm Atmosphere
18 Hole Championship Golf Course
Wonderful Garden & Mountain Views
Wedding Packages Available

Included Special Offers:

Included Special Offers:
The Korineum Golf Resort is an ideal all year round destination for the travelling golfer and is beginning to emerge as a draw for golfers across Europe.
Set above the coast and with incredible views down to the sea, this spectacular resort has its own championship golf course and plenty to attract non-golfers too with its relaxing and breathtaking location filled with umbrella pines, olive trees and lakes, luxury accommodation, a sumptuous spa, attractive outdoor pool, a private beach club as well as an excellent restaurant.
Golfers will be delighted at the immaculately kept, international standard 18 hole golf course and its excellent practice facilities. It's a phenomenal setting for their dynamic 6,232 metre, 72 par course, with challenging bunkers and water hazards right in the midst of a stunning hilltop. Four clay tennis courts and a well-equipped fitness centre allow sporting enthusiasts to benefit from a choice of varied exhilarating activities. Complimented by outstanding country club service, The Korineum is the ideal, peaceful resort to enjoy time on the tees and heaps of family fun too.
Cyprus paradise recommendations
Esentepe and Tatlisu are famous for their stunning beaches, traditional restaurants and breathtaking beauty. Still retaining much of its traditional charm and unspoilt character, you won't regret taking some time to venture the villages, pretty mountain trails and exotic sandy bays. The medieval Antiphonitis Church from the 12th century, once the Byzantine monument in the Kyrenia hills, is also an interesting and local site to experience.    In addition to this, the long sandy beach of Alagadi, less than 4 miles away, is popular for its loggerhead and green turtles, as the opportunity of watching them hatch still exists! This can be organised with your Tour Rep, so don't forget to ask! 
Kyrenia harbour, Nicosia and Famagusta are your places for shopping as well as sightseeing…The Byzantine castles and quaint museums of Kyrenia, traditional Turkish Baths "Buyuk Hamam" and indoor market ('Bandabulya') in Nicosia as well as the famous Venetian City Walls of Famagusta, are all highly recommended places to visit.
Esentepe is also brilliant for horse riding and paragliding.  Enquire with the friendly receptionist about Catalkoy Riding Club, which organises spectacular rides in the Kyrenia Mountain range led by experienced professionals. 
Please note that some services and amenities may not be available during low season.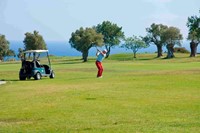 A Golfers Paradise!
From new beginners to keen golfers, the Korineum offers a unique golfing experience. Its boasts 18 challenging holes within a dynamic 6,232 metre, 72 par course with bunkers, fairways and water hazards strategically placed around an impeccable landscape with panoramic Mediterranean views. Korineum also consists of a reputable academy and expert tuition from resident golf professionals. Their smaller Academy Golf Course offers a spacious driving range for guests to enjoy practicing their swings. Excellent golf facilities include 44 golf cars with silent battery, golf clubs and soft spike shoes for hire, as well as a well-stocked professional shop, complete with the leading brands in golf merchandise.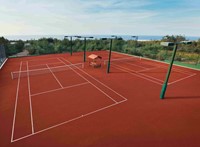 4 Clay Courts
The Korineum also boasts 4 clay tennis courts, a reputable Tennis Academy and a UK professional tennis coach. The attractive courts, only a three minute walk away from the hotel, are free of charge for up to two hours per day for hotel guests. The court area is flood lit and well equipped with its own Bar & WC facilities. Equipment such as tennis racquets and ball machines are also available for hire.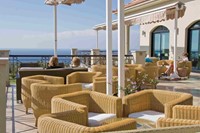 Exclusive Beach Club
Korineum's 70m beach is private and exclusive, with a courtesy shuttle to transport guests to its gorgeous sandy bay, lovely grassy area and prestigious pier, just under a mile away. Stylish sun loungers, parasols and a well-stocked beach bar will keep you comfortable whilst you soak up the sun with your favourite drinks and snacks. Further facilities include private changing cabins, toilets and outdoor showers.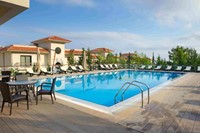 Splash away in luxury
The Korineum Golf and Beach Resort boast a pristine swimming pool set amongst the stunning pines. Its poolside bar is convenient for cool drinks, snacks and lunches. Children will be thrilled with their own separate shallow pool as well as a small park area with swings and slides to enjoy.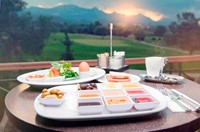 It's a Feast for all!
Breakfast and dinner buffet meals are served at the stylish and modern Carob Island Restaurant, offering a fantastic variety of fresh options including hot cooking stations! Lunch at the Valley Restaurant can be enjoyed a'la carte, providing an international and traditional selection. Moreover, Traditional Cypriot Nights serving Kleftiko (slow roasted lamb) on the beach and a popular Sunday brunch (booking necessary) are also often organised. The cosy Clubbers Lounge is open year-round, offering an exciting Fusion Menu with delicious snacks and meals. The Sandals Pool Bar is open during the summer months throughout the day and provides a fantastic variety of refreshments and tasty snacks throughout the day. Set in a relaxing lounge with a lovely log fire, the popular Loggerhead Sports Bar is bursting with fun activities including pool, darts and bridge! Situated in the Golf Academy area, The Academy Shanks Bar offers golfers a great variety of drinks and sandwiches.
Go on… have a ball!
Special seasonal events regularly take place at the resort for all guests to enjoy! Traditional Cyprus Nights, including live music and Klefkito evenings on the beach, challenging golf matches and fun games of pool, darts and bridge in the cosy Sports Bar are bound to occupy their guests with heaps of fun! • Cyprus nights (seasonal) • Live music on Saturdays and Wednesday • Sunday Brunch (seasonal)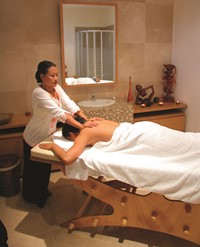 Try A Balinese Spa
The Korineum Boutique Spa consists of two lovely massage rooms, sauna as well as various relaxing areas, all designed in line with the serene ambiance of the resort. Guests are truly spoilt with luxury Bali Spa packages, treatments and massages, providing an authentic experience and a unique sense of well-being.
Reviews
Korineum Golf and Beach Resort
Where is the Korineum Golf and Beach Resort?
The Korineum Golf and Beach Resort is situated on the north-east of the island, surrounded by a picturesque countryside, less than 4 miles from Catalkoy Village.
16 miles east of Kyrenia town
40 minutes transfer from Ercan airport.
1 hour 40 minutes transfer from Larnaca airport
Korineum Golf and Beach Resort
Kyrenia