7 Nights

Tue, 08 Jun 21

Tue, 15 Jun 21
Kaya Palazzo Resort (Kyrenia)
Hotel Details
Customise Your Holiday
Summary
Final Step
Kaya Palazzo Resort
Kyrenia
Kyrenia
Brand new resort that sets new standards for luxury and comfort
Luxury Beach Holiday
Highly recommended by Cyprus Paradise!
Kaya Palazzo is luxurious resort in Kyrenia on the picturesque seafront with striking character, plush surroundings and deluxe facilities.
FREE WiFi in Rooms & Public Areas
Why Holiday Makers Love it
New Luxurious Resort
Warm Welcoming with Treats
Selection of A La Carte Restaurants
Magnificent Spa with Indoor Pool
Duration:
Stay:
This offer can be combined with other offers.
The hotel occupies a superb seafront location and exudes outstanding luxury from top to bottom with a range of activities to accommodate guests of all ages.
The Kaya Palazzo is a new resort in an incredible seafront location just outside of Kyrenia town. Inspired by the historic Palace of Versailles, the hotel stuns guests with its pristine décor and elegant furnishings as well as its contemporary and luxurious facilities, all in a beautiful setting enjoying uninterrupted views of the sea.
The hotel features stunning swimming pools, private access to the sparkling Mediterranean, water sports, a luxury spa and wellness centre, a range of excellent dining options including award-winning restaurants, even a mini disco for the kids, making it an ideal choice for many holidaymakers. The hotel itself is located in a quiet corner just outside of Kyrenia town, merely minutes' drive away, giving guests the chance to explore the best of the town without compromising on comfort and quality. Due to its locations as well as its varied onsite facilities, the hotel presents a fabulous holiday opportunity as an all-round, year-round holiday resort.
Cyprus Paradise Experts Recommend:
The hotel is a short walk from the main road where you can easily hop on a minibus (dolmuş) to the east which will take you to Kyrenia town with a plethora of restaurants, shops, bars and cafes, including the beautiful and historic Kyrenia harbour and the magnificent Kyrenia Castle as well as a range of museums that provide an excellent insight into the intricate history of the island. Venturing to the west will take you to The Martyrs Monument and the Peace and Freedom Museum, as well as the purpose-built Lapta coastal walk for a breath-taking opportunity to experience the western Kyrenia coastline on foot. Further west is the popular Lapta strip with a vibrant scene including many chic restaurants and glitzy casinos.
Guests who would like to stay locally would not be disappointed as Karaoglanoglu village has plenty of amenities to keep you busy. These include the St Fanourios Church which is still quite an active Orthodox church, located on the top of the cliff overlooking the Mediterranean, said to be the location where St Fanourios fell to his demise while climbing the steep cliffs. There is also the pretty village of Karmi only a short drive from the hotel which will surely leave a lasting impression. Guests could also visit the local stables in Karaoglanoglu and Alsancak where they can take riding lessons or even hire horses for a day out in the mountains. There are also plenty of excellent restaurants in the area including the Ambiance Restaurant for a truly atmospheric dining experience and the Missina Restaurant which is one of the best fish restaurants in North Cyprus.
Please note that some services and amenities may not be available during low season.
Board Basis Options - Full Board
•Buffet breakfast, lunch and dinner, with unlimited soft and alcoholic local drinks to accompany meals areserved in the Main Restaurant. •Extra supplements are required for Drinks that are served at selected times between meals from the Lounge Bar, Palazzo Pool Bar and Palazzo Beach Bar. Please note Palazzo Beach Restaurant, Beach Bar & Sky Kyrenia Club is open during high season (20th April – 9th October). •Extra supplements are required for all food and refreshments from A La Carte Restaurants
A Selection of A La Carte!
The dining options at Kaya Palazzzo are simply divine, catering to many different tastes and preferences. Guests have at their service the Develi Restaurants - Turkey's most famous Kebab Restaurant brand. There is the Greek Tavern for impeccable Mediterranean cuisine and sea food, as well as the famous Istanbul Dragon Restaurant for unparalleled Far East/Chinese food. Meals at all a la carte restaurants are chargeable and reservations are also usually required. The Sky Bar Beirut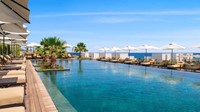 Enjoy a Relaxing Swim
The hotel has two large outdoor swimming pools surrounded by tall palm trees with uninterrupted views of the gorgeous Mediterranean Sea. This will undoubtedly be a highlight of your stay as an incredibly relaxing swim.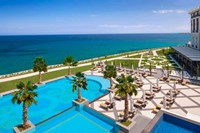 Mini Disco & Childrens Pool
Kaya Palazzo is also great for the kids, featuring a children's pool and mini disco. Guests also have at their disposal the babysitters of the hotel available at request.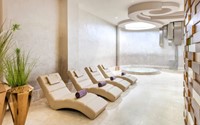 Ultimate Relaxation
The hotel's spa is distinguished both in its stunning and refreshing ambiance as well as its professional services, offering guests a steam room, Turkish Bath, sauna, plates, igloo room, Jacuzzi, as well as a selection of massage and beauty therapies.
Reviews
Where is the Kaya Palazzo Resort?
Kaya Palazzo Resort & Casino Kyrenia is located on the seafront in the village of Karaoglanoglu, 4 miles west of Kyrenia.
Located on the Seafront with Private Sandy Beach
1 hour transfer from Ercan Airport
1 hour 25 minute transfer from Larnaca International Airport
Kaya Palazzo Resort
Kyrenia