7 Nights

Mon, 28 Jun 21

Mon, 05 Jul 21
Elexus Resort and Spa (Kyrenia)
Hotel Details
Customise Your Holiday
Summary
Final Step
Elexus Resort and Spa
Kyrenia
TripAdvisor Traveller Rating
Based on {{model.Accommodation.TripAdvisorTotalReviews}} Reviews
Kyrenia
TripAdvisor Traveller Rating
Based on {{model.Accommodation.TripAdvisorTotalReviews}} Reviews
Beachfront Perfection Beyond Comparison
Luxury Family Beach Holiday
Boasts a diverse range of facilities!
Elexus Hotel sweeps guests off their feet with state-of-the-art facilities, highest level of hospitality and finest attention to detail in every aspect. Surrounded by the stunning scenery of one of the most incredible coastlines in Kyrenia, its exceeds the highest expectations of the most discerning guest.
FREE WiFi in all rooms & public areas
Why Holiday Makers Love it
Luxury Spa
Outstanding Sea Views
Located on the Sandy Beach
Breakfast & Evening Meal Spread
Kids Facilities, including Aqua Park
Great for Both Couples & Families

Included Special Offers:

Included Special Offers:
Duration:
Stay:
This offer can be combined with other offers.
The Elexus Resort and Spa experience is a cut above the rest. Its ritzy ambiance and glitzy décor will leave you stunned from the moment you arrive.  With a multitude of unique facilities and fun-filled entertainment, it grants its guests with the unimaginable dream holiday.
The 5* Elexus Resort and Spa is situated amidst beautiful scenery with magnificent views of the sea. It's interior is a magnificent spill of chic décor and modern luxuries.  It also provides an incredible array of exceptional facilities, including a choice of 6 pools complete with aqua park, phenomenal spa with invigorating treatments, impressive accommodation with stunning sea views and lavish cuisine fit for a king. There is also a dazzling range of activities that cater for all ages, providing fun and entertainment for couples and families alike...regular dance shows, live concerts by popular artists and an Alexis Wonderland for children, just to name a few!
The resort's beach area is extensive with a stunning, sandy stretch of golden sand directly outside the hotel as well as an adult only exclusive Beach Club, definitely one of the most chic on the island. Guests can expect to enjoy the sea in style and experience more than just a breath of fresh air at Elexus Resort and Spa.
Cyprus Paradise Experts Recommend
Sightseeing and perhaps some present shopping may be the only two reasons you will be able to convince yourself to leave the wonders of The Elexus Resort and Spa! Kyrenia harbour, Nicosia and Famagusta are great places for shopping as well as famous for their ancient historical sites. Kyraenia castle, the walled city of Nicosia and the ancient ruins of Salamis, Fmagusta are all fascinating to see.
If you don't fancy venturing out too far, you can enjoy exploring the nearby historical buildings around Esentepe, which include the famous medieval domed Antiphonitis Church, dating back to the 12th century.  It used to be the centre of an influential monastery and was once the Byzantine monument in the Kyrenia hills. Alagadi Beach is a popular place too, as its where the loggerhead and green turtles come to nest. It's a fascinating experience to visit during the evening to watch them hatch. You can enquire about the best season and hours to witness this with your Tour Rep.
Esentepe is also known for its excellent horse riding and golf facilities. Catalkoy Riding Club provides rides led by professional staff and offers the excting opportunity to ride in the Kyrenia Mountain range.  For those of you looking for a spot of golf, Korineum Golf Club is the first 18 hole international green golf in Nothern Cyprus! Their course is set on the stunning hills of Esentepe, overlooking the Mediterranean coastline, and is very tastefully designed to high European standards. Both clubs welcome beginners – ask the friendly Receptionist or your Tour Rep. for further information and assistance with booking.
Please note that some services and amenities may not be available during low season.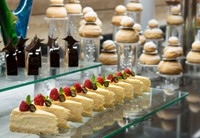 Full Board Pluss
Buffet breakfast, lunch and dinner, with unlimited soft and alcoholic local drinks to accompany meals served in the Eden Main Restaurant. • Buffet breakfast, late breakfast, lunch & dinner with unlimited alcoholic and non-alcoholic drinks to accompany meals in the Reflection Main Restaurant and seasonal Leaf Main Restaurant (The Hotel Management assign the beverage list). • Food and drinks for children between 4-12 years old in the Mini Club at selected times. • Late afternoon Tea Time. • Snack Service at Gozleme. • Night Snack at the Leaf Restaurant. • Meals at the A La Carte Restaurants are not included within the All Inclusive tariff. • Room Service is chargeable.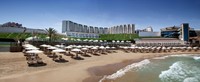 Exclusive and Chic
The resort's beach area is extensive, the area directly outside the hotel is stunning, peaceful and tranquil. It also has an adult only exclusive Beach Club, which is definitely one of the most glamourous on the island. Mia Beach Club boasts a Miami style design with luxiourious sun loungers, stylish day beds, modern sofa loungers and its fashionable kabanas set against the shore are irresistibly indulging. It's chic club restaurant and fantastic beach parties with top DJ performances are popular with visitors from all over the island. This is certainly the place to be seen!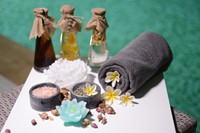 Discover a new you
The Zoya Spa is ultimate bliss from the moment you enter its doors. Unwind beside one of its two inviting indoor pools, or simmer down in one of the four outdoor pools after a work out in their fitness centre. Their irresistible treatments provide the healing power of a deeply personalised spa and wellness experience in immense tranquillity and luxury.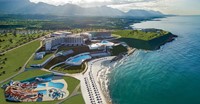 Slides of fun!
The Elexus takes pride in having one of the most amazing Aqua Parks on the island, with a variety of attractive, modern slides and water games, suitable for all ages.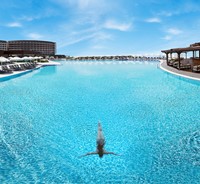 A choice of 7 swimming pools
The Elexus Resort and Spa boasts a choice of seven swimmimg pools, four fantastic outdoor pools and two luxurios indoor pools. Swimmers in their spacious infinity pool can enjoy uninterrupted sea views from in and around the pool.
Enjoy A World Cuisine Day!
The Elexus Resort and Spa has five wonderful restaurants their guests can choose from. The Reflection restaurant offers an international buffet. Meyan Kebab an authentic Turkish cuisine. The Myoga Far East restaurant offers more exotic cuisine. The Kaluga is an a la carte fresh fish restaurant. The more informal Bistro 24, provides guests with snacks and drinks at anytime of the day along with its stunning views over the terrace to the sea. In addition to this, guests can enjoy the privilege of complimentary offers from eight show kitchens, world cuisine days, healthy buffet and afternoon tea. Children can benefit from a complimentary buffet meal, cakes, ice cream and soft drinks from their mini club area. Guests can also indulge in the delicious alternatives that their seasonal beach clubs, bars, snack restaurant, coffee corner and patisserie provide. Due to the popularity of all their restaurants, booking is advisable.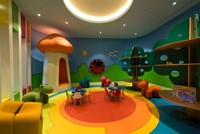 It's Wonderland!
• Elexus Mini Club (3 - 12 years) • Games room • TV Lounge • Dance room • Theatre room • Sleeping rooms • Bilingual teachers and guides • Alexis Wonderland • Lilliput play homes • Laboratory (educational and fun activities) • Jungle zone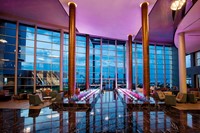 Stars in your Eyes!
The Elexus Resort and Spa showers their guests with all sorts of live regular entertainment. Concerts are hosted by major Turkish artists, popular dance shows are held such as their Samba Brazil Dance Show, Walk of Stars Dance Show and Dolls by Rapid Dance Show. They also have a glamourous casino as well as promote unlimited entertainment for children. In addition to this, The Mia beach club has popular pool party nights that are hosted by International DJ's and is one of Kyrenia's most exclusive places to be.
Reviews
Where is the Elexus Resort and Spa?
The Elexus Hotel Resort & Spa is approx.. 10 miles east of Kyrenia, located in Esentepe, just outside the popular village of Catalkoy. It enjoys a prime spot in a stunning, secluded area, along the one of the best coastlines on the island.
On the seafront with private sandy beach
10 miles from Kyrenia town
Shuttle Service to Kyrenia Town (charges apply)
40 minutes transfer from Ercan airport
1 hour 30 minutes transfer from Larnaca airport
Elexus Resort and Spa
Kyrenia