7 Nights

Mon, 28 Jun 21

Mon, 05 Jul 21
Denizkizi Royal Hotel (Kyrenia)
Hotel Details
Customise Your Holiday
Summary
Final Step
Denizkizi Royal Hotel
Kyrenia
TripAdvisor Traveller Rating
Based on {{model.Accommodation.TripAdvisorTotalReviews}} Reviews
Kyrenia
TripAdvisor Traveller Rating
Based on {{model.Accommodation.TripAdvisorTotalReviews}} Reviews
Luxury Beachfront Holiday on a Secluded Sandy Beach
Beach Holiday
An ideal seaside holiday!
The Denizkizi Royal or 'Royal Mermaid' hotel offers quality rooms of traditional décor and balconies with outstanding sea views. It boasts the perfect spot for a fantastic beach holiday with plenty of relaxing and exhilarating facilities to enjoy - from their lush landscape and heavenly beach cove to their diving, spa and fitness centres, not to mention their great location for exploring Kyrenia, you're really in for a Mediterranean treat!
FREE WiFi in lobby, WiFi in rooms & public areas (chargeable)
Why Holiday Makers Love it
Private Sandy Beach
Lush, Exotic Gardens
Superb Diving Centre
Helpful & Attentive Staff
Deluxe Rooms with Sea Views
Hotel's speciality - Lamb in the well

Included Special Offers:

Included Special Offers:
Duration:
Stay:
This offer can be combined with other offers.
Set above a picturesque sandy bay with expansive views of the mountains and ocean, the Denizkizi Royal Hotel offers a superior service.
The hotel is perfectly situated for a relaxed beach holiday; boasting panoramic views of the ocean, a peaceful location with lush mature gardens and stretching golden sands. For those seeking a more active break there are watersports available from the beach; in addition to this the hotel boasts a large freshwater swimming pool overlooking the sea. If the steep walk up from the beach proves too much after a day soaking up the sun there is a convenient golf buggy available to return you to the hotel.
The hotel has both indoor and outdoor dining - being owned by well-known local restaurateurs, the food is prepared to extremely high standards. A complimentary shuttle service is also included to the owner's restaurant in Kyrenia city centre.
Cyprus Paradise Experts Recommend
During the summer months we highly recommend you try the hotel's speciality cooked on Sundays -  Lamb in the Well, which is cooked underground with fragrant herbs and topped with succulent, golden crispy skin. People come from far and wide to try this traditional slow cooked lamb dish also known as "Thieves Kebab". Not only will you enjoy this mouth-watering delicacy, but you will be entertained by the brief history of this Cypriot dish, which came about when thieves would steal meat from neighbouring farms and cook the meat underground, so not have their stolen goods spotted! A distinct and memorable dining experience!
If you fancy some local sight -seeing, the local buses run regularly from the main road, just a few minutes' walk away. Look out for St. Fanourios Church overlooking the sea, in the village of Karaoglanoglu. On the way to Kyrenia, take the road towards The Mountain View Hotel, after the hotel, pass a football ground and the church is in front of you. It's small and well preserved. Dedicated to St. George, unlike most of the Orthodox churches in North Cyprus, this is an active place of worship, and it's common to see a candle burning on the small alter.
Evening entertainment can also be enjoyed close by, with only around a 6 minute drive to the vibrant The Lapta Strip, where The Fly Inn & The Lodge are popular for their live music and karaoke events.  With a free taxi ride to the hotel's restaurant in Kyrenia Harbour (Niazi's), it's an idea to combine a quality dining experience with a night visiting the lively bars in Kyrenia to follow!
Please note that some services and amenities may not be available during low season.
Invigorate your senses!
The Denizkizi Spa and Wellness Centre offers their guests everything needed to enhance physical and mental well-being. With modern fitness equipment, sauna, jacuzzi and steam room you will be able to both exercise and rejuvenate. Exciting pampering treatments, including aromatic massage are also available.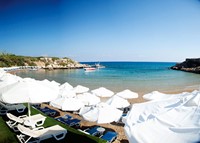 Make friends with the fish!
Guests can switch off and soak up the sun in a place where tranquillity and peacefulness are in abundance on their secluded sandy beach cove. If you fancy some action, their beach also offers sea related leisure activities for all ages, including exhilarating water sports such as sea diving, jet skiing and wake boarding. Loungers, parasols, changing rooms, showers and beach towels are all provided for their guests.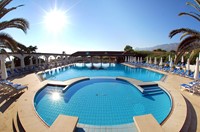 A vista swim!
The Denizkizi Royal's swimming pool terrace benefits from beautiful sea and mountain views, whilst you lounge away in the sun! The half –olympic sized, fresh water swimming pool is situated amongst lush gardens and a lovely waterfall. With a separate children's area, it's great for all ages to enjoy, offering both fun and tranquillity. A self – service restaurant, sun loungers, showers and changing rooms are also conveniently available for their guests.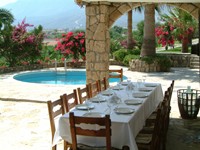 A taste of the tropics!
Breakfast and dinner are usually served as an open buffet in the Hotel Restaurant situated in the Denizkizi Hotel, with beautiful views over the bay. In Summer the Pool and Beach Bars serve drinks and snacks throughout the day. The Denizkizi Royal Bar is open all year round.
It's time to have fun!
Denizkizi Royal Hotel provides varied evening entertainment in peak season only.
Reviews
Where is the Denizkizi Royal Hotel?
The Denizkizi Royal Hotel adjacent to The Denizkizi Hotel and is set just outside the village of Alsancak, above one of the most picturesque sandy bays on the island, just west of Kyrenia.
On the seafront with private sandy beach
7 miles from Kyrenia town
40 minutes transfer from Ercan airport
1 hour 20 minutes transfer from Larnaca
Denizkizi Royal Hotel
Kyrenia