Bellapais Oasis Hotel
Kyrenia
Kyrenia
Pure serenity in famous Bellapais village
Mountain Retreat Small & Friendly
Highly recommended by Cyprus Paradise!
Tucked away in a quiet corner of the charming little village of Bellapais in Kyrenia, this new 3* hotel's impeccable location, friendly service and great facilities make it ideal for year-round visits.
FREE WiFi in Lobby
Why Holiday Makers Love it
Located in Bellapais Village
Warm Welcoming Hotel
Beautiful Views
Small & Friendly Hotel

Included Special Offers:

Included Special Offers:
Bellapais Oasis Hotel has opened its doors in early 2018 and has been growing in popularity ever since, thanks to its beautiful location with stunning views and within walking distance from breath-taking history!

Located in one of the most mesmerising places in the whole of Cyprus, Bellapais village, this small and friendly establishment on the outskirts of the Kyrenia mountain range makes it a priority to ensure that guests enjoy a "home away from home" experience during their stay, offering personalised and warm service to suit your preferences, whether you are visiting as a couple or a family. There is a selection of room types including bungalows, and the hotel exudes Cypriot architecture and traditional styles throughout.
Bellapais Oasis features an outdoor swimming pool with incredible sea and mountain views in the backdrop, as well as well looked-after gardens that enhance the tranquil ambiance that surrounds the hotel. In the summertime, guests can unwind at the rooftop terrace underneath the stars with glittering views of the Kyrenia coastline.
The hotel goes the extra mile by also offering facilities for kids, making it a perfect destination for families. The hotel is also well-equipped for all your conference and meeting needs if you are planning a professional trip.
Cyprus Paradise Experts Recommend:
Bellapais Oasis benefits from an incredible location which will undoubtedly keep you entertained should you decide to remain locally. Bellapais is an enchanting little village with narrow streets dressed in bougainvillea and every corner touched by rich history. There are little bars and cafes where you can enjoy a relaxing afternoon or evening drink, as well as an array of great restaurants. The region is also home to the magnificent Bellapais Abbey originally built by Canons Regular in the 13th century.
Bellapais is merely 5 minutes' drive from Kyrenia town where you have a whole range of entertainment options at your service. Starting with Kyrenia Castle and the adjacent Kyrenia Harbour where you can also find vibrant bars and restaurants, there are countless historical places of interest that you can explore. Kyrenia also has an immense range of incredible restaurants serving all types of cuisines, from delicious doner kebab to sophisticated evening dining!
The hotel is also within driving distance from beautiful beaches. Driving east along the coastline will take you to plenty of small and quiet beaches where you can enjoy a relaxing dip, while going west will take you to some of the most popular beaches in Cyprus including Escape Beach. Venture further west for the vibrant Lapta strip which offers plenty of entertainment and luxury restaurants.
Please note that some services and amenities may not be available during low season.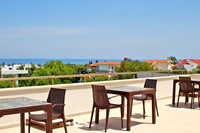 Traditional meals with a view
The hotel serves fresh breakfast as an open buffet at the hotel restaurant. Evening meals are also offered as a set menu including delicious Cypriot cuisine. There is also a children's menu available. In the summertime, meals can be enjoyed at the rooftop terrace against beautiful mountain and sea views. There is also a bar in the rooftop area where you can unwind with cocktails.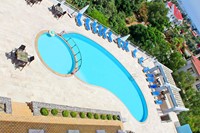 Soak up the sun by the pool
The pool area will be your moment of escape to the sun. Featuring plenty of deck space and sun loungers, the swimming pool enjoys uninterrupted sunshine and it comes with a separate pool for the little ones!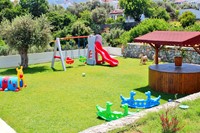 Let the fun begin!
If you are planning a family trip, the hotel's facilities for kids will simply enhance your holiday which not only include a separate pool for kids but also a playground, mini disco and even babysitting services which are available at request.
Where is the Bellapais Oasis Hotel?
Bellapais Oasis is located in the beautiful village of Bellapais, within walking distance from many local amenities and only 5 minutes' drive from central Kyrenia.
Ercan Airport - 50 minutes
Larnaca Airport - 1 hour 45 minutes
Bellapais Oasis Hotel
Kyrenia