7 Nights

Wed, 14 Apr 21

Wed, 21 Apr 21
Bellapais Gardens Hotel (Kyrenia)
Hotel Details
Customise Your Holiday
Summary
Final Step
Bellapais Gardens Hotel
Kyrenia
Kyrenia
Charming Boutique Hotel set in a dramatic setting at the foot of Bellapais Abbey
Luxury Adult Only
One of our best picks in Bellapais!
Bellapais Gardens is a hidden charm of the island that warmly welcomes its guests to a historical and picturesque location to experience serenity and traditional luxury
FREE WiFi in all rooms & Public Areas
Why Holiday Makers Love it
Beautiful Views
Stunning Gardens
Located in Bellapais
5 Minutes Walk Bars & Restaurants
Immediate reach of Bellapais Abbey
Swimming Pool with Unbeatable Views
Duration:
Stay:
This offer can be combined with other offers.
The Bellapais Gardens is a charming boutique hotel in an incomparable location at the foot of the ruined Gothic Abbey of Bellapais.  A dramatic setting with impeccable views, matched only by their premium standards of service and accommodation.
This outstanding hotel, combines rustic charm and warm hospitality with an ease which is extremely rare. The hotel makes the most of its hillside location with paths and steps leading down through their mature gardens, full of vibrant flowers, citrus trees and exotic blooms, to the large freshwater pool, set at the base of the ancient Abbey walls, which are illuminated at night.  Traditional architecture, bespoke furniture and stylish, antique touches combined with state of the art facilities throughout the hotel provide guests with a truly unique experience.
Cyprus Paradise Experts Recommend
Set at the foot of the historical Gothic Bellapais Bellapais Monastery (also known as Bellapais Abbey), this hotel is surrounded by some fantastic sites to see! The hillside village itself is very picturesque with outstanding views and quaint little shops with traditional treasures.  If you can manage to leave the fantastic restaurant of the Bellapais Gardens Hotel, which is one of the best in Kyrenia, there are many lovely restaurants and bars dotted around the pretty village offering a good atmosphere.
Only a five minute drive away from the town centre of Kyrenia and a ten minute drive from Kyrenia Harbour, it's great location enables you to make the most out of your holiday!  St Hilarion Castle and Kyrenia Castle are also both just a short drive away and really worth a visit.
The nearest public beach is Diana Beach, which is east of Kyrenia about a 15 minute drive away.  It's a small but attractive beach, where in areas it can be rocky when entering the water. There is a small entrance fee and sun loungers as well as jet skis can also be rented. A small restaurant is conveniently open in summer for drinks and snacks. Catalkoy beach and Alagadi beach are slightly further alternatives.
Please note that some services and amenities may not be available during low season.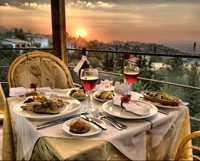 One of the best on the Island!
The restaurant and lounge, a treasure trove of local antiques and bric-a-brac, are at the highest point, with beautiful views down over the surrounding countryside to the distant Mediterranean. Breakfast is served as an open buffet and with a choice from the menu, including full English and omelette. Lunch and dinner are served a la carte. The restaurant bar is open throughout the year.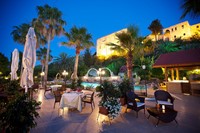 Join in some traditional fun!
Bellapais Gardens Hotel has frequent barbecue parties by the pool in high season and also boasts occasional cooking and painting days for their guests to enjoy.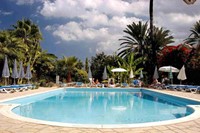 Enjoy a scenic swim!
Overlooked by exotic palm trees and surrounded by lush gardens, their pristine pool offers sensational views of the Abbey, mountains and sea whilst swimming and their poolside terrace allows guests to lie back in history and relax in the Mediterranean sun.
Reviews
Where is the Bellapais Gardens Hotel?
In the foothills of the Five Finger Mountain range, located in the charming village of Bellapais is The Bellapais Gardens, which sits beautifully beneath the ruins of medieval Bellapais Abbey.
2.2 miles from the nearest beach (Diana Beach)
In the village of Bellapais
3.5 miles from Kyrenia town
40 minutes transfer from Ercan airport
1 hour 20 minutes transfer from Larnaca airport
Bellapais Gardens Hotel
Kyrenia