7 Nights

Tue, 29 Jun 21

Tue, 06 Jul 21
Bella View Art Boutique Hotel (Kyrenia)
Hotel Details
Customise Your Holiday
Summary
Final Step
Bella View Art Boutique Hotel
Kyrenia
Kyrenia
Extravagantly pampered holiday in the heart of Kyrenia
Adult Only
Traditionally decorated with a Cypriot atmosphere!
Bella View Art Boutique Hotel is an idyllic hideaway with spectacular views only minutes away from the famous, historical town of Kyrenia. This luxury boutique hotel nests on the foothills of the Kyrenia Mountain range just below the picturesque village of Bellapais.  Designed with meticulous attention to detail and offering first class hospitality, guests can enjoy bespoke facilities in a warm and traditional atmosphere.
FREE WiFi in all rooms & public areas
Why Holiday Makers Love it
Beautiful views
Salt water Swimming Pool
2.5 miles from Kyrenia Centre
A la carte Restaurant
All Rooms have a Balcony
Country House Feel
Duration:
Stay:
This offer can be combined with other offers.
This quirky boutique hotel is a serene retreat, benefitting from stunning views over Kyrenia and the coastline below.
The Bella View Art Boutique Hotel, just below the delightful village of Bellapais in Kyrenia Northern Cyprus, is an elegant hotel offering a fine standard of accommodation, with a nostalgic country house ambience. The saltwater swimming pool with its sunbathing terraces share the same beautiful views of the Mediterranean and glittering coastline, as does the popular Sofa Restaurant, which serves both local and international cuisine. The hotel is a non-smoking environment and does not cater for children under the age of 10.
Cyprus Paradise Experts Recommend
Aside from the charming qualities within Bellaview Hotel, just a 10 minute walk way, you can find yourself wandering around the picturesque village of Bellapais, where the traditional atmosphere of its quaint little shops, bars and restaurants is waiting to be enjoyed.  Only 2 miles away from the centre of Kyrenia, Bellaview's great location enables you to make the most out of your holiday!  The famous Bellapais Abbey, St Hilarion Castle and Kyrenia Castle are fascinating nearby attractions that are definitely worth a visit.
The Bellapais Abbey is also known as the Peace Monastery, as it takes its name from "Abbaye de la paix", which in French means the Peace Monastery. Visitors to this popular site will find plenty to explore, and can enjoy taking in the Gothic art as well as exploring the monastery. You will find that the church that is located next to the courtyard is also a great place to explore.
Please note that some services and amenities may not be available during low season.
Savor the moment!
Breakfast is served in the Sofa Restaurant, which has indoor as well as terrace areas. The Pool bar is open in summer and the lobby bar serves drinks during the day & evening throughout the year. The Bella A' La Carte offers a premium dining experience in an idyllic atmosphere, with the finest wines to accompany their gourmet selection of local and Mediterranean dishes.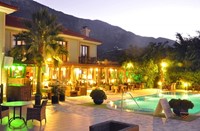 Jazz it up!
The Bella View Art Boutique Hotel offers fabulous entertainment in the Bella Jazz Lounge with live music and dance. They also host events in their beautiful Bella Gallery, their luxurious entertainment venue.
Enjoy a saltwater pool!
Bella View Art Boutique Hotel boasts a saltwater swimming pool with its sunbathing terraces sharing stunning views of Kyrenia including its picturesque mountains and the sparkling sea.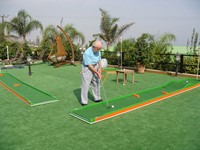 Mini Golf with Mountain & Sea View
Mini Golf can be played at Bella View Art Boutique Hotel, whilst enjoying stunning mountain and sea views. The hotel boasts a driving range with a sloping training mat to its guests.
Reviews
Bella View Art Boutique Hotel
Where is the Bella View Art Boutique Hotel?
Set in the picturesque foothills of the Kyrenia Mountain range, Bella View is located in the charming village of Bellapais, just outside the main town of Kyrenia.
FREE entry to the private beach club, 3 miles away
2.5 miles from central Kyrenia
25 minutes walk from Bellapais Abbey
Shuttle Service to Kyrenia Town (charges apply)
40 minutes transfer from Ercan airport
1 hour 20 minutes transfer from Larnaca airport
Bella View Art Boutique Hotel
Kyrenia