Merit Crystal Cove Hotel
Kyrenia
TripAdvisor Traveller Rating
Kyrenia
TripAdvisor Traveller Rating
A modern oasis with exotic extravagance
Ultra All Inclusive Family Luxury Beach Holiday
Boasts a diverse range of facilities!
Situated by one of the most beautiful coves in North Cyprus, against the deep blue waters of the Mediterranean, The Merit Crystal Cove offers a truly memorable holiday at a luxurious hotel.  With the perfect combination of modern conveniences and outstanding hospitality, it's in a class of its own and a definite choice for those that desire no less than the best.
FREE WiFi in all rooms & public areas
Why Holiday Makers Love it
Fantastic Customer Service
Conveniences Meet Quality
The Scenery is Breath-taking
Luxurious Attention to Detail
An All-round Excellent Holiday
Enjoyable Entertainment for All Ages

Included Special Offers:

Included Special Offers:
Duration:
Stay:
This offer can be combined with other offers.
One of the most modern and extravagant hotels in Northern Cyprus, with international 5-star standards. The Merit Crystal Cove graces its guests with extensive facilities, including plush, spacious suites overlooking landscaped courtyards or the lavish pool and a stunning private cove.  A popular hotel, with an exotic atmosphere. 
Merit Crystal Cove Hotel enjoys a mountain view and a sea view simultaneously. Set in a secluded bay with a stunning private stretch of golden sand. The hotel itself is immaculately designed and furnished, complimented by splashes of lush greenery and huge glass windows looking over their extensive gardens to provide an inviting Mediterranean ambiance throughout.  Rooms are also furnished and equipped to an extremely high standard, with an impression of quality and elegance, pampered with the softest cushions and draped in luxurious velvets. Bathrooms are fitted with sumptuous Italian marble and modern fixtures and fittings.
Merit Crystal Cove Hotel also offers fantastic facilities to generously cater for all ages. It boasts three amazing restaurants, a glittering casino and exciting entertainment facilities for the whole family to experience.  Their Crystal Spa and gym promotes state of the art equipment as well as an adventure shower and snow chamber! You can expect to be truly spoilt from the moment you arrive at this exceptional hotel, with all your holiday requirements catered for by professional, courteous staff, who will naturally go above and beyond to provide a superior level of customer service. 
The main restaurant will be going under renovation work. There will only be temporary short noises within the hotel. The period of the renovation work will be between 05 Feb'18 - 01 April'18.
Cyprus Paradise Experts Recommend
Although spending the duration of your entire holiday enjoying the exotic and luxurious surroundings of The Merit Crystal Cove is highly appealing once you're there, the hotel is also fortunate enough to be in a great location for visiting some of the fascinating sights that Kyrenia is famous for. 
The Peace and Freedom Museum is only a couple of minutes' drive away, featuring a historical war memorial monument and is frequently visited by both locals and tourists.  If you enjoy walking, it's highly recommended that you visit the neighbouring town of Lapta (about a 10 minute drive west of Kyrenia), where you will come across the only purpose built coastal promenade stretching 1.5km.  The views are sensational, perfect for those memorable holiday photos!  On the way there, you will pass through Lambousa, which also contains rich history and fascinating structures, including Roman era fish tanks - large rectangular pools, constructed by cutting into the rock. The remains of the Roman harbour wall are also visible, with two churches beyond (although the churches are not currently permitted to be explored).
There is a courtesy bus service from the hotel to Kyrenia, which operates at set times, and in approx.15 minutes, you will be able to enjoy the vibrant shops, restaurants, bars and visit famous, historical sites in the centre of Kyrenia, including its picturesque harbour and incredible castle.  If you have hired a car, it's a lovely idea to stop off on the way to explore and the fascinating Bronze Age cemetery in the beautiful mountain village of Karaman.  The hotel's receptionists and your Tour Rep will be more than happy to advise you on the best directions according to your method of transport.
Please note that some services and amenities may not be available during low season.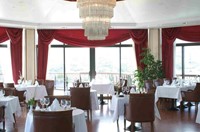 Board Basis Option
Ultra All Inclusive Buffet breakfast, late breakfast, lunch, dinner & midnight snack, with unlimited alcoholic and non-alcoholic drinks to accompany meals. • Pastry Buffet at the Merit Patisserie at selected times. • Late afternoon tea time is served in the Lobby Aquarium Bar. • Alcoholic and non-alcoholic drinks are served at selected times from the Lobby Aquarium Bar all year round. • Local Alcoholic and non-alcoholic drinks are served at selected times from the Pool Bar in summer. • Drinks and snacks are served at selected times from the Beach Bar & Cafe in summer . Extra Supplements are required for all food and refreshments from the A La Carte Restaurants. Room Service is chargeable.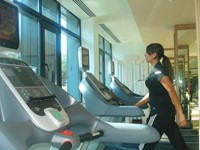 State of the Art!
The Crystal Gym comes fully equipped with cutting – edge equipment in a modern setting and motivating atmosphere, enabling guests to have an energetic start to a wonderful day!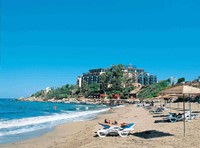 The Crystal Cove awaits you…
The Merit Crystal Cove Hotel is located just a short stroll through the hotel's beautiful gardens. It's soft golden sands are shielded from winds and tides and its shallow soft waters are perfect to paddle, bathe and swim. There is also a range of water sports for guests to enjoy! The beach bar offers a great variety of cooling refreshments and tasty snacks for your convenience.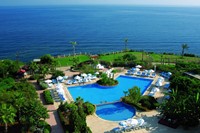 Enjoy an exotic swim!
The attractively designed, curved swimming pool is also a treat set in lush surroundings. It's as if your swimming in a beautiful garden, with plenty of comfortable sun loungers to relax and enjoy switching off under the sun. It also has a spacious separate terraced area for dining, a fantastic area to have a refreshing dip and enjoy the company of others.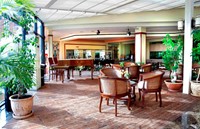 Three restaurants and Bars to choose from!
The Merit Crystal Cove Hotel serves an open buffet with an abundance of fresh and delicious choices for breakfast, lunch and dinner. It also enjoys a unique dining experience due to its prime spot with stunning views over the crystal blue Mediterranean. Special evenings with exotic dishes selected from world cuisines are hosted on select days of the week at Crystal Restaurant. The Hasir Fireside and Panorama a la carte restaurants offer gourmet delicacies within their exciting variety of Turkish and International options. The Hasir beach restaurant serves a traditional style 'rustic' breakfast during the summer, complete with the calming sounds of the waves. It boasts home-made jams, comb honey and freshly baked bread. The Lambusa A La Carte Restaurant on the sixth floor of the hotel offers breathtaking views whilst you eat and the dishes are also just as amazing. The Ottoman Kebab House offers a traditional experience, with authentic tiled decor and furnishings. A prime experience of fine dining can additionally be enjoyed in the hotel's casino. There is a selection of five fantastic bars to experience. Guests at the Merit Crystal Cove can enjoy complimentary soft drinks and local alcoholic beverages throughout the day, tea and snacks at 4 pm as well as midnight soup and sandwiches! The outdoor Sunset Bar is ideal for a drink with a view, and the Pool Bar, open till midnight serves its guests with complimentary local soft drinks and local beers. The Beach Bar is not just a convenient option, its incredible salad lunches and variety of unique snacks are not to be missed! The Pool Bar and Scala Live Club Bar are great options for enjoyable late night drinks.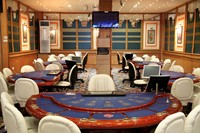 It's in a class of its own
The Merit Crystal Cove promotes a variety of regular, fantastic events for guests of all ages to enjoy, relax and experience. Live music melodies can be heard in the luxury of Merit Crystal Cove's glittering Casino. Its water sports, tennis courts, basketball courts and beach volleyball field are for those that require some daytime exhilaration. In the evenings, incredible shows and concerts are often performed by Turkish celebrities, offering guests world class music and entertainment. The Merit Crystal Cove Hotel has lots on for children, including two kids' clubs to keep them entertained. There's a separate children's swimming pool, play area as well as a pony club and a diving school with lessons for children. (supplements may apply).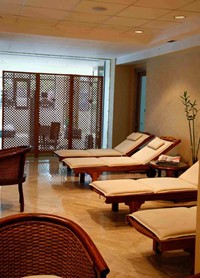 Try Out The Snow Chamber!
There is nothing quite like the Crystal Spa experience… guests can enjoy sensational facilities such as their unique 'adventure shower', then cool down in an amazing snow chamber. Relax in the tranquil surroundings of their sauna, stream room and traditional Turkish bath. There is no end to the pampering treatments on offer, including Hot Stone, Balinese, Shiatsu massage and more. From collagen facial treatments, skin masks and mud envelopment treatments, leaving the Spa will make any guest feel like a brand new person!
Activities for all ages
The Merit Crystal Cove takes pride in having an entire floor dedicated to families, offering an abundance of children's facilities and entertainment. • Babysitting service (paid) • Kids Club (ages 4-12) • Junior Club (ages 12-17) • Pony Club • Supervised playground and activities • 3 PlayStations • 2 Arcade games • 1 Basketball machine • 1 Air Hockey Table • 2 Video Racing Machines • Football • Battery-powered carts
Reviews
Where is the Merit Crystal Cove Hotel?
The Merit Crystal Cove Hotel is situated on the stunning coastline of Alsancak, on the outskirts of Kyrenia town , a short 15 minute drive by car or bus.
On the seafront with private sandy beach
9 miles from Kyrenia town
FREE Shuttle Service to Kyrenia Town
45 minutes transfer from Ercan airport
1 hour 25 minutes transfer from Larnaca airport
Merit Crystal Cove Hotel
Kyrenia