7 Nights

Tue, 29 Jun 21

Tue, 06 Jul 21
High Life Holiday Village (Kyrenia)
Hotel Details
Customise Your Holiday
Summary
Final Step
High Life Holiday Village
Kyrenia
Kyrenia
Small & Friendly Seafront Retreat near Kyrenia Town
Adult Only Beach Holiday
A peaceful and secluded location
The High Life Holiday Village in Kyrenia is an intimate family-run establishment offering a warm welcome in a stunning and secluded seafront location.  Being an adult only hotel, it is well suited for those seeking cosy, simplistic accommodation within the tranquility of nature. Enjoy the closeness to town, but with a quiet, rural location. Perfect!
FREE WiFi in all rooms & public areas (chargeable)
Why Holiday Makers Love it
Beautiful Gardens
Spectacular Sea View
Helpful & Friendly Staff
Quiet & Relaxing Atmosphere
Duration:
Stay:
This offer can be combined with other offers.
For beautiful sea views in a cosy atmosphere with freshly cooked a la carte meals and a friendly smile, The High Life Holiday Village is the pure and simple choice
The High Life Holiday Village in Kyrenia is the perfect choice for those who just want to relax without the fancy frills and casually get away from it all. This family owned hotel is just a couple of miles from the centre (old harbour) of Kyrenia in North Cyprus.
After living long time in the USA, Huseyin has return back to his much loved job of managing the family business with passion and enthusiasm and with his two sisters is transforming High Life into a boutique hotel.
There is a seafront terrace overlooking the sea, which is reached by steps down to another terrace, from which guests can swim. Those who just want to admire the view can use the sunbed area! The owners are keen gardeners and the pool is surrounded by beautifully maintained gardens!
Cyprus Paradise Experts Recommend
If you walk out from the hotel, over the field, you will come to Karakum local beach. This is a delightful sandy bay, with wonderful clean water and great rock formations, ideal for snorkelling. It is a free beach so services are limited. But it is lovely.  Catalkoy beach and Alagadi beach are slightly further away, but more popular alternatives. If you hit the right season, you can enjoy the pleasure of watching the baby sea turtles hatch at Alagadi Beach – ask your Tour Rep for further info about this!
The High Life is just perfect for picking up the local bus into Kyrenia from anywhere on the main road, stopping them by a simple wave of your hand and only costing a few Turkish Lira.  In approx. five minutes you can find yourself amidst bustling shops, roof top restaurants, bars and local cafes of Kyrenia Harbour, which is one of the famous attractions of North Cyprus. It is also a place of history and natural beauty. The castle at the east end of the harbour is definitely worth a visit. Within its walls there is a 12 century chapel showing reused late Roman capitals and a shipwreck museum, housing one of the oldest shipwrecks in the world.  If you are looking for something different to do in the evenings, it's a lovely place to be.  You could also ask the receptionist to find out if there are any concerts going on at the Kyrenia Amphitheatre. It is not far from the harbour at all and it hosts some fantastic musical and theatrical productions.
The Church of Antiphontis and Bellapais Abbey are additional fascinating sites that are highly recommended and nearby! Traditional festivals also take place in Bellapais Village and it would be a missed opportunity if you happened to be around at the time and were not aware, check with the receptionist or ask your Tour Rep to find out more. Also, easily over looked and in fact nearer to High Life is the new harbour. It's a quiet spot down near the sea, with lots of small boats moored up. There is a wonderful view of the Kyrenia Mountain range - a lovely place to sit and relax. 
Please note that some services and amenities may not be available during low season.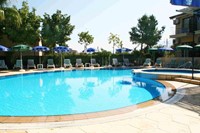 Enjoy a swing in quittance
Guests can enjoy a quaint pristine pool and an attractive area to sunbathe, including a swing to gently rock your senses. A pool bar for cool refreshments and snacks with a friendly service is also available during the summer - perfect for those long lazy moments in the blazing sun!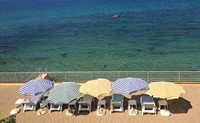 It's a high life!
Guests at the Highlife Hotel can enjoy access to the golden sands and crystal clear waters of Karakum beach.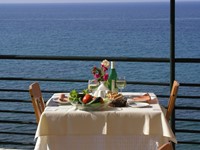 A la carte all the way!
The High Life Holiday Village offers a good choice of International as well as Cypriot food. All meals are served a la carte in the hotel's lovely restaurant, with the choice of enjoying your food al fresco on the seafront terrace. In summer, the pool bar serves drinks and snacks throughout the day. The bar at The High Life serves an exciting range of drinks including superb cocktails!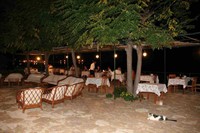 Enjoy a Cypriot BBQ
The High Life Holiday Village holds regular enjoyable traditional food events in high season, such as Barbeque nights and Kleftiko Nights, which provide the opportunity to taste the cultural delights of Northern Cyprus.
Reviews
High Life Holiday Village
Where is the High Life Holiday Village?
The High Life Holiday Village is situated on the seafront in Karakum, just on the outskirts of Kyrenia town centre and right by Karakum beach.
Located on the beachfront with private sandy beach
1,5 miles east of Kyrenia town
40 minutes transfer from Ercan airport
1 hour 20 minutes transfer from Larnaca airport
High Life Holiday Village
Kyrenia