7 Nights

Mon, 28 Jun 21

Mon, 05 Jul 21
Hotel Details
Customise Your Holiday
Summary
Final Step
TripAdvisor Traveller Rating
Based on {{model.Accommodation.TripAdvisorTotalReviews}} Reviews
Kyrenia
TripAdvisor Traveller Rating
Based on {{model.Accommodation.TripAdvisorTotalReviews}} Reviews
For proximity to Kyrenia's picturesque harbour, this traditional and family-run British Hotel really can't be beaten!
Small & Friendly
Located in Kyrenia Harbour!
The British Hotel boasts a central location with fantastic views.  Being a smaller hotel, it benefits from providing a personal service with a comfortable and traditional atmosphere.   With fascinating historical sites and plenty of shops and popular eateries on your doorstep, this cosy hotel is situated in the ideal place to enjoy the popular town of Kyrenia.
FREE WiFi in all rooms & public areas
Why Holiday Makers Love it
Located in Kyrenia's Historical Town
Surrounded by Famous Sites
Restaurants & Bars on your Doorstep
Comfortable Rooms
Roof Top Terrace with Harbour Views
Warm, Traditional Hospitality

Included Special Offers:

Included Special Offers:
Duration:
Stay:
This offer can be combined with other offers.
The small and friendly hotel is well-located on the harbour which is known as the heart of Kyrenia. You will certainly enjoy accommodating steps away from a choice of bars and restaurants!
This friendly hotel has just 18 rooms and is right in the middle of Kyrenia's old town, tucked away on a narrow street leading down to the harbour. Rooms are simplistic, but comfortable, and the upper floors have excellent views of the harbour. All guests benefit from the hospitality of The Owner, Hamza and his family. In season, the delicious oranges which are freshly squeezed for juice at breakfast come from their own garden.
Paradise Experts Recommend
Located a few steps from the historical port of Kyrenia Harbour, with plenty of shops, bars and restaurants to choose from, this is a people watcher's hotel! Make sure you utilise the roof top bar to get a great view of the bustling harbour. If you are in Cyprus on the 20th July, we suggest you book a roof top table for one of the most exhilarating air shows you will ever see! Often missed half way around the harbour is the simply wonderful Carob and Cyprus Life museum. The museum is housed in one of the old carob warehouses and is packed full of local history. The first floor explains carob and olive production, whilst the second and third floors have exhibits of local handicrafts and even a film of times gone by. One of the best museums of Cyprus right on your door step! Kyrenia castle and its shipwreck museum at the east end of the harbour is also a must see!
Please note that some services and amenities may not be available during low season.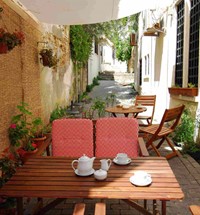 Relish the vista!
Breakfast is served in the lobby area usually as an open buffet with a choice of eggs and fresh fruit in season. The lobby bar is open all year round and the roof bar, which has spectacular views over the harbour, is open in summer.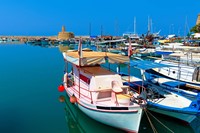 A harbour Life in Seconds
Although The British Hotel does not provide its own entertainment, you can stroll down the harbour in matter of seconds to enjoy the atmosphere of its vibrant bars and popular restaurants.
Reviews
Where is the British Hotel?
The British Hotel is in the heart of Kyrenia's Old Town, within immediate reach of Kyrenia Harbour, surrounded by cafes, shops, bars and restaurants.
7 minutes drive from the nearest beach
5 minutes walk from the historical Kyrenia Castle
40 minutes transfer from Ercan airport
1 hour 20 minutes transfer from Larnaca airport