7 Nights

Wed, 08 Sep 21

Wed, 15 Sep 21
Acapulco Beach and Spa Resort (Kyrenia)
Hotel Details
Customise Your Holiday
Summary
Final Step
Acapulco Beach and Spa Resort
Kyrenia
TripAdvisor Traveller Rating
Based on {{model.Accommodation.TripAdvisorTotalReviews}} Reviews
Kyrenia
TripAdvisor Traveller Rating
Based on {{model.Accommodation.TripAdvisorTotalReviews}} Reviews
A Wondrous Beachfront Holiday on the Finest Private Sandy Beach
Luxury Family Beach Holiday
Highly recommended by Cyprus Paradise!
Acapulco Resort offers outstanding facilities creating an unforgettable holiday by the beach. Whatever you are looking for, we ensure that you all return with the most magical memories from this luxury holiday.
FREE WiFi in all rooms & public areas
Why Holiday Makers Love it
Sea & Mountain Views
Brand New Spa
Great for Both Adults & Families
Located on the Finest Sandy Beach
Kids facilities, Aqua Park & Funfair
Choice of Bungalow & Hotel Room

Included Special Offers:

Included Special Offers:
Duration:
Stay:
This offer can be combined with other offers.
The golden sand of this private cove is known as one of the finest beaches on the island. Add to this superior accommodation and a wealth of facilities and you have all the ingredients for a relaxed beach holiday.
This superb luxury resort, set on its own private bay, is the perfect location for a laid-back beach holiday. There is a choice of accommodation in hotel rooms or in studio style bungalows set in extensive mature gardens, surrounded by lush green lawns, shady palm trees and vibrant flowers. Here there is plenty to entertain guests of all ages. In summer there are canoes available from the beach and with the Aqua park being the largest on the island with its fun slides, there is definitely the privilege of an enjoyable time. Those who enjoy being pampered will benefit from the hotel's prestigious Spa and Wellness centre with its range of innovative and relaxing health and beauty treatments.
Paradise Experts Recommend
Once you've experienced The Acapulco's beautiful sandy beach and shallow crystal clear waters as well as the abundance of fantastic facilities that this hotel spoils you with, the only reason you will convince yourself to venture out is to do a spot of sightseeing and perhaps some present shopping.
Just at the eastern end of Acapulco beach, is the remarkable scene of the ancient site of Avrysi. Dated between 4000 and 3000BC, these intriguing houses were built in man-made or naturally formed hollows by settlers from a district in Anatolia called Kilikya – the history behind this is truly fascinating… sadly, the exposed house walls are now slowly crumbling away and over time, the site will most likely disappear into the sea…. Most definitely worth a look!
Alagadi Beach, about a 10 minute drive from The Acapulco, is also a popular place to visit, as its where the loggerhead and green turtles come to nest. When you exit the Acapulco, turn left and follow the road until you see the signs of the working place of Alagadi Turtle Beach Project. You will then pass St. Kathleen's restaurant, followed by a small bridge. A rough track guides you past a farm and through the dunes to a large, double sandy bay. It's a truly fascinating experience to visit on a summers evening to watch them hatch – however, it is advisable to speak to your Rep. before going as booking is advisable and organized tours are also available.
For keen golfers, The Korenium Golf course is the place to be. Only a 15 minute drive away and known as Golfer's Paradise, the 18 hole championship golf course is suitable for golfers of all levels and ages. The sensational design, stunning landscape and remarkable views ensure golfers enjoy a breathtaking experience as well as an exciting golfing challenge.
Please note that some services and amenities may not be available during low season.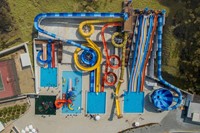 The largest in Cyprus!
One of the hotel's most attractive features is their newly built aqua park, with 24 fantastic colourful new waterslides, exciting chutes and water guns guaranteeing fountains of fun for everyone! This popular attraction is the biggest in the country and its extravagance has started to welcome worldwide guests of all ages.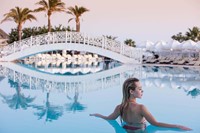 Unbeatable Pools!
The Acapulco has 3 fantastic outdoor pools, including a peaceful 40m adult only infinity pool overlooking the Med, an attractive children's pool as well as revitalizing indoor pools (heated during the winter season). Their attractive pool features and facilities are also superb, including a charming bridge elegantly crossing over the centre of a huge pool, spacious terraces with an abundance of sunbathing areas to enjoy and exciting water activities such as Aqua Aerobics. Their exotic sunken beach bar is just perfect for sipping a cocktail, whilst having a dip in the refreshing glistening waters under the heat of the Mediterranean sun.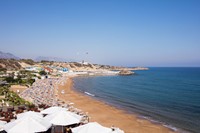 Sun worshiper's heaven!
The Acapulco is fortunate to be situated on a private sandy stretch of 1 km. The spacious beach is equipped with plenty of comfortable sunbeds and sunshades and is also ideal for water sports such as water surfing, canoeing and beach volleyball. Their beach side restaurant and poolside bar offer various types of light lunches, snacks, drinks and cocktails at the convenience of those who want to just spend all day relaxing in the sun.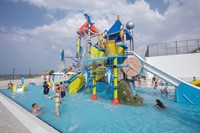 The kids will be thrilled!
• Aqua Park • Kids' Club (2-5 yrs) and Mini-club (6-12 yrs) • Children's playground for under 5s • Children's Funfair (Luna Park) for under 12s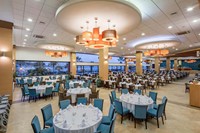 A taste of paradise!
Breakfast and dinner are usually served as an open buffet in the Sunset Restaurant overlooking the picturesque bay. In summer the Beach Bar and Aqua Bars serve drinks throughout the day. The cosy lobby bar is open all year round as is the a la carte restaurant.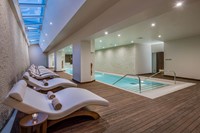 Pamper in Paradise!
Acapulco Beach Resort & Spa has recently been refurbished and is now one of the true favourites on the island. Known for its amazing décor and fantastic Spa facilities, it is designed for your luxury and ultimate relaxation. It features an indoor pool with hot & cold Jacuzzi's, sensational sauna and steam rooms and offers an unforgettable Turkish Hammam experience.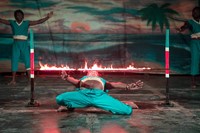 Heaps of family fun!
Their wide range of activities and entertainment allows the resort to cater for everyone and there is a full entertainment programme during the summer months, which includes regular live music and animation shows in the evenings. From numerous activities such as water aerobics, canoeing, volleyball, tennis and basketball to amusements such as a children's fairground (The Luna Park) and the newly built Aqua Park, not to mention its arcades and own casino, guests are truly spoilt for choice!
Reviews
Acapulco Beach and Spa Resort
Where is the Acapulco Beach and Spa Resort?
The Acapulco Beach and Spa Resort is located in Catalkoy, only 8 km east of Kyrenia (Girne). The hotel sits on a beautiful long sandy beach, surrounded by the most magnificent flora and fauna.
On the seafront with private sandy beach
6 miles east of Kyrenia town
2 miles from Korineum Golf & Country Club
Shuttle Service to Kyrenia Town (charges apply)
30 minutes transfer from Ercan airport
1 hour 25 minutes transfer from Larnaca airport
Acapulco Beach and Spa Resort
Kyrenia